TVA Keeps an Eye on Its Ash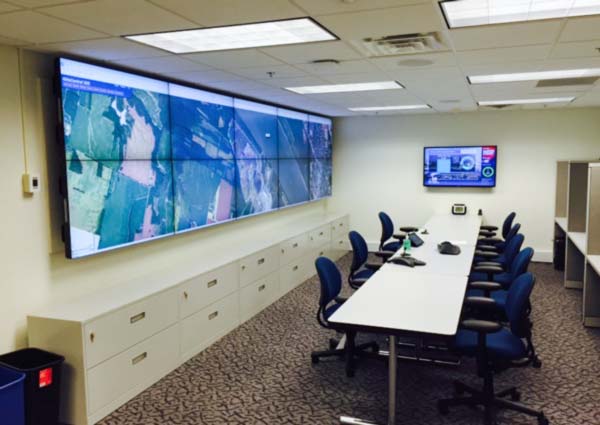 At 2:45 p.m. Nicholas McClung's cell phone chirps during a business meeting. He doesn't bother to look at it; the special chirp says it all. He politely excuses himself from the meeting and rushes to TVA's Advanced Technology for Impoundment Monitoring (ATIM) center in the basement of the company's Chattanooga headquarters.
When he arrives at the ATIM center, McClung, a professional engineer, and TVA manager for Risk and Quality Assurance, look at the LED wall, and he sees it is a serious situation. The screen indicates the Tennessee Valley has received over 10 inches of rain in a short period of time—200 percent over a normal month's average. His team has been studying the ash pond data for a week. Now it's time to take action before there is a problem.
While this event is just a drill, McClung says that TVA takes coal ash safety very seriously and has spent about $2 million to develop the ATIM center to help identify and respond to any coal ash issues before they become an emergency.
TVA's ATIM center is the only facility of its kind in the utility industry in the U.S. The center's massive LED wall can display Geographic Information System (GIS) maps, weather, earthquakes, sensor data, and even live video. The ATIM center provides McClung and his team a place to collaborate and share real-time information with all the decision-makers.
"Think of the ATIM center as TVA's 'coal ash mission control,'" McClung says. "With a few clicks, we can pull up sensor data and see real-time data or watch what's happening at our impoundments via live video. What's most important is that we can share information with everyone who is working on the problem."
The Federal Government mandates safe coal ash storage. TVA's ash impoundments are classified as dams and must adhere to TVA's Dam Safety Governance SPP27 series.
To ensure TVA meets these strict Federal standards, TVA went above and beyond by installing over 7,000 real-time sensors to monitor ash impoundments. Every hour of every day, sensors send data to a centralized computer monitoring system within TVA.
"My team receives texts and emails if there is any irregularity," says McClung. "If it is serious, we can immediately activate the ATIM center."
To date, TVA's ATIM center has never been activated in response to a real event. When the day comes for the ATIM to truly come to life, TVA's team is prepared and will receive the highest level of support.
"Having the ATIM process in place demonstrates how serious TVA is about safe coal ash storage," says McClung. "The ATIM center will provide our executives with a single, complete source of information. We can quickly get the support we need to ensure public and environmental safety."
TVA is in the process of implementing improvements at each of its coal ash impoundments to reduce the risk of structural instability and surface and groundwater contamination. The company is closing its wet ash impoundments over the next four to six years in favor of dry ash storage. In addition, TVA pioneered Intelligent Compaction technology for dry ash storage, a process where dry ash is compacted at levels greater than 95 percent—effectively turning the ash into a cement block.
"All of these safety efforts have made TVA the industry leader in safe, responsible coal ash storage," McClung concludes.
​ ​
Share this story:
​
More About Ash
Coal ash is the byproduct of burning coal for electricity. TVA currently has 22 impoundments [ponds] holding ash, some of which date back to the 1950s. TVA recycles as much coal ash as possible. In 2015, TVA recycled about 33 percent of the ash produced by its fossil plants. This ash was turned into wallboard, roofing, cement, concrete and other useful products. The safe storing of coal ash is critical because the ash that cannot be recycled contains toxins that could be harmful if released into the environment.