TVA/Kids – A Fun Place to Learn While School's Out
"I'm bored!" Put a stop to hearing this (again) during the holiday break. Just because they're not in school, your kids don't have to stop learning about the world around them. Let us help!
Imagine it's early afternoon during your children's holiday break from school. You peep in to find them in front of a screen…again. But this time they are on TVAkids.com reading about the different ways to make electricity. At dinner, your ten-year-old explains about TVA's work to stop flooding and make navigation safer by building a series of dams on the Tennessee River. Later at a family gathering, your teenager brings up TVA careers in botany and archaeology. What's up here?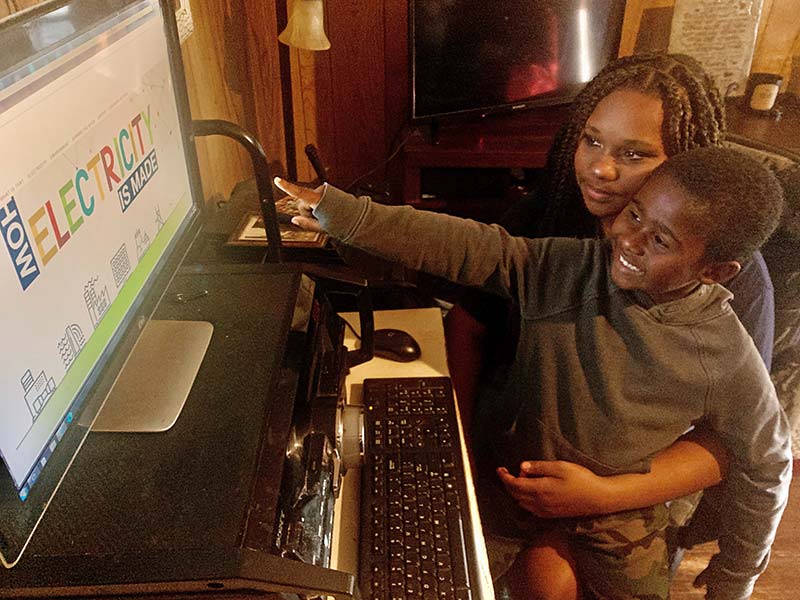 Education + entertainment = edutainment!
With a terrific combination of education and entertainment, the TVA/Kids site might be the best gift of Christmas, and certainly the least expensive. This type of "edutainment" is especially valuable during long breaks from school, when students can get bored and may welcome the chance to learn something new. This is especially true when considering preparation for future STEM jobs, which depend on skills in science, technology, engineering and math.
"As part of the TVA.com site, TVA/Kids was created in the late 1990s to reach out to our young stakeholders with information about who TVA is and what TVA does," says Hillari Dowdle, TVA Communications. "Students in the Tennessee Valley need to understand our overarching mission of managing the river for multiple benefits, including energy, the environment and economic development."
In the last few years, the site has been redesigned and lots of exciting information has been added to assist students, parents and educators. Multiple animations and videos make it engaging for all elementary-age students.
What to expect
The overview of the site includes:
What is TVA
Electricity
Environment
Running the River
History
Homework Helpers
Each offers a deep dive for students who are interested in these various areas. For example, the Environment section discusses the importance of using TVA public lands responsibly by protecting wildlife habitats, trails and shorelines.
The segment on the Environment also focuses on the importance of clean water, as well as ways to protect and conserve the water in your community. Clean Air discusses how TVA works to make power for the Valley's homes, schools, farms and businesses while keeping the environment clean and healthy.
Did someone say PLAY?
The most fun segment is Let's Play Outside, where kids can watch a video about fishing, take a virtual wildflower walk and discover information on all sorts of outdoor activities in the Valley. Are you up for some boating, mountain biking, swimming, camping or hiking? That's just the beginning. Viewers can also access TVA's Lake Info app, a good resource for operating around reservoirs and dams, and read Play It Safe, featuring the Magnificent Seven Safety Rules for playing in the water.
Powered by People You Know
"Do what you love, and you'll never work a day in your life." If that old saying is true, then it's never too soon for students to find their passion. Not surprisingly, few youngsters are familiar with the type of careers available at TVA, so this site includes plenty of information on employment, especially STEM jobs, according to Dowdle.
"We've created videos called 'Powered by People You Know,' which are informative snapshots of what individuals' work lives are like," she explains. From an archeologist to a power utilization engineer, to an investment relations manager, these clips appear as sidebars, aligning with the bullet points in the TVA/Kids overview. They follow real people in their jobs, describing how they prepared for these employment opportunities.
"Promoting diversity is another piece that this website does well. Inclusion is one of our core values, along with safety, integrity and service," says Dowdle. "These job videos feature a number of diverse individuals because TVA employs a wide variety of people. We welcome individuality so we can reach our full potential."
Close at hand
Although this site targets fourth and fifth graders, there is something for all age groups.
"We worked hard to create a site that would, in some way, interest every person who clicks on it, young or old. Even the dams featured in the videos are spread out across the Valley, so one of these incredible structures may be near enough for families to visit," says Dowdle, who encourages trips to these marvels of engineering and the public land that surrounds them.
The feedback TVA has received on this site has been very positive. So, if this site turns out to be to be one of the best things that happens at your house during your children's long break, all we can say is, "Happy holidays, courtesy of TVA/Kids."
​ ​
Share this story:
​