Clean water, careful management, aquatic plants and southern hospitality create the perfect recipe that make Tennessee Valley lakes some of the best bass fisheries in the nation and across the entire Southeast.
This year fishing industry insiders at Bassmaster ranked Lake Guntersville, Ala., as second and Chickamauga, Tenn., sixth on their top 100 bass lakes in the nation for 2019.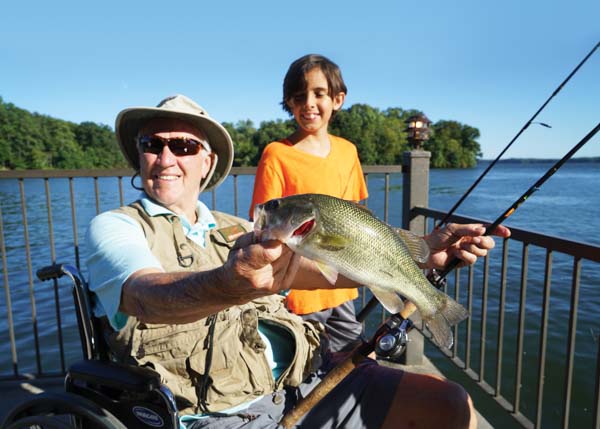 What is even more striking is that Tennessee Valley Authority lakes dominate the list of Bassmaster's Top 25 Lakes in the Southeast for 2019.
TVA lakes that top the Southeast in 2019 include:
1. Guntersville, Ala.
2. Chickamauga, Tenn.
6. Pickwick, Ala., Miss., and Tenn.
15. Watts Bar, Tenn.
19. Wheeler, Ala.
20. Cherokee, Tenn.
"With the amount of angler pressure Guntersville receives annually, I am very surprised it continues to be listed in the Bassmaster top 100 lakes," said Kelvin Young, Guntersville-based TVA watershed representative. "This is a testament to the aquatic plant management efforts by TVA."
Young said recreation on TVA lakes generates about $12 billion every year to the region's economy and creates about 130,000 jobs.
As part of his work for TVA, Young gets to meet lake goers every day. "I talk to fishermen from across the country and a few from Canada," he says. "Everyone knows TVA lakes are the place to catch trophy bass."
Bassmaster officials spent two months reviewing biological data and tournament results before arriving at its list of best bass fishing lakes.
Dennis Tumlin with FishDayton.com is not surprised that so many TVA lakes are on the list.
"Guntersville is a fish factory," said Tumlin. "Chickamauga's legend continues to grow, especially when you haul in a 15.3 pound largemouth." According to Tumlin that fish shattered a 60-year-old state record.
Tumlin believes that No. 15 Watts Bar Lake is the "sleeper" creeping into the Bassmaster rankings this year.
The Tennessee Wildlife Resources Agency began stocking Florida largemouth fingerlings in Watts Bar in 2014. The same program started in Chickamauga in 2000. It took about ten years before positive results began to show up.
"If we see Watts Bar follow the same pattern as Chickamauga you'll be reading about Watts Bar giants," said Tumlin. "That will move it up the list over the next few years."
Young is proud that his work helps TVA's lakes garner national recognition. He believes that his work has a higher purpose. "It's about spending time with your family and friends and making a lifetime of memories, which are more valuable than a trophy bass."
Read more about fishing TVA lakes at www.tva.com/fishing.