The five-episode video series busts myths and explores the benefits of electric transportation. Take a road trip throughout the Tennessee Valley and see how electric vehicles (EVs) can fit any lifestyle!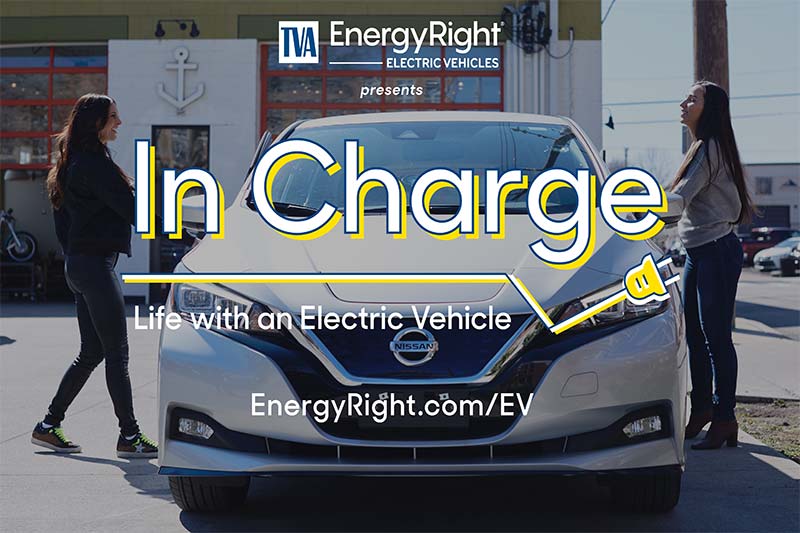 Ride along with host Raven Hernandez, CEO of Earth Rides, as she tours the Tennessee Valley in the latest EVs—like Volkswagen's all new VW ID.4, Chevy Bolt, Tesla Model Y Porsche Taycan, and the Nissan Leaf. Joining her are guests including Trevor Bayne, the youngest winner of the Daytona 500, Nashville singer/songwriter and host of Apple Music's "Today's Country" Kelleigh Bannen, BMX legend Corey Martinez, influencer and blogger Sarah Jade, and more.
In Charge: Life with an Electric Vehicle is produced by TVA EnergyRight and filmed on-location in Nashville, Chattanooga, Huntsville, Knoxville and Bristol.
Guests on the road-tripping series ask questions, learn a few surprising facts, and find out what it's really like to drive and ride in fully electric vehicles. As they zip around the region, they also enjoy the sights, grab food at local hot spots, visit famous landmarks and cultural attractions, and participate in fun, EV-related challenges.
Watch the debut episode!
The series premiere is all about a day in the life of owning an electric vehicle. In this case, the Nissan Leaf. Hernandez and Kelleigh Bannen find out just how far one charge can go, learn more about the availability and capabilities of different charging stations, and discover how much money EV owners can save on gas in a year. Most importantly, they also find out just how much musical gear you can stow in the back of a Leaf!
Learn from EV Experts
The series also features EV experts like John Dankanich, NASA's Chief Technologist at the NASA's Marshall Space Flight Center, Amy Katcher from the Tennessee Department of Environment & Conservation, and Aditya Jairaj, director of EV marketing and sales strategy at Nissan.
In the first episode, Jairaj chats with Hernandez and Bannen about the benefits of the Nissan Leaf: "It's the first mass-produced, 100% battery operated vehicle in the world . . . and we actually build the Leaf in Smyrna, Tennessee—about 25 miles away from here."
And how far can the Leaf go on a single charge? "We've got two battery sizes for the Leaf—one is 150 miles and the other is up to 226 miles," Jiaraj says. "It's an EV for everyone."
Wondering how fast EVs can get charged up? Electric vehicle drivers can get a full charge while plugged-in overnight in a standard 240-volt outlet or an 80% charge in at little as 30 minutes of DC fast charging. It's like having a pollution-free "gas pump" at your house!
"Here in the Tennessee Valley, transportation is actually the #1 cause of pollution, and when you drive an electric vehicle, you don't have any of those tailpipe emissions," says expert Amy Katcher in episode 2. "One of the most important things people can do is drive EVs because that's one of the greenest things you can do!"
Want to learn more? Be sure to catch all five episodes as they are released over the next few weeks at In Charge: Life with an Electric Vehicle. We promise you'll learn a lot and have a few laughs along the way.
More about TVA and EVs
TVA is paving the way for over 200,000 EVs in the Tennessee Valley by 2028. One of the many ways TVA is helping to accelerate innovation and EV adoption is by improving the EV charging infrastructure. We've also established an industry-leading charging rate and we're actively setting innovative policies to encourage greater investment in electric transportation.
Plus, as part of the Electric Highway Coalition, TVA is working to ensure that EV drivers have access to a seamless network of charging stations connecting major highway systems from the Atlantic Coast, through the Midwest and South, and into the Gulf and Central Plains regions.
Electrifying transportation can now spur the same innovative transformation that electrifying the Tennessee Valley did back when TVA was founded. We're committed to bringing the transformative power of EVs to the Tennessee Valley. That's why we're taking the lead in partnering with local power companies, governments, automakers and other stakeholders to make it easier for residents and businesses to make the switch to EVs.
The shared goal is to increase EVs on Valley roads by well over 200,000 by 2028, which would result in the following benefits for our region:
$120 million in refueling reinvested in the local economy per year
$200 million in consumer fuel savings per year
Almost 1 million metric tons of CO2 saved per year.