"One thing I have learned in a long life: that all our science, measured against reality, is primitive and childlike—and yet it is the most precious thing we have." – Albert Einstein: Creator and Rebel
Jobs in science, technology, engineering and math (STEM) fields are abundant and growing. Reaching students from elementary through high school ages is important to sparking curiosity for STEM learning early on. To that end, TVA recently launched STEMready, an online resource for teachers and students encouraging the study of science, technology, engineering and math.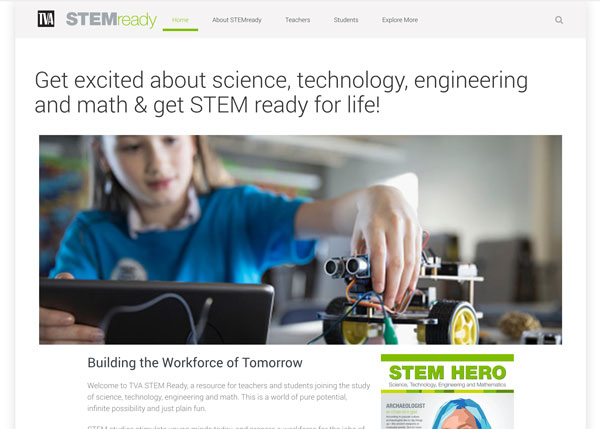 "The goal of the site is to place resources in the hands of teachers and students to meet academic standards while making STEM learning fun," says Rachel Crickmar, TVA Community Relations program manager. "At TVA, we think it's important to spark an interest in STEM careers at a young age. It's our underlying mission to improve the lives of those who live in the Tennessee Valley—together, we live brighter."
With lessons designed by Valley teachers for practical use in the classroom, the site aims to stimulate young minds and prepare the workforce of the future. By visiting tvastem.com, teachers and students can obtain ready-made STEM learning modules on TVA's best-known topics: electricity and energy. Engaging lessons are taught through stories, videos, photos, animations and experts themselves.
"If you know a teacher, tell them about STEMready," says Crickmar. "Or, with the holidays coming up, have your kids check out the site during break and explore some of the videos and other resources. That way, when they head back to the classroom, they will be STEMready!"