TVA Named Among Forbes Top 10 Best Employers in Tennessee in 2023
TVA's mission is to make life better for the people we serve. We recognize that taking care of our employees first means taking better take care of customers, partners and communities – and that benefits everyone.
In 2023, TVA ranked No. 8 among the top employers on Forbes' list of America's Best Employers by State for the state of Tennessee.
"At TVA, our people are our greatest strength. They work hard every day to make a difference in the lives of those that we serve throughout the Tennessee Valley region," said Sue Collins, EVP and Chief Human Resources and Administrative Officer. "These awards are especially significant because they reflect the culture and values of our employees."
The Best Employers by State survey considered several dimensions of an employee's experience including potential for growth, diversity, openness to remote work and salary. Of the thousands of companies eligible for this recognition, only a select few are awarded in each state.
View Forbes' complete list of America's Best Employers by State for the year 2023, here.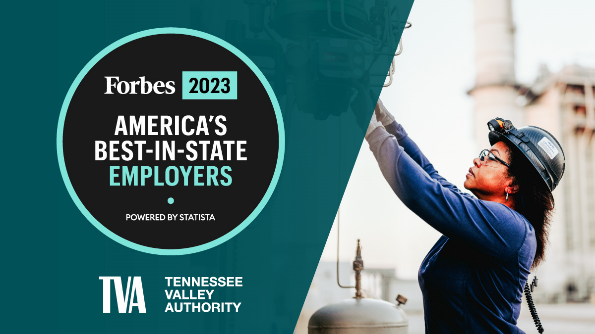 ​ ​
Share this story:
​