TVA Partners to Provide Energy Upgrades to Aberdeen Federal Courthouse
APRIL 3, 2019 — The Tennessee Valley Authority, the U. S. General Services Administration (GSA) and the U. S. District Court (Northern District of Mississippi) are partnering to perform major building systems upgrades to the Thomas G. Abernethy Federal Building in downtown Aberdeen, Mississippi.
The project will improve indoor air quality and upgrade the building's aging infrastructure by replacing HVAC systems and controls, performing lighting upgrades and electrical systems improvements, and mitigating water and air infiltration through strengthening the building envelope.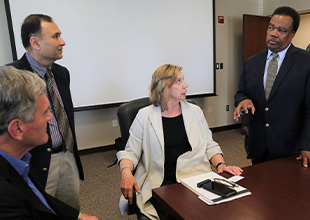 Daryl Williams, TVA's manager of industrial services (right), talks to Chief Judge Sharion Aycock of the U. S. District Court for the Northern District of Mississippi (seated) about upcoming renovations to the Aberdeen Federal Courthouse.
"TVA is proud to be a partner in this initiative, which will enable the courthouse to continue to serve the people of Aberdeen, Monroe County and the Tennessee Valley, while supporting the judiciary's mission and providing for local economic development," said Daryl Williams, TVA's manager of industrial services.
The building systems improvement plans, originally announced in January, were outlined during the Project Implementation Phase Kickoff Meeting on March 25, 2019, which was attended by the U. S. Courts, U.S. Marshals Service, TVA, GSA and various subcontractors.
The project will be performed under a Utility Energy Services Contract (UESC), a limited partnership between federal agencies and utility providers to finance energy and water-saving improvements, while working to reduce the impact a federal facility may have on local utilities. There is no upfront investment required, and agencies can secure third-party financing and pay for any improvements from the savings over a period of time.
"Pursuing a UESC with TVA positions this building for long-term operational efficiency and will provide a productive work space for employees and visitors," said John M. Dennis, acting regional commissioner of GSA's Public Buildings Service. "These upcoming improvements will reduce the building's energy consumption and overall operating costs."
Total costs for the project are expected to range from $12 to 17 million, and construction on the courthouse is expected to require approximately 12 to 18 months to complete.
"The U. S. District Court is so pleased to partner with the Tennessee Valley Authority on this major renovation project," said Chief Judge Sharion Aycock of the U. S. District Court for the Northern District of Mississippi. "The beginning of the construction phase of this project is the culmination of so much hard work on behalf of the District Court, the City of Aberdeen, Monroe County and all of the staff and citizens who have lent their support to this effort. We are committed to keeping the pressure on our private and government partners to get this project completed on time and to return to a beautifully renovated building in downtown Aberdeen as soon as possible."
​ ​
Share this story:
​