TVA Partners with the Mid-South Food Bank to Create School Pantries
Six Shelby County schools and more than 250 families will benefit from a new partnership with TVA that creates Healthy School Pantries in local schools. TVA contributed $100,000 to Mid-South Food Bank to create the pantries, which includes the purchase of a minivan necessary for food supply deliveries.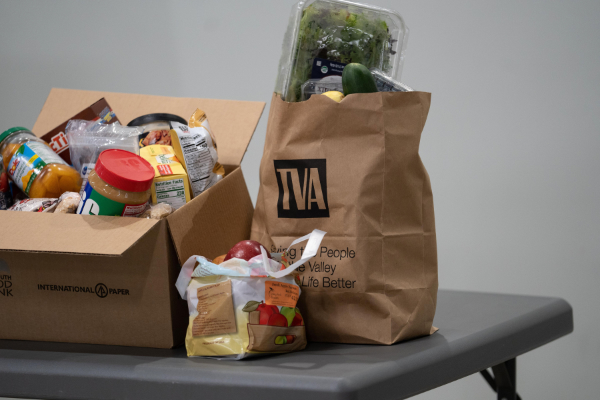 More than 22 percent of children in Shelby County live in food-insecure households.
"The Mid-South Food Bank is thrilled to have TVA as a partner, and the volunteers are a needed bonus," said Cathy Pope, Mid-South Food Bank president & CEO. "This donation will help feed so many families that need healthy food. We truly appreciate this new partnership."
Students and their families will receive 50 pounds of nutritious food, the equivalent of 42 meals.
"This is such a meaningful partnership for TVA," said Mark Creech, TVA Memphis executive director. "We are helping families who need nutritious meals, and our TVA associates can rollup their sleeves and help create the food boxes that the students and families will receive."
The six schools receiving the new food pantries are: Northaven Elementary, Ross Elementary, A. B. Hill Elementary, Kipp Memphis Academy, Kirby Middle School and Wooddale Middle School.
​ ​
Share this story:
​