When osprey built a nest atop an electric pole in Guntersville, Alabama, and endangered both newborn chicks and power service for customers of Arab Electric Coop, TVA and partners took swift action to save the day.
Relocating two baby chicks and an unhatched egg might not sound like a big deal, but when you're moving a nest that's about four feet in diameter—carefully woven around electric cables atop a power pole—it's no easy feat.
Arab Electric Cooperative realized the birds were in danger and looked to TVA for help. Forming a unique partnership, TVA and outside agencies were able to successfully complete the rescue mission, relocating the osprey nest about 900 yards to safety. The nest was moved to a custom-built stand at Parkers Landing boat ramp in Guntersville, Alabama.
"The nest was intertwined with the electric lines with only a thin layer of protection between it and 13 kilovolts of electricity, which put it at great risk for catching fire and destroying the birds, as well as disrupting power to more than 160 members and businesses," said Scott Spence, manager at Arab Electric Cooperative.
Ospreys are protected under The Migratory Bird Treaty Act, which means experts with proper permits must be called in. The U.S. Department of Agriculture-Wildlife Services and Mississippi State University's Dr. Scott Rush led the rescue effort.
"This was one of the most fluent project executions I have seen and very much a success," said RJ Moore, TVA Natural Resources specialist. "We accomplished the move with everyone, including the birds, staying safe, and we made some great partnerships with those involved."
Capturing the Birds
The morning of the rescue, Arab Electric staged large bucket trucks near the nest and all parties gathered to run through the plan once again so that all workers and birds could be kept safe. First, Rush was lifted up in one of the bucket trucks to place a large round net in the nest.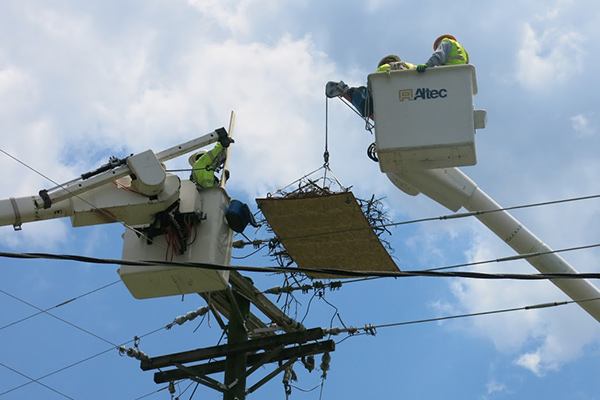 "The net folds over to one side of the nest so that once the mother bird returns, we use a remote control setting to pop the net safely over her," explained Rush.
Once that net was set off, the team jumped into action.
The bucket trucks—positioned on opposite sides of the nest—allowed two teams of rescuers to be raised on either side of the nest to safely capture the mother bird and place the chicks and egg in a padded holding box.
Once the mother bird was in hand, a small leather hood was placed over her head to keep her calm, while fleece booties were slipped over her talons—she was covered with a white cotton wrap for extra precaution during the move.
"This bird will be part of our osprey study," said Rush as he placed two metal bands on her leg. "One band is unique to the TVA-supported study we are doing, a blue-metal color band with a letter/number combination etched on it, and the other is a distinctive federal band used for tracking purposes."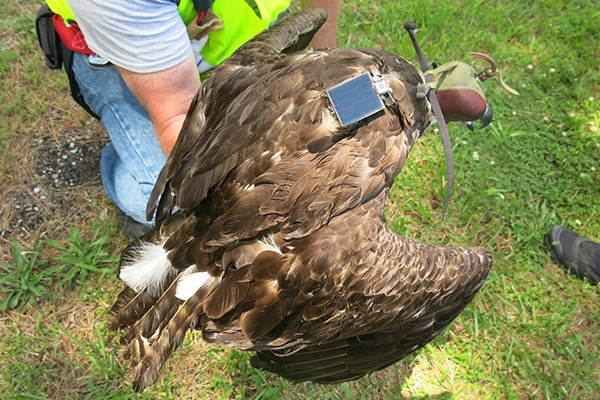 Rush also attached a small 2x2 inch, solar-powered device to the bird's back using durable straps that fit under the bird's wings and around her body. "This small device provides location data on where the bird flies, how fast she goes, and at what altitude. It can provide this data for up to four years, or so," he explained. "This data supports our study to understand an array of information including migratory behavior, how far away they travel and how often they return to the same nest."
Moore agrees: "The information gained from the tracker will benefit osprey populations well beyond the Tennessee Valley."
Moving the Nest
While the bird was being banded and watch kept over the chicks and egg, the Arab Electric team moved the large stick nest with meticulous speed onto a prepared, permeable platform and safely lowered it to the ground with only a few sticks displaced. The nest was set on a trailer and transported across Highway 69, with TVA and Guntersville Police momentarily halting traffic, to an adjacent boat ramp where a prepared platform — approximately fifty feet tall — was ready and waiting to hold the bird's new waterfront home.
After Arab Electric crews safely secured the nest on the new platform, the baby chicks and egg were placed back in the nest. The mother osprey was then held at the nest for a moment to help her recognize her family's new location, then she was set free and continued to circle the area, as she had done all morning, while the team cleared out.
Successful Save
Osprey may return to the same nest year after year and continue to build on it. To prevent osprey from returning to the old nest location, Arab Electric installed small plastic poles to deter the birds from landing or building on the top of the electric pole.
But in this instance, great teamwork saw a safe and successful rescue of the osprey family and protected reliability for members of Arab Electric. Because of careful planning, there were no electrical outages during the work to relocate the nest.
"While we have relocated nests on transmission towers before, this is the first time we've moved a nest more than just a few feet. This was a great day and I'm appreciative of everyone who worked to make this a success," said Moore.