When TVA restores one of the hydro units inside it's storied hydroelectric fleet, it adds green megawatts in the process. Take a look inside Pickwick Dam.
OCTOBER 19, 2020 — Power producers across the nation are racing to find new solutions to meet the ever-growing demand for clean and renewable power, but TVA has a simpler solution: If they're broke, fix 'em.
It's no secret. Hydroelectricity is one of the world's oldest sources of green power and TVA has 109 of these conventional generating assets spinning inside the concrete petitions of 29 Valley dams.
TVA's strategy to repair and refurbish these original river units is not a new one. In fact, the agency has performed at least 62 hydro unit outages since 1992. Through these efforts, TVA has returned or added an estimated 453 megawatt-hours of generating capacity to a river fleet originally rated for 3,500 megawatt-hours. Today, TVA's conventional hydro units can generate 4,300 megawatts — enough to power more than 2.5 million homes.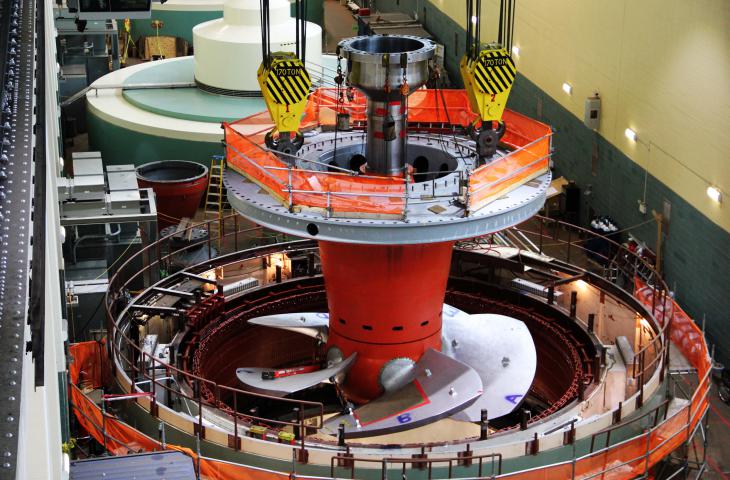 The installation of Pickwick Unit 1

Through these intensive restorations, TVA has not only extended the life of its generating assets but has reached its 2020 carbon-reduction target — a 60 percent decrease from 2005 levels. Today, 54 percent of the TVA's energy supply is from carbon-free sources.
The agency expects to meet its 70 percent target by the end of 2030.
"'Can TVA supply us with carbon-free power?' is one of first questions job creators ask us now when considering moving operations to our seven-state service region," said TVA Senior Program Manager for Climate Policy Karen Utt, Environment and Energy Policy. "They want carbon-free power because their customers are demanding it from them. Whether it's Big Tech giants like Facebook and Amazon, or a medical or auto manufacturer, these companies are relocating to where clean energy can be provided for the long haul."
Restoring Pickwick Units 1-4
Pickwick Landing Dam was the second dam built under the TVA Act of 1933. Construction on the six-unit, 240-megawatt station began on Dec. 20, 1934, and officially ended when the final unit came online in 1952.
In 1939, the price tag of the dam, its two original units and the required purchase of the flooded 63,700 acres totaled $31,841,230 — less than $600 million in 2020 dollars. The cost of Units 1 and 2 was $871,254 each, or about $18 million today.
Beginning in 2015, TVA launched a life-extension project that involved four of these vintage machines. The challenge to repair Pickwick's degraded turbines, which had trimmed an estimated 10 megawatts of generation capacity from each unit, was no small feat. Exacerbated by significant discovery of damaged components during disassembly, the outages required $123.5 million to complete.
Senior Project Manager Greg Barbee headed the overall Pickwick initiative, which took 61 months and totaled 644,840 combined workhours from TVA Generation Projects & Fleet Service crews and third-party vendors.
"This project was challenging," Barbee said. "But I know for all of us it's rewarding to have been part of something that's gonna benefit people for many years to come."
Energy Comes Online
The Pickwick outages restored about 40 megawatts of generating capacity to the station. Although under budget by more than $2.8 million, the refurbishment cost of each unit was almost double their original Roosevelt-era sticker price.
Pickwick returned the last of the four refurbished units — Unit 2 — to service in August. Today, the station is now able to achieve its original generating capability of 240 megawatts, which is enough to power more than 140,000 homes. TVA estimates it will take less than eight years for the assets to pay for themselves as they harness the Tennessee River's source of green power.
Pickwick's two remaining original units will begin life-extension outages in the next few years.
"TVA is committed to sustaining a healthy environment through low-carbon generation," said Bob Deacy, senior vice president, TVA GP&FS. "To achieve our 2030 carbon-reduction goal and to meet the Valley's demand for green power, we will continue to invest in hydro assets like those at Pickwick. Not only will these investments give businesses and corporations a competitive edge, but the outages we undergo today will create jobs tomorrow that will help many of the 10 million people we serve."