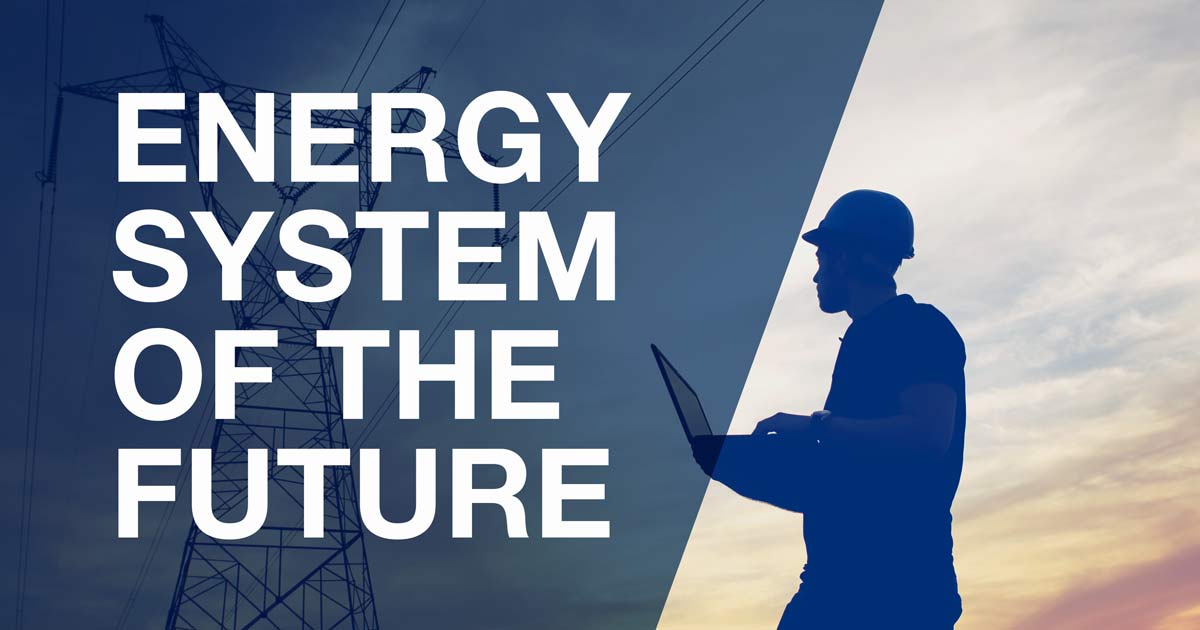 TVA's Energy System of the Future
In the wake of the recent winter storm that caused energy blackouts and reliability issues across several states, many have asked if it could happen across TVA's seven-state region. We caught up with Jacinda Woodward, TVA senior vice president, Power Operations, to find out why reliability matters and how TVA is both investing in and building the energy system of the future – making that event very unlikely to happen here.
Many will remember Valentine's week 2021 for bitter cold and for millions in Texas, Arkansas, Oklahoma and Mississippi – no electricity. If anything this event taught us just how essential reliable energy is to our nation, and how sacrificing reliability for low rates is a high risk that can cost lives. The extreme cold that descended on the Midwest and South exposed weaknesses in many energy markets and utility systems but also highlighted the strength and value of the Tennessee Valley public power model.

Living in the Tennessee Valley, we do not have to worry about investor-owned utilities who put profit before people, because TVA is public power – your power. The fact is TVA has no profit motive and no shareholders to please; minimizing pressure to charge any more than is absolutely necessary. As a result, TVA customers enjoy some of the lowest electric rates in the nation.
Running the nation's largest public power electric system takes skill. TVA has an industry leading record of 99.999% reliability for the last 20 years. That means the power is on for cold nights and hot days. TVA's recently released Strategic Intent and Guiding Principles document highlights TVA's commitment to developing business strategies that provide reliable, resilient, low-cost and clean energy to the Tennessee Valley region in keeping with the TVA mission.
If you ask Jacinda Woodward, TVA senior vice president, Power Operations, about TVA's "secret sauce," she would tell you that reliability takes people dedicated to planning and preparation – deliberate decisions to maintain our diverse generating assets and create a sustainable energy system of the future.
We caught up with Woodward to learn what TVA is doing to keep seven states powered with clean, cost effective, and reliable electricity. Here is what she had to say.
How did TVA keep the lights on when other utilities grids failed?
First, it's our people. We have the best workforce in the nation. Every day TVA employees focus on serving our 10 million residents. Their commitment and combined response made the difference. In some cases, many employees stayed on site 24/7 – sleeping on cots to keep the lights on for their communities and neighbors during the recent winter storm. Their dedication and commitment to TVA's mission of service is evident – day in and day out. I'm proud of what our team has accomplished.
Second, TVA is public power. We work closely with 153 local power companies. We understand high reliability is every bit as important as low cost. When it is hot or cold, families expect us to be prepared to deliver power reliably, without sacrificing cost. TVA builds operational margin in our generation fleet to ensure we have enough electricity to serve everyone, even in extreme temperatures. This extreme weather event showed we should increase our margin from 20% to 25% for added safety. We also invest in our plants so that they will operate reliably in extreme temperatures. While we had some instrumentation issues due to freezing conditions, our investment in freeze protection in the past few years alleviated most of the reliability issues we previously experienced. For example, we invested $9.4M in our combined cycle gas fleet in freeze protection upgrades in 2018 and reduced freeze protection issues by 60 percent.

Finally, TVA believes in continuous improvement. While our units operated well, we also identified some areas where we can improve. We will continue to improve our procedures and invest in our plants to address those issues to ensure we can deliver reliable power, whatever the situation. We plan for events like this, anticipating problems that could arise and developing plans to maintain reliability. . In fact, TVA has invested billions of dollars in new generating assets, and we plan to invest billions more over the next five years as we build the energy system of the future.
It sounds like your investments have paid off. How does TVA get the right generating mix?
TVA has one of the nation's most diverse, robust generation portfolios. As we work to build the energy system of the future, we continually study the future needs of our generation mix. We learn from industry peers and we innovate on our own. This helps us move toward a cleaner, more flexible energy portfolio. Our plans are to retire our remaining coal plants, add solar and gas assets to replace retired megawatts, and explore new nuclear and other emerging technology over the next 20 years. Currently, TVA's generating mix is about 60% carbon-free. We are the greenest utility in the Southeast with the most renewable energy generation among our peer utilities.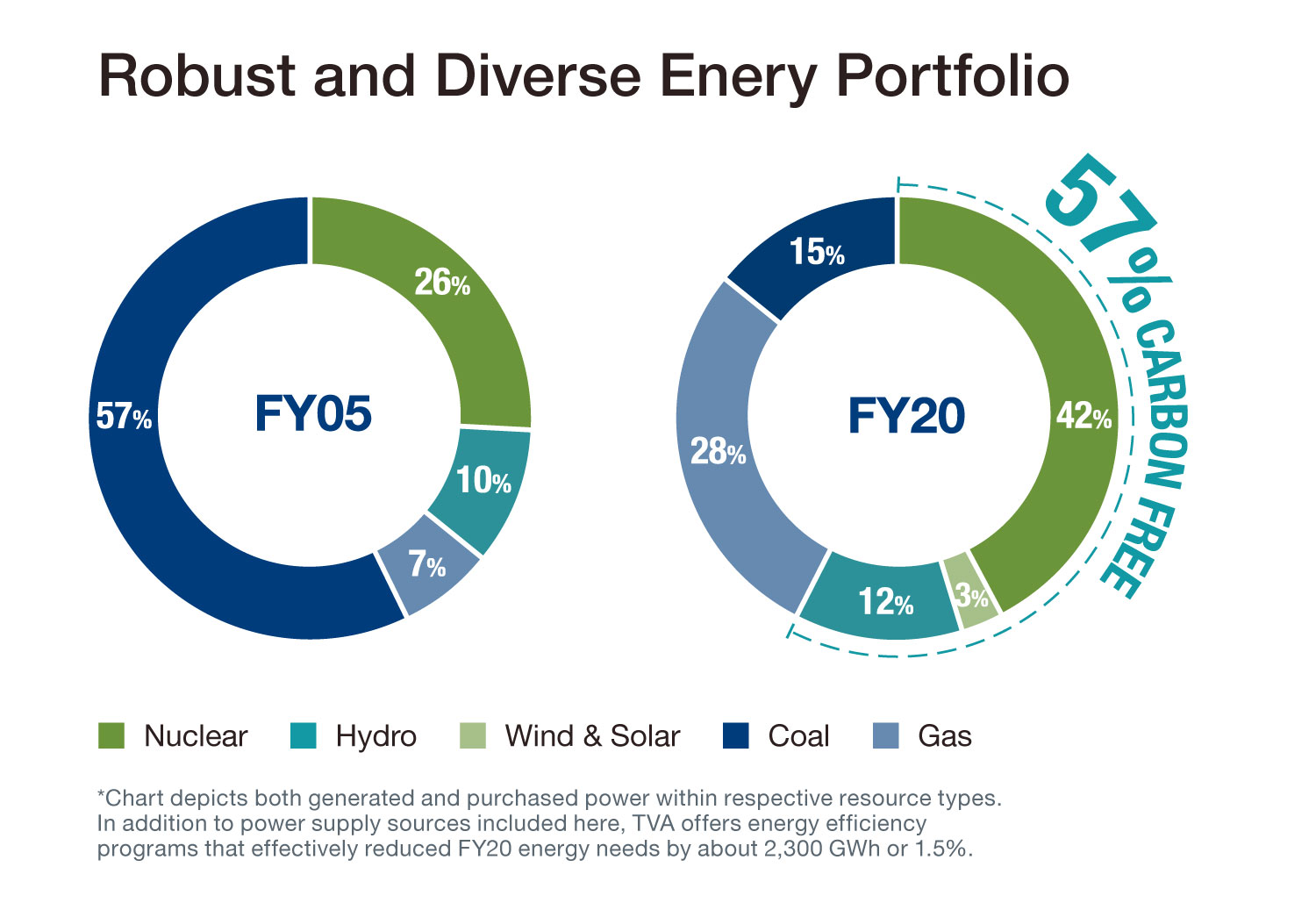 However, TVA can't do it alone. It takes partners. Over 90% of the 153 local power companies in our region have signed 20-year power purchase agreements with TVA. That means we can make long-term planning decisions for communities, making energy costs more competitive to attract jobs and investments. This is unlike investor-owned utilities that operate quarter-to-quarter to keep profits up and investors happy.
What does TVA's future asset mix look like?
Since TVA was founded in 1933, we have evolved our generation mix to meet changing needs. We work hard at understanding what residents and companies need to be successful in the future. We are listening and know that companies coming to our region want reliable, cost-effective and clean energy. We know lives and livelihoods depend on the essential nature of the product we produce. Therefore, our future asset mix focuses on power reliability to create a cleaner, more flexible energy portfolio 10 to 20 years from now.

Currently, we are looking at a variety of options for our evolving generation mix. These planning assumptions are not yet approved decisions or projects. Our assumptions help guide our thoughts around maintenance and investments to prepare for formal asset decisions and approvals. And of course, environmental reviews and public input are important components to these decisions as well. Current planning assumptions include:
Further reducing our reliance on coal, including evaluating the impact of retiring the balance of our coal fleet by 2035. TVA's coal units are 50 to 80 years old, and only make up 14% of the energy we produce today (compared to 57% in 2005). These units were not designed to operate indefinitely, nor were they designed to fluctuate in electricity output required in today's modern electric grid.
Retiring, refurbishing or adding gas units to maintain flexible, reliable capacity in order to enable the integration of renewable energy like solar power. Natural gas is a bridge that will help ensure reliability as new carbon free technology is developed.
Bringing additional solar capacity online. TVA projects increasing solar capacity by about 10,000 megawatts by 2035. This includes solar commitments to date of more than 2,300 megawatts expected to come online by 2023, pending environmental reviews, and largely driven by customer demand. We are aggressively pursuing solar while keeping low costs and reliability in mind.
Maximizing the life of our 29 hydroelectric dams and Raccoon Mountain pumped storage plant and explore other hydro technologies like pump-back generation. In the past five years, TVA has invested $500 million to upgrade our hydro assets. We plan to invest more than $1 billion by 2030 to ensure our original green power producing dams continue to operate for decades to come. We are also investigating innovative opportunities, such as pump-back technology, similar to Hiwassee Hydro plant, to maximize power output.
The Strategic Intent and Guiding Principles document has additional information about other ways TVA is ensuring a reliability, clean energy supply while reducing carbon emissions.
Does the public have input into TVA's asset planning process?

Absolutely. Transparency is the foundation of the public power model. As part of the process, TVA conducts environmental reviews to obtain public input and determine the feasibility and potential impacts of each planning assumption. We post reviews at our environmental review webpage. It is key to remember that TVA does not make decisions until all appropriate reviews and approvals are complete. The time to complete environmental reviews varies, but an environmental review, such as an Environmental Impact Statement, can take up to two years.
Why is TVA preparing an energy system of the future?
This is an ever-evolving industry in an unpredictable world. TVA must adapt and remain flexible to meet our customers' needs, which includes making decisions to help achieve our aspiration of net-zero carbon emissions by 2050. It's also because #reliabilitymatters. TVA's mission is to serve the people of the Valley, and by shaping both our workforce and generation mix for the future, we will be prepared to provide safe, reliable, low-cost, cleaner power to our 10 million customers for decades to come.
In addition, businesses choose to relocate to regions that can help them achieve their sustainability goals. By supporting a clean-energy economy, we signal that our region is open for business for companies who want to use renewable energy to achieve their sustainability goals. For example, our nationally recognized Green Invest program has generated $2.7 billion in investment since 2018. When businesses relocate here, jobs are created and people can find work- revitalizing both rural and urban communities.
​ ​
Share this story:
​