APRIL 15, 2019 — TVA's recently relocated Memphis office complex opened its doors to community stakeholders and partners during an official Open House & Networking Event in April 2019.
Several companies attended the celebration, held in the heart of Downtown Memphis, a block away from TVA's largest customer, Memphis Light, Gas & Water Division (MLGW). In addition to several MLGW employees, representatives from the Memphis Chamber of Commerce, the Bartlett Chamber of Commerce, Crockett County Chamber of Commerce, the City of Germantown, the NAACP (Memphis Branch), the Church Pension Group, Atlantic Track and others all enjoyed the evening's festivities.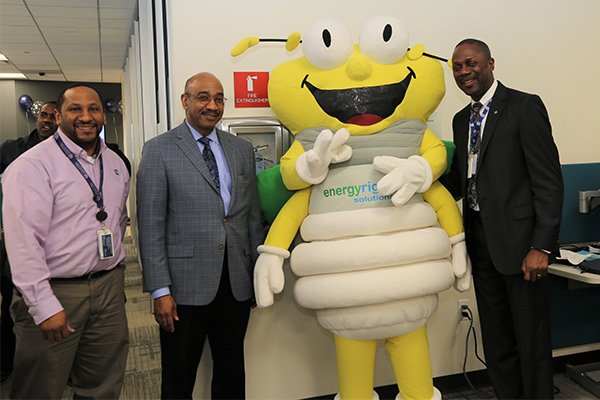 TVA Engineer Sam Caviness, MLGW Senior Vice President and Chief Operating Officer Alonzo Weaver, and TVA's Memphis Executive Director Mark Creech pose with Louie the Lightning Bug during the recent Memphis Open House & Networking Event.
"We had a really nice crowd, and everyone said they really enjoyed themselves," said event planner Latonya Sneed of Customer Delivery. "I feel the mission was accomplished."
Dinner, dessert, music and great conversations marked the occasion, as photographs of recent TVA community events scrolled for attendees to see. Among them was Kentucky and interim West Tennessee General Manager Ernie Peterson and his family.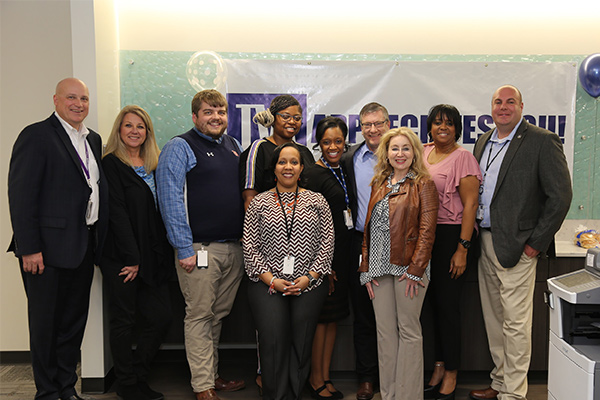 Following open house, TVA employees stopped to smile and reflect on a successful event.
"It was great to see everyone together," Peterson commented. "Once you've been to someone's house, you feel more comfortable and like you know them. It was a great, class-act event."
The occasion, originally intended to bring TVA stakeholders together, also served another, equally-important purpose.
"Events like this one let people know that TVA is here. Tonight, we gave our stakeholders a glimpse into our world, and they commented on how nice people at TVA actually are," Sneed concluded