In December 2021, Sinova Global, a Canadian-based manufacturing company, announced its new silicon metal plant in Lake County, Tennessee – making it TVA's newest directly-served customer.
Due to pandemic conditions at the time, the community wasn't able to celebrate Sinova's announcement. That celebration instead took place on March 23 with a luncheon sponsored by the Reelfoot Chamber of Commerce. TVA leaders joined state, county and local representatives to welcome Sinova Global to the region.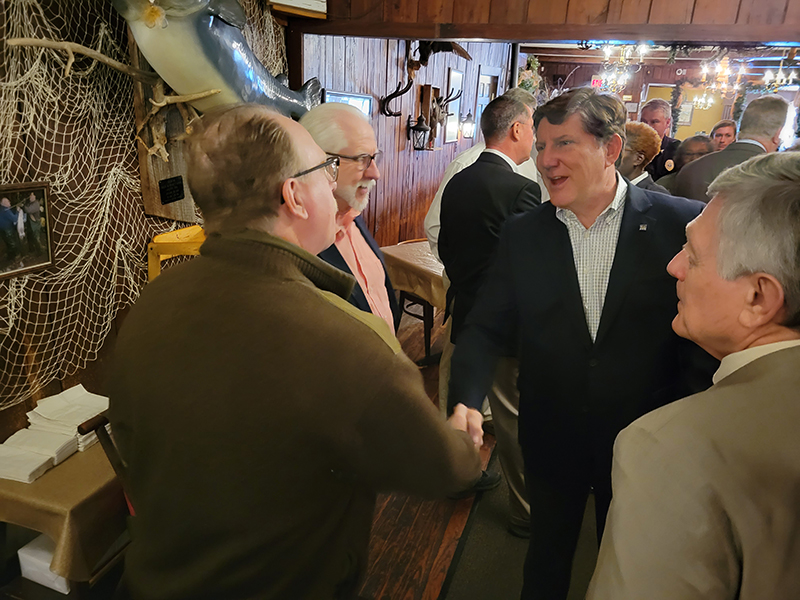 A Greener Future – 100 Megawatts at a Time
With plans to use more than 100 megawatts of TVA energy, the 149-acre site near Tiptonville will refine ultra-high-quality quartz into silicon metal to be used in items such as solar cells and next generation batteries. The plant is expected to be online as early as 2024, making it one of TVA's larger directly-served customers.
"This announcement marks a milestone for both Sinova and TVA—and expands our footprint of directly-served customers across the regions," said Ryan Leister, Director of the West Region Customer Relations. "Partnering with TVA isn't just purchasing electricity, it's about producing community energy where together we make a difference in the places we live, work and play."
Once operational, the products produced in the new plant will ultimately aid TVA in our efforts to electrify the Valley. This will help pave the way for more than 200,000 electric vehicles on Valley roads by 2028.
"EVs are good for consumers and our region's economy," said Ray Knotts, TVA senior manager, strategy and planning. "Sinova Global's new facility demonstrates how this switch to clean and inexpensive-to-operate EVs can also bring jobs and prosperity to our communities."
Economic Prosperity
Lake County is located in the northwestern most tip of Tennessee, just a stone's throw from Missouri and Kentucky. This community will see an infusion of more than $150 million and 140 high paying manufacturing jobs at Sinova Global.
But this didn't happen by chance, TVA has been a long-term partner in economic development with the county and provided an early investment to refurbish the Port of Cates Landing into a viable industrial complex. Sinova Global is the first tenant.
"At the earliest stages, we provided assistance to conduct the necessary port feasibility studies and to help extend water services to the area for use," said Chuck Marquis, West Tennessee Regional Economic Development. "We've been an active partner in Lake County and greatly appreciate our partnership with Gibson Electric Membership Corporation, the local power company, and the city."
The port has received more than $65 million in Federal, State, local and TVA assistance over the last two decades to attract companies to the area.
"We plan to support the next phase of the project and make the industrial park suitable for more manufacturing projects—drawing even more jobs and investment to the area," said Marquis.