One of our own has been recognized by the Tennessee Solar Energy Industries Association with its 2020 Solar Champion Award.
OCTOBER 16, 2020 — The sun shone brightly on the shoulders of Chris Hansen recently. He's the vice president for TVA Origination and Renewable Solutions and works tirelessly to promote the growth of solar energy to meet customer needs inside the Tennessee Valley.

Hansen has been instrumental in creating TVA's array of renewable programs, which include:
Green Invest, an innovative program through which TVA matches commercial and industrial customers with solar providers, ensuring the best value while matching private business demands with the public power model
Green Switch, which offers households and small businesses a way to go green for only a couple of dollars a month (no equipment to install, no maintenance)
Green Connect, a program to help those ready to commit to rooftop solar to find TVA trained and certified installers to make a safe and secure connection to the grid
Green Flex, which offers businesses with sustainability goals (but that are not quite ready for Green Invest) a way to buy Renewable Energy Certificates (RECs)
His efforts have been noticed by the Tennessee Solar Energy Industries Association (TenneSEIA), which bestowed on Hansen its 2020 Solar Champion award.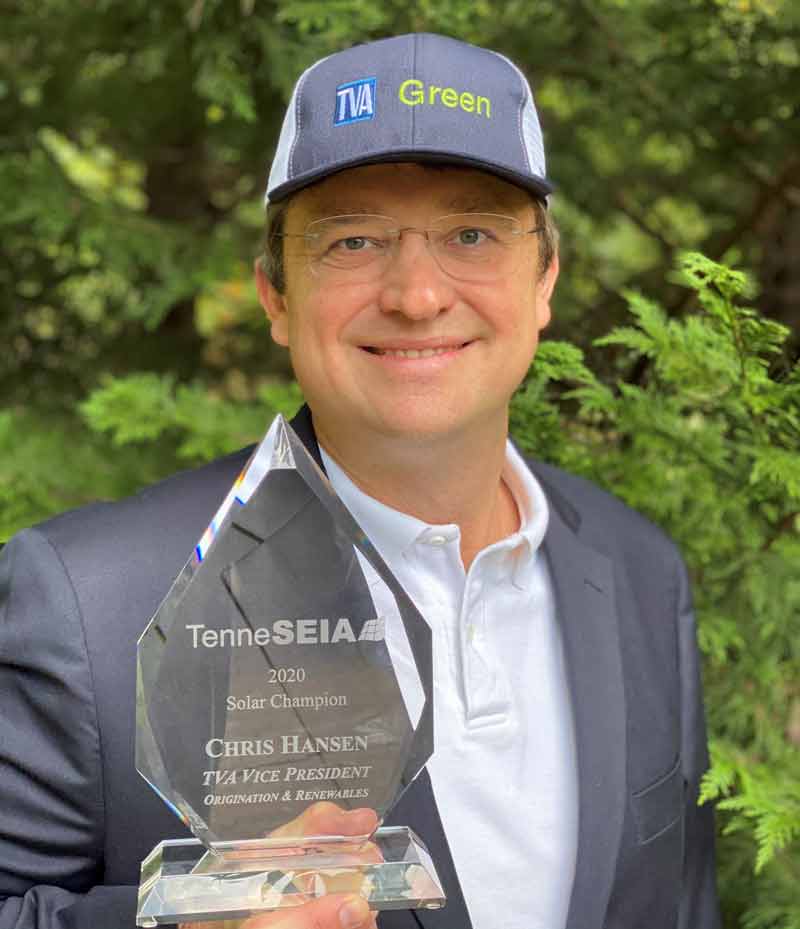 The ceremony took place during TenneSEIA's 3rd Annual Tennessee Valley Solar Conference, which was held virtually on October 7. Participants in the webinar event were able to hear insights and perspectives from a wide range of policymakers, as well as industry and utility leaders.
At the conclusion of the conference, TenneSEIA announced its selection of Hansen and the Knoxville Utilities Board (KUB) as winners of its 2020 Solar Champion Award. Both recipients were recognized for their contributions in expanding solar in the region as a tool for economic development and to meet the sustainability goals of customers through the Green Invest program.
"While we honor Chris Hansen for his leadership and vision for how renewable energy procurement plays a vital role in economic development, this award also acknowledges the work of many at TVA for the Green Invest program, the LPC flexibility provision and the shared commitment to improve the quality of life in the Tennessee Valley," said Matt Beasley, TenneSEIA board member and past president. "Today TenneSEIA honors the virtues of diplomacy and mutual respect that have underpinned our ongoing dialogue with Chris and his team at TVA to serve the best interests of our region."
"TVA is building the energy system of the future and it takes a team of professionals to bring our vision to life," said Hansen. "This award is really about our customers and stakeholders, like Facebook, Google, General Motors, Knoxville Utility Board, Vanderbilt University, Nashville Electric Service, the Metro Government of Nashville & Davidson County, and TenneSEIA looking to make a difference through the lens of renewable energy. These customers have leaned-in to develop and grow a great suite of TVA Green products."