TVA Sponsors Memphis Public Libraries' Summer Reading Program
July 12, 2019 — Memphians of all ages can enjoy a list of educational and entertaining activities this summer during Memphis Public Libraries' Explore Memphis Summer Reading Program, sponsored by the Tennessee Valley Authority. This year's event, held June 1 through August 3 at library locations citywide, include a series of TVA Home Energy Workshops for adults and kids.
This free summer program helps kids to avoid the summer "slide" by reinforcing educational skills they learn all year long in a fun and interactive environment. Programs for teens and adults also help to encourage lifelong learning in a variety of areas, including energy conservation.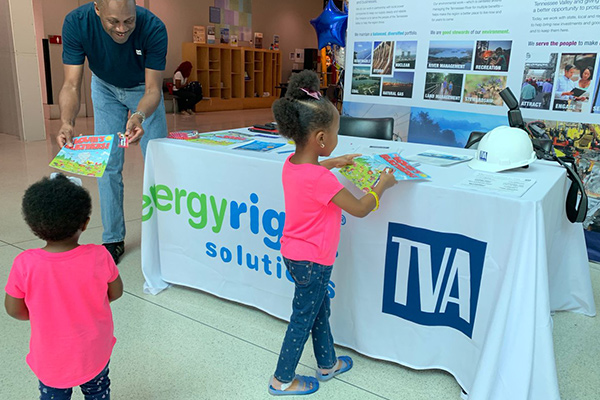 "The Tennessee Valley Authority is proud to partner with another service-centered organization like Memphis Public Libraries. Explore Memphis reaches the corners of the city in support of literacy, which is a priority for TVA as well," said TVA-Memphis Executive Director Mark Creech. "Our objective is to support and uplift Memphians, not only through reliable power but through increasing literacy rates citywide and re-enforcing our position that TVA cares for Memphis."
Memphis Mayor Jim Strickland spoke during TVA's Explore Memphis check presentation and ceremony at the Benjamin L. Hooks Central Library. "Along with our sponsors, the Tennessee Valley Authority, Explore Memphis is dedicated to providing enriching opportunities to enhance the educational experiences of our children of the Mid-South," he told the audience.
"In that vein, I want to especially acknowledge Cindy Herron, vice president of TVA EnergyRight Solutions for making this sponsorship possible and TVA-Memphis Executive Director Mark Creech. Thank you, TVA."
TVA's Home Energy Workshops, presented by EnergyRight Solutions, are free to the public and offer low-cost and no-cost tips on saving energy and money on customers' utility bills. All attendees also receive a free energy kit to get started!
Remaining summer workshops are listed below.
North Branch Library – Wednesday, July 17, 1 p.m. to 3 p.m.
Benjamin L. Hooks Library – Tuesday, July 23, 5:30 p.m. to 7 p.m.
For more information about additional upcoming TVA workshops, call (901) 577-2616.
​ ​
Share this story:
​