TVA Talks Economic Development with Memphis City Council
JULY 17, 2019 — TVA is more than a power company; it's an economic engine that helps grow jobs and attract business for the people of Memphis, TVA executive John Bradley reported recently to the Memphis City Council.
Senior Vice President of Customer Relations for TVA, Bradley spoke to the City Council about TVA's long-term investments in the local economy. "TVA is the only public power utility that carries a congressional mandate to advance economic development in the areas it serves," Bradley told nine members of the City Council.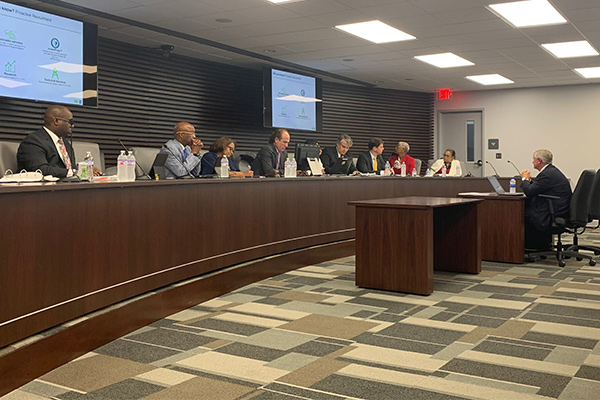 Councilman Worth Morgan, who represents District 5, extended the invitation for TVA to discuss its impact on economic development in Memphis. Bradley shared facts about TVA's work, including TVA's recent partnerships with St. Jude Children's Research Hospital, Indigo and JNJ Express. St. Jude's Advanced Research Center resulted in more than 500 new jobs. A $6.6 million capital investment, the Indigo partnership put 700 people to work, and the area's JNJ Express headquarters expansion was an $83.6 million capital investment that created 610 jobs.
TVA also offers funding assistance to businesses through performance grants, investment credits and loans, often in partnership with the local power companies, such as MLGW. While TVA serves parts of seven states, more companies in Memphis participate in and benefit from TVA's Investment Credit Program than anywhere else in the seven-state service area. For these and other economic contributions, TVA has been named the "Top Utility in Economic Development" by Site Selection magazine for 13 consecutive years.
Councilwoman Cheyenne Johnson later indicated she was interested in hearing about the work, and Councilman Morgan and Chairman Kemp Conrad agreed they are glad the relationship with TVA helps grow jobs in Memphis.
For more information about how TVA and how it supports economic development, call (901) 577-2616.
​ ​
Share this story:
​