Gas fleet "changes its tires" starting with new system upgrades at Magnolia Combined Cycle Plant.
SEPTEMBER 10, 2020 — TVA's gas facilities use more than nine major control systems across the fleet that need regular updating — much like replacing a set of tires, as Fleet Instrument & Controls Systems Manager Josh Brewer puts it.
"Updating a control system is necessary maintenance much like changing tires. You can't drive a car without them and after so long, you better just replace them if you want to continue to run equipment safely and reliably," Brewer said.
In the next five years, TVA will spend approximately $110M to upgrade many of the digital control systems across the hydro, coal and gas fleets.
Because technology changes quickly, TVA's Power Operations generating sites require perpetual upgrades to the digital control systems that protect these assets and enable operators to control plant operations. Maintaining these systems is especially critical for these gas facilities since they are nearly 100 percent controlled from digital control systems. If these systems are not maintained and operating correctly then the associated units simply don't run.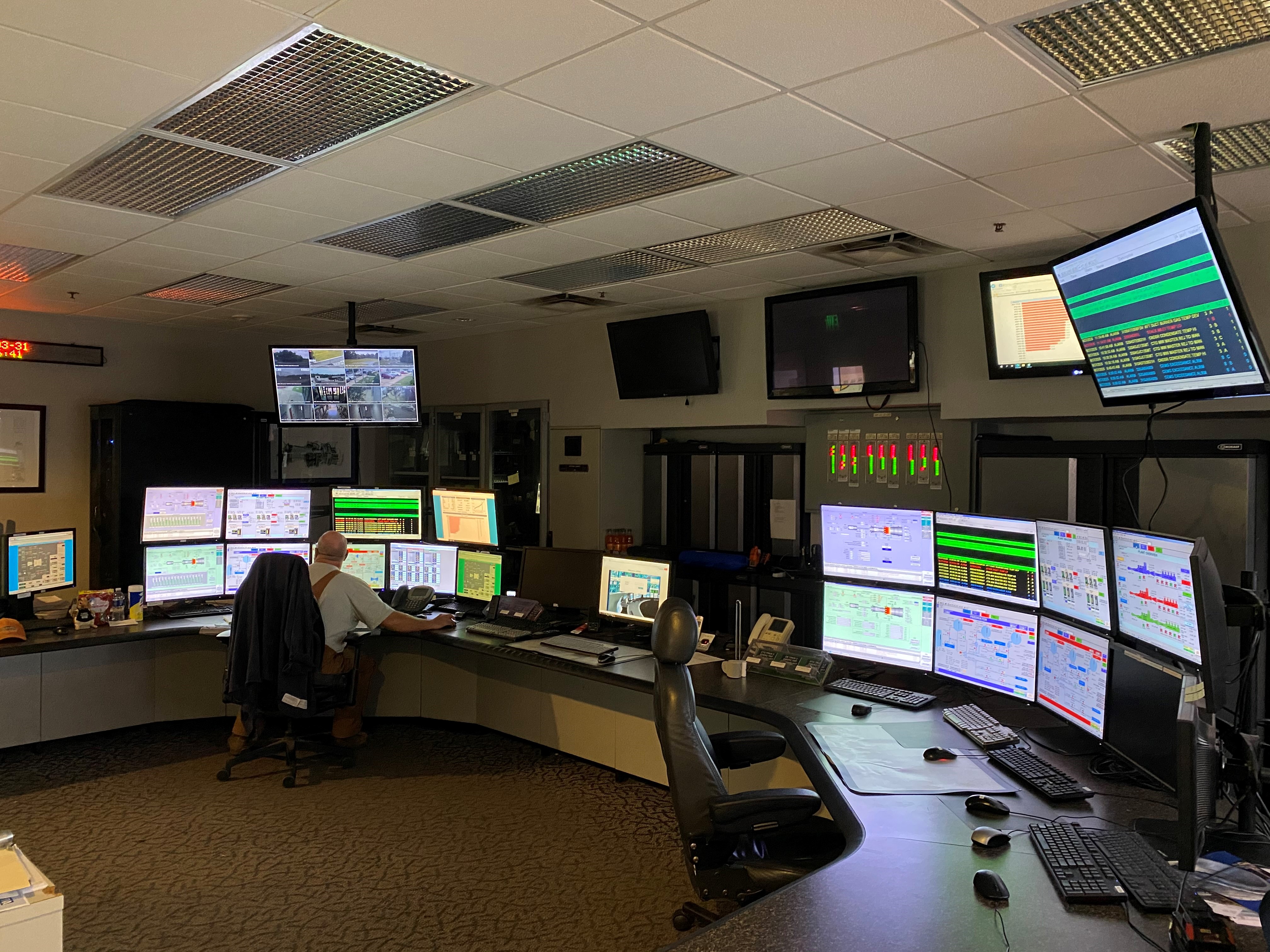 Operations Tech Randy Hensley at the controls at Magnolia Combined Cycle Plant.
"These upgrades are done mainly for reliability, but they also deliver some efficiency improvements, new functionality, improved automation improved diagnostics, and are better positioned to achieve cyber security enhancements," said Brewer.
Magnolia Combined Cycle Plant in Benton County, Mississippi, (pictured at top of page) was built in 2003 and requires significant upgrades due to aging equipment. TVA has selected a vendor, Emerson, to perform a distributed control systems upgrade on all three units, including a simulator.
"Magnolia will receive the largest control system overhaul across TVA's gas fleet," said Brewer. "We've been able to package multiple systems into one platform and one project to take advantage of many efficiencies and simplify vendor support going forward."
"These upgrades will make the control room more operator-friendly by moving noisy equipment into a new communications room being built onto the control room," said Brad Geremia, principal project manager, Generation Projects. "The reduction in ambient noise will reduce distractions to our operators."
A new simulator will also be installed to provide training for all operators.
"The simulator allows operators-in-training to learn the system and provides experienced operators a tool to run through practice scenarios before executing on operating equipment," said Geremia.
In addition, Magnolia will be getting a special upgrade — a new storm shelter next to the control room that allows for remote operating capability.
"In the event of severe weather, operators won't have to leave the building and will be able to operate the equipment remotely," said Geremia.
The Magnolia upgrade will start installation in the fall of 2021 with the Unit 1 outage and complete all three unit upgrades by the end of 2022.
"The Magnolia team is very excited about the upcoming controls upgrade. When completed, it will definitely improve reliability and reduce maintenance costs," said Magnolia Plant Manager Billy Martin.
Additional combined cycle sites executing controls upgrades in the next two years will be Lagoon Creek and John Sevier.
"These upgrades are part of a larger long-term asset strategy to maintain our existing fleet in such a way that we can depend on their operation for years to come," said Allen Clare, vice president, Gas & Hydro Operations.