Thanks to its involvement with students at Alabama A&M University, TVA has been recognized for its efforts to support and promote diversity in the workforce.
TVA was recently awarded the Alabama A&M University 2018 Black Tie Scholarship Gala Diversity Award. The event is the university's premier annual fundraiser, and aims to close the financial gap for its students.
Each year, the gala provides the university an opportunity to showcase its best and brightest scholarship recipients, while also recognizing individuals and organizations that are avid supporters of AAMU. TVA's work with the university earned the 2018 Diversity Award.
"As Financial Services began to focus on building stronger relationships with business schools throughout the service territory, it became immediately clear that A&M was a special place," says Lyndsay Sneckenberger, program manager, Financial Operations and Performance. "Three years ago, TVA's Financial Services department began partnering with A&M's School of Business, supporting career events, speaking engagements and bringing a number of students to Chattanooga and Knoxville for internship opportunities."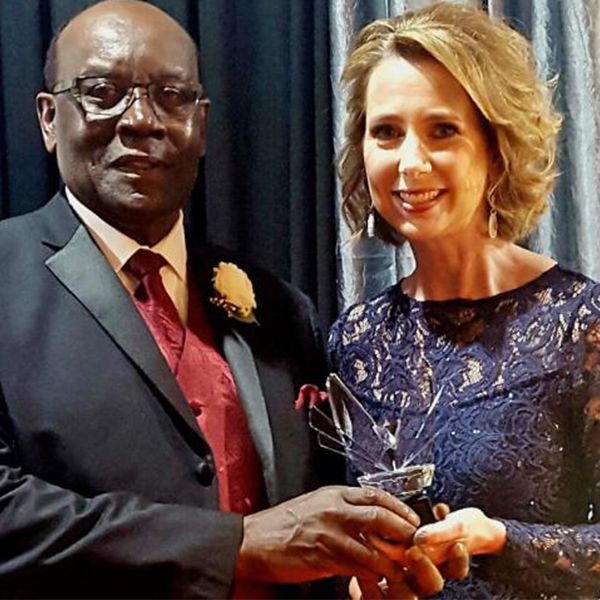 TVA's Donna Lawhead accepting the award from University President Andrew Hugine, Jr.
Donna Lawhead, manager, Financial Operations and Performance, attended this year's gala and says TVA works to be as involved with students at Alabama A&M as possible. "We maintain a presence on campus, whether it's through inviting classes to our plants, interviewing for intern candidates, supporting career events, or hosting speaking engagements."
Recently the concept of developing a case study competition hosted by Alabama A&M and sponsored by TVA was born. In 2017, a pilot competition was held with seven A&M teams and more than $8,750 in scholarship awards were provided to A&M students. This year, the competition was expanded to include other TVA partnership universities, and A&M took home the first place prize of $5,000.
"Through our actions with the university, we have made it clear that TVA believes in the university and its students and is invested in helping both the students and school grow and develop," says Sneckenberger. "TVA is more than just an employer. TVA's mission of service resonates with its employees and being able to take time to give back to our communities through our partnerships, sponsorships and volunteer efforts helps those residents, schools and organization grow and thrive, bettering life for all those living within the Tennessee Valley."
Lawhead says seeing the effects of TVA's work with the university firsthand was impactful. "A lot of people at the gala came up and said 'thank you' for being involved with the university, 'thank you' for what you're doing with the students. It was clear a lot of these students wouldn't have the opportunities they have if it wasn't for the companies that sponsor the gala and the things TVA does."
This year's event raised around $200,000 in scholarship money. The gala has raised nearly two million dollars since its inception and has impacted hundreds of students.