Electric vehicle (EV) technology is improving, and options are more readily available and affordable. As more Valley commuters are adopting these eco-friendly rides, TVA is working to understand the needs of EV owners and ask the question, "How might we help more people plug in?"
SEPTEMBER 12, 2018—TVA, along with Nashville Electric Service (NES) and Middle Tennessee Electric Membership Corporation (MTEMC), are partnering on a two-year program called Smart Charge Nashville.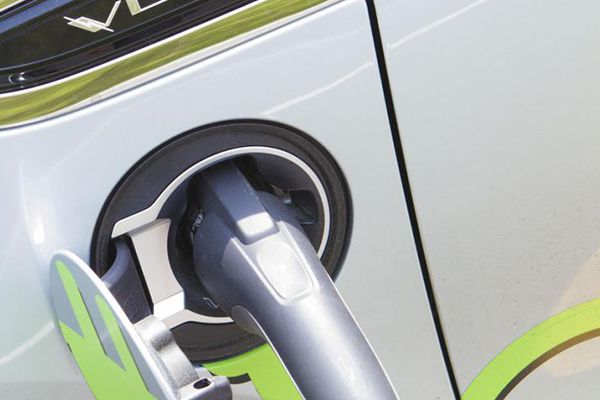 The Smart Charge Nashville program will follow 200 local volunteer electric vehicle drivers in the greater Nashville area by using a data logger plugged right into the vehicle. The data collected, which is also available to the participants of the program, will provide insight into the the charging patterns of EV drivers and what might need to be done in the future to accommodate more and more EV drivers hitting the road.
"We're starting in the Nashville area because it's a large metro area with enough EV owners to give us good data," says Drew Frye, TVA's EV pilot program manager. "We want this information because it can help us understand how we might need to prepare our power system to support broader adoption of EVs."
The partnership between the companies could change how local utilities and Tennessee Valley Authority provide electricity to drivers across the Valley.
The Evolution of EVs
It may surprise some that while technology for electric vehicles has become more mainstream in recent years, electric vehicles have been around for more than 100 years.
The Department of Energy mentions a chemist from Iowa, William Morrison, who in 1890 was the first American to develop an electric vehicle. The six-passenger vehicle, according to the DOE website, only had a top speed of 14 miles-per-hour, but it acted as the catalyst for EV interest.
For more than a century, scientists and manufacturers would work to develop an electric vehicle that could be mass-produced and marketed worldwide. In 1997, the Toyota Prius was unveiled in Japan, and globally the following year, forever changing the landscape of electric transportation.
Now, there are many hybrid vehicles on the roads, along with completely electric vehicles, helping reduce the carbon footprint of commuters. However, one issue with electric vehicles still remains—range. Some models of EVs average 100 to 150 miles per charge, while some boast closer to 200, but those numbers are low compared to their 400 mile gas-powered cousins.
Quick-charge stations and improved battery capacity and life continue to be on the forefront of development in the EV world, but as those technologies continue to develop there is still a need for EV owners to plug their vehicle in, be it at home or their office, and that need means power companies are looking to understand charging habits of EV drivers to provide a better service to them from a utility standpoint.
If you are an electric vehicle driver in the greater Nashville area and would like more information on the Smart Charge Nashville program, visit www.fleetcarma.com/SmartChargeNashville.