Uplifting the Underserved
TVA's award-winning Home Uplift program has helped more than 1,700 Valley residents to afford their energy bills while living comfortably — and the program has now been awarded for its efforts.
APRIL 22, 2021 — Eleanor Young lives in a 980-square-foot home in Chattanooga with her 26-year-old son, who has sickle cell anemia. On a fixed income and with monthly electric bills that typically totaled more than $150, Young admitted it was often a struggle to keep her home warm or cool.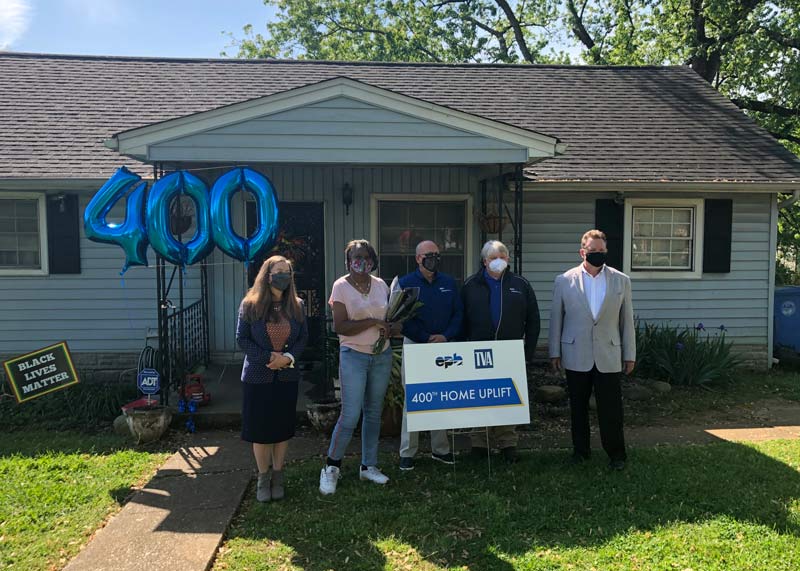 A partnership between TVA and local power company EBP has worked to change that. With energy efficiency advice from EPB's Energy Pros and funding from TVA, Young's 71-year-old home has been resealed and upgraded with a new heating and air conditioning system and new smoke and carbon monoxide detectors—making it safer as well as more comfortable to live in.
Called Home Uplift, the program is working for Young. "This program has really helped me," she said. "Previously, I had sky-high electricity bills because my son and I were using portable space heaters and air conditioning window units. My power bill has decreased. The insulation is making a huge difference in helping the house stay warmer. My air is better, and I have more peace of mind now because I don't have to worry about how I'm going to pay a really high power bill."
Young's was the 400th home in Chattanooga to receive energy upgrades as a part of the Home Uplift partnership between EPB and TVA. Elsewhere across the Valley, more than 1,300 other homes have been upgraded with TVA's help—with 1,000 more planned by the end of September.
Powerful Partnerships
Nearly 50 local power companies now partner with TVA to provide the Home Uplift program to qualified low-income homeowners in their areas with houses in need of energy upgrades.
Home Uplift improvements save homeowners an average of more than $500 per year. Upgrades may include weatherization, air sealing, high-efficiency heat pumps and air conditioners, duct replacement/repairs, ENERGY STAR windows, insulation, high-efficiency lighting, heat pump water heaters, ENERGY STAR appliances, and/or whole-house ventilation. Beyond the energy savings, the upgrades also help to improve the air quality and health of those living in the renovated homes.
The program recently won.

Continuing the Mission of Service
Since 2018, TVA matching funds and donations from community partners and local power companies have invested or pledged over $27 million in Home Uplift. This includes a recent $3 million allocation from the Tennessee Department of Environment and Conservation to expand Home Uplift programs in Memphis, Nashville, Knoxville and Chattanooga.
"TVA was formed more than 80 years ago to help uplift the people of the Tennessee Valley and we're continuing that work," said TVA EnergyRight Solution Senior Manager Frank Rapley. "Energy inefficiency is a big problem in our region. In keeping with our mission of service and leveraging the value of our public power model, TVA is bringing local expertise and organizations together to make improvements that are changing lives."
Winning Recognition
Home Uplift recently won accolades from the Smart Energy Consumer Collaborative (SECC) for its work with underserved markets. "With Home Uplift, TVA is tapping into the power of partnerships to reshape the energy assistance paradigm in the Southeast, an area where the energy burden ranks among the highest, and health and wellness indicators rank among the lowest in the country," said the SECC. Click here to learn more.

​ ​
Share this story:
​