JANUARY 21, 2021 — Trees hug Cynthia Lee's property like a comfortable blanket that she can see from her front porch in Benton, Kentucky.
When her mother-in-law passed away, she left the family a 10-year-old manufactured home that they lived in for the next several decades.
The walls, Lee realized, hold the happiest moments and some of the darkest that she could not leave.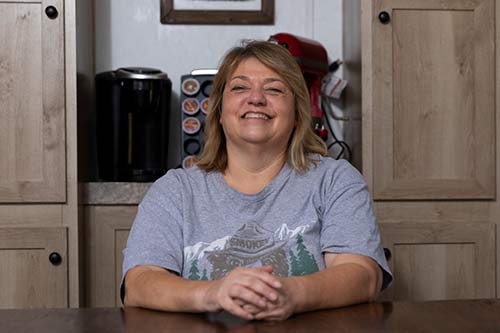 Cynthia Lee's energy-efficient home near Benton, Kent., has her grinning from ear to ear.
In July 2012, Lee was devastated when doctors diagnosed David, her husband of 34 years, with colon cancer. Over time their home became a hospital as she prayed for David's recovery.

"The last year he was alive, he was in a hospital bed in the living room where he could look out the front door," recalls Lee, who took early retirement from her job at Murray State University to care for David. "He was here up until the morning he passed away."

In the months after his passing, Lee began to notice the home maintenance that was not a priority while she was caring for David. She needed expert help.

"My husband was not Mr. Fix-it," Lee said with a chuckle. She says her home struggled for years to maintain an efficient temperature. "If it was warm outside, it was warm inside. If it was cold outside, it was cold inside, or at least drafty."

Double the Costs
Lee's experience mirrors many of the nation's nearly 22 million manufactured home residents.
According to research from the American Council for an Energy-Efficient Economy, for a manufactured home the average energy cost per square foot is more than twice as high as site-built homes due to lax building techniques and codes. Many residents spend more on their energy bills than they do home loans, making energy efficiency upgrades simply out of reach.

High-energy cost is even more concerning when you factor in the median income of families in manufactured homes is about $30,000 a year.
"The last electric bill before Home Uplift came in was $350 and that was a killer," said Lee. "Even though I draw a pension, it was still hard."

Calling in the Experts
Lee turned to her local power company, West Kentucky Rural Electric Cooperative Corporation, who had recently partnered with TVA EnergyRight on their Home Uplift program.
According to David Smart, President & CEO of West Kentucky RECC, "the TVA Home Uplift Program has been a game changer for many of our members. It provides our members a hand-up by helping reduce their monthly energy bills through improvements to the efficiency of their homes."

"Home efficiency and utility bills tend to run hand-in-hand," Smart said. "The more inefficient the home, the higher the utility bills. Although many site-built homes need efficiency improvements, some of our most inefficient housing is older model manufactured homes. With the help of expertise from TVA and Fleetwood Homes, we were able to design a pilot program for efficiency upgrades for manufactured homeowners. Together, we can make a difference."

Frank Rapley, senior manager of TVA EnergyRight, agrees: "Energy inefficiency is a big problem in our region and as a Federal Agency, TVA can bring local expertise and organizations together to make improvements that change lives."

Now Lee's utility bills are just under $100. With a more efficient home, her indoor air quality has improved, helping reduce her asthma symptoms.
Starting in 2018, TVA invested over $9 million in Home Uplift to help customers with limited means make long-lasting free energy efficiency upgrades to help lower their monthly utility bill. To date, TVA matching funds and donations from community partnerships and local power companies have invested about $16 million in Home Uplift.

Partnerships are Key
Systems Building Research Alliance (SBRA) is one of TVA's partnering organizations.
When COVID-19 hit, SBRA donated $100,000 to Home Uplift for energy efficiency upgrades for manufactured homes. TVA matched SBRA's donation to bring the total funding available for income-qualified residents in manufactured homes to $200,000.

These funds will provide upgrades for approximately 25 qualified manufactured homes in six local power company areas: Tri-County Electric Membership Corporation, Jellico Utilities, Rockwood Electric Utility, Newport Utilities, Fort Loudoun Electric Membership Corporation and Mountain Electric Cooperative.

"Now more than ever people need help and TVA's Home Uplift program is focused on families in the communities that need it the most," said Dawna Qualls, TVA senior project manager. "TVA and the local power companies can't do it alone, we need help."

Qualls is looking for community organizations and businesses to join the Home Uplift charitable donor network to expand the program's impact across Valley communities. Email Dawna Qualls if you are interested in joining Home Uplift's charitable donor network.

"Eighty-seven years ago, TVA was formed to bring economic prosperity to this part of the country because it was suffering," said Rapley. "COVID-19 shows that TVA's mission is just as relevant today as we still have people who need to be lifted up."