October 22, 2019 -- Operating a crane is not a game, but new gaming technology is helping operators hone their skills without the threat of making a life-altering or multimillion-dollar mistake.

Armed with a computer, headgear, joysticks and a moving chair, TVA's virtual-reality crane simulator is like stepping into the Matrix while riding a mechanical bull — an operating experience that is improving safety, eliminating risks to assets and increasing efficiency across the fleet.
The simulators provide TVA's 240 users the ability to gain experience on eight types of cranes. The software is programmed with 1,000 different scenarios.
Each of TVA's nine simulators costs about $10,000. However, according to Corporate Nuclear Crane and Rigging Coordinator Brookes Bacon, the $90,000 investment has already paid for itself with the success of Watts Bar's recent Unit 2 refueling outage.
"During Watts Bar's last refueling outage, 9 of 16 crane operators refreshed and polished their skills on the crane simulator before performing work in the field," said Bacon. "Because of this preparation, we were able to reduce crane downtime from 24 hours to two, drastically improving safety, our efficiency and potentially saving $1.2 million."
According to Bacon, because of the immediate and quantifiable result, TVA Watts Bar is now requiring each operator to undergo four to six hours of simulator training prior to all outages.
"It's not meant to replace actual seat time, but we can eliminate a lot of risk and time without putting wear and tear on our equipment," said Tom Ingle, Watts Bar Crane and Rigging program manager. "It's helping us become safer and more efficient in the work we do."
Added benefits of gaming technology
The simulator has another built-in safety component: it provides a no-consequence environment for TVA's training instructors to screen the skills of incoming contract operators.
At TVA, all mobile crane operators are qualified contract employees who have at least 2,000 hours of documented operating experience. Once on site, they must undergo a pass/fail performance test with an instructor in the cab of a live crane before performing work.
"We can bring a person in and put them on the simulator, and know within a few minutes how well they can operate," said TVA Crane Instructor Darrell Warmack of Day & Zimmermann. "From a safety standpoint, it helps in determining who we'll let test on live equipment."
Preventing things from going wrong
At a recent TVA Crane and Rigging expo, Ted Blanton Sr., president and CEO of North American Crane Bureau Group, used a mini crane to show operators in the audience how human error can lead to failure. Blanton is an expert who travels the nation giving testimony in litigation involving crane accidents.
"Life is at stake," Blanton said. "A crane has the largest potential for damage on the site than any other piece of equipment."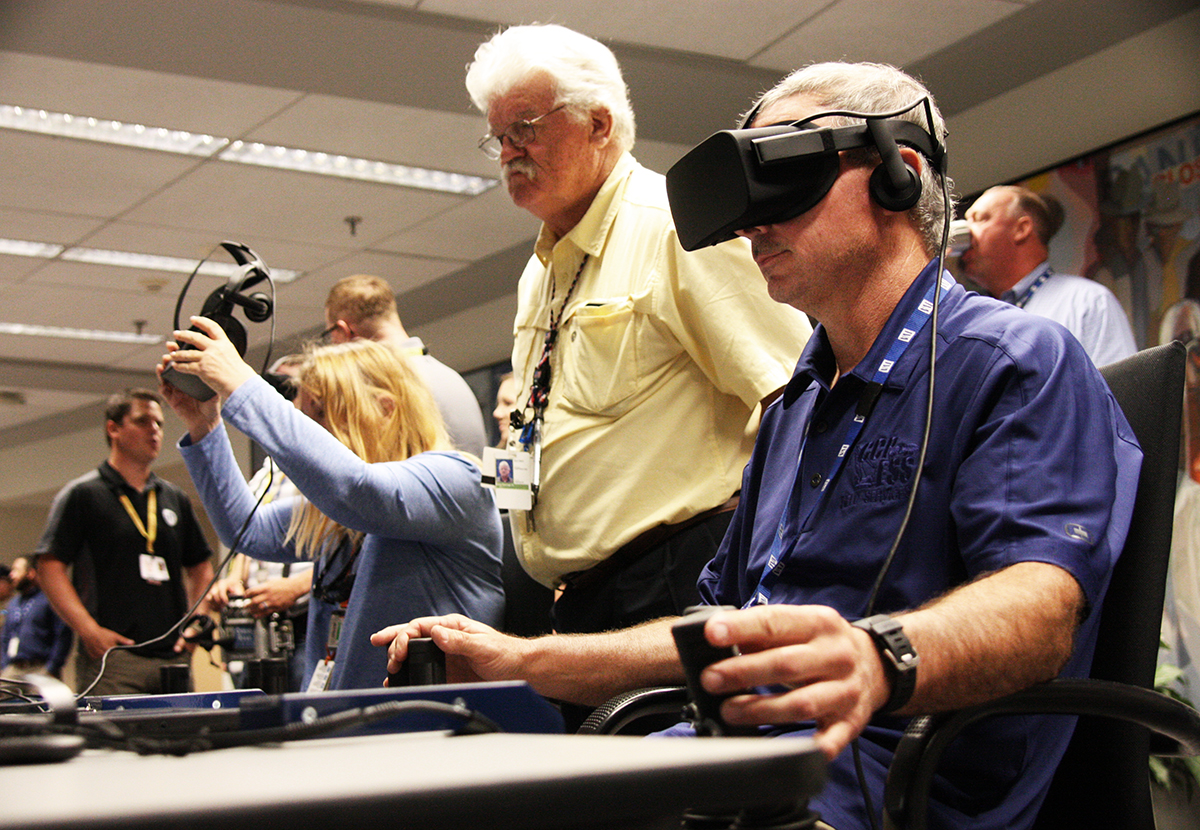 The safety risk, industry operating experience and our own lessons learned are why TVA has invested in simulator training.
"We've got a system in place and it works," Steven French, senior specialist, Equipment Operations and Rigging Training. "Our virtual reality simulators are a big part of that, because they eliminate risk to personnel and equipment."
Ingle agreed.
"At the end of the day, technology and innovation is helping us make sure TVA employees and contractors go home to their families the same way they came to work. That's something we can all be proud of."