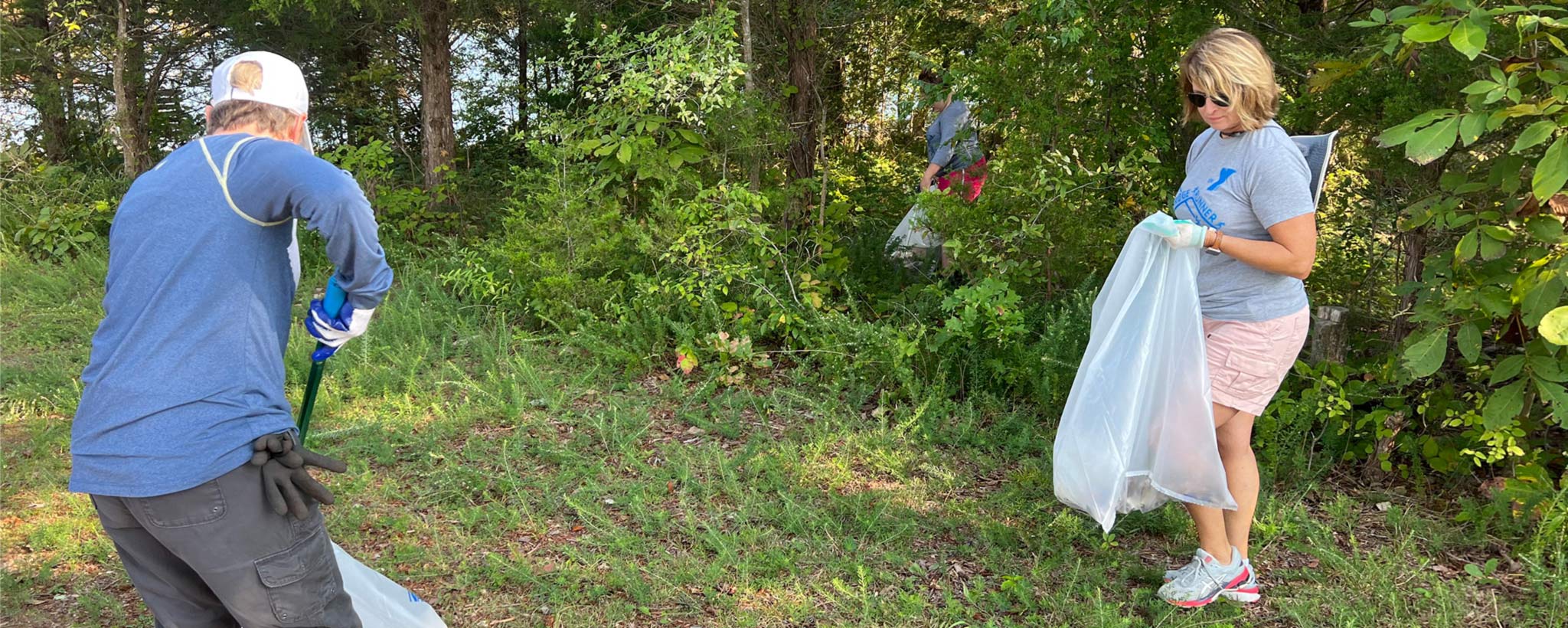 We Should Be Helping
Volunteers celebrate national public lands by pitching in on clean-up efforts.
As the waves crash upon the banks, plastic bottles, Styrofoam, and aluminum cans wash upon the shore.
From trash blowing off boats to people leaving traces of their camping trips, the non-biodegradable items bombard the natural beauty and habitat offered along the banks of Norris Lake.
Many community members advocate for a cleaner lake, and some take these efforts into their own hands.
The Norris Lake Project is one example of a group doing just that.
On a recent sunny weekend, the group hosted its bi-annual clean-up events across Norris Lake. Such events – part of the National Public Lands Day initiative – bring dozens of volunteers from across the area to the lakeshores and islands to pick up trash.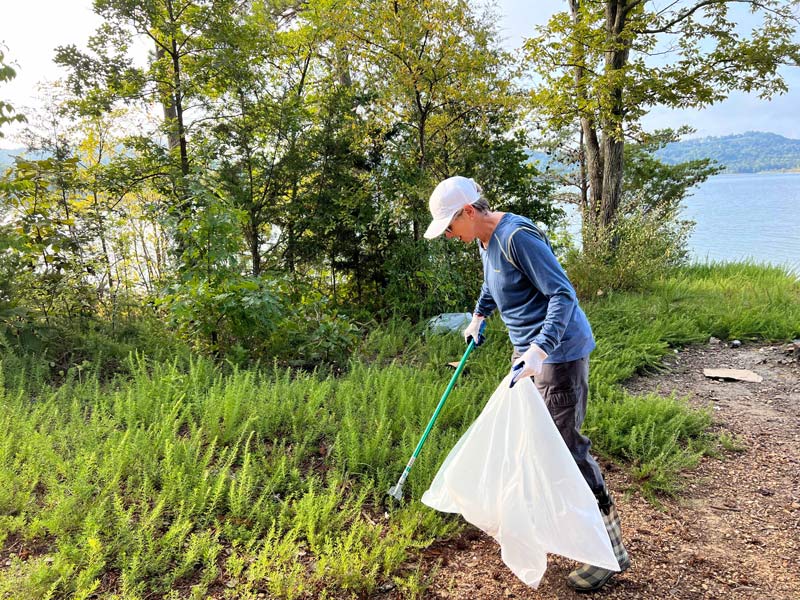 Kelly Benson cleans trash from a campsite on Pilot Island in Lake Norris.
Love for Lake Norris
The Norris Lake Project group hosts two clean-up events each year. In these events, volunteers split into groups and filled bags with litter.
Julie Graham, co-director of the Norris Lake Project, has a passion for Norris Lake, and her goal for the organization is to educate others on doing the same.
"We want people to love the lake," she said. "People who love the lake will take care of the lake."
Like Graham, the volunteers at this recent clean-up event have a deep love for Norris Lake and caring for the environment.
This is the second year Katie Dayton, a 16-year-old from Rocky Top, Tenn., has attended these events. She enjoys the impact she makes on Lake Norris, which is close to home.
Kelly Benson (left) and Rhonda Vineyard (right) walk the shoreline of Pilot Island looking for trash.
For other volunteers, this was a first-time event, but it will not be their last.
Rhonda Vineyard of Knoxville, Tenn., discovered this event while scrolling on Facebook. It caught her attention, and she was ecstatic to do her part in improving the lake.
"We should be helping," Vineyard said. "I want to keep the lake beautiful."
Like Vineyard, Kelly Benson of Andersonville, Tenn., joined the event for the first time. Keeping these natural areas clean is something Benson is passionate about.
"We have the most amazing resource here, and it would be an absolute pity for it to just fall by the wayside and become a garbage dump," Benson said.
Kelly Benson (left) and Rhonda Vineyard (right) walk the shoreline of Pilot Island looking for trash.
TVA's support
The Tennessee Valley Authority has a deep history with Norris Lake, and caring for this natural landmark is vital to the history and beauty of the area.
"Norris reservoir's 800-plus miles of shoreline provide numerous opportunities for recreation as well as support a rich biodiversity of wildlife and aquatic life," said Suzanne Fisher, TVA Natural Resources program manager. "It and all the public lands TVA manages are special and deserve our care and protection."
Through its Reservoir and Community Clean-Ups program, TVA provided trash bags, gloves, and trash grabbers for the event. Many TVA employees also volunteered.
The mission of the Norris Lake Project falls directly within TVA's Service Commitment to environmental stewardship.
"Conserving the Valley's natural resources involves numerous stewardship initiatives," Fisher said. "We maximize that work by partnering with organizations and volunteers who understand the importance of preserving our public lands and waterways for the enjoyment of generations to come."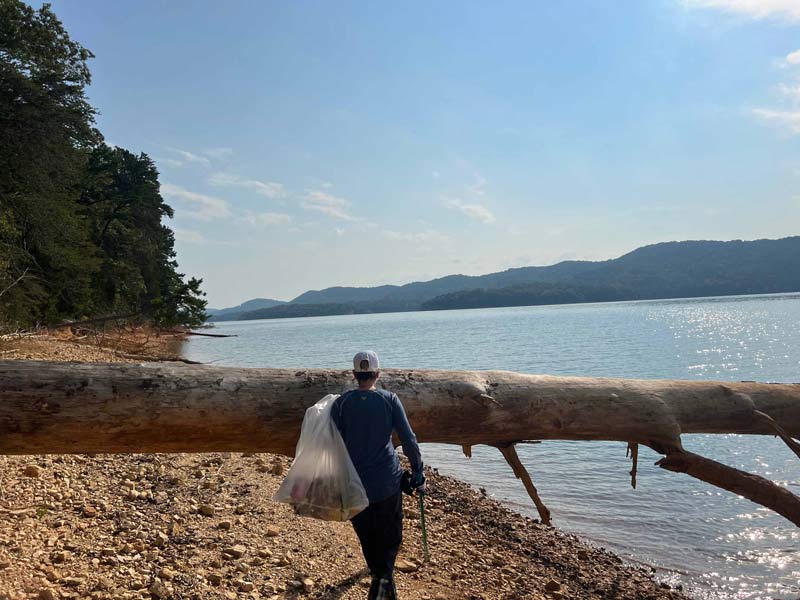 Kelly Benson searches the shoreline for litter.
​ ​
Share this story:
​
National Public Lands Day
The Norris Lake Project's fall clean-up event celebrates National Public Lands Day, which is Sept. 24 this year. This is a day to celebrate public lands and promote the conservation of these areas across the United States.
National Public Lands Day events include:

Loyston Point Trail Workday from 9 a.m. to noon Sept. 24 at Loyston Point, 146-160 Lakeshore Drive, Andersonville, TN. Participants may join the Appalachian Mountain Bike Club, REI, and TVA for trail maintenance. Bring water and snacks and wear closed-toe shoes and gloves. Lunch will be provided. Meet at the main trailhead parking lot. For more information, call Brian Ross at 865-632-1354 or email him at

[email protected]

.


Privet clean-up at Coytee Trailhead from 9 a.m. to noon Sept. 24 at 325 Coytee Road, Greenback, TN. Join sponsors TVA and Watershed Association of Tellico Reservoir to remove privet and clean the East Lake Shore trail. For more information, email John Shyrock at

[email protected]

or Tristan Trew at

[email protected]

.


Worthington Cemetery Trail clean-up from 9 a.m. to noon Sept. 24 at Worthington Cemetery Trail at Elza Gate Park picnic area near the intersection of Oak Ridge Turnpike and Melton Lake Drive in Oak Ridge, Tenn. Tennessee Citizens for Wilderness Planning and TVA will partner to enhance and protect natural resources at Worthington Cemetery as part of their mutual stewardship efforts. Participants should wear sturdy shoes and bring water, gloves, clippers, loppers, and bow or pruning saws, if possible. Other tools and equipment will be provided at the worksite. Lunch will be provided. For more information, contact Angela Sutton at

[email protected]

or Jimmy Groton at 865-805-9908 or by email at

[email protected]

.