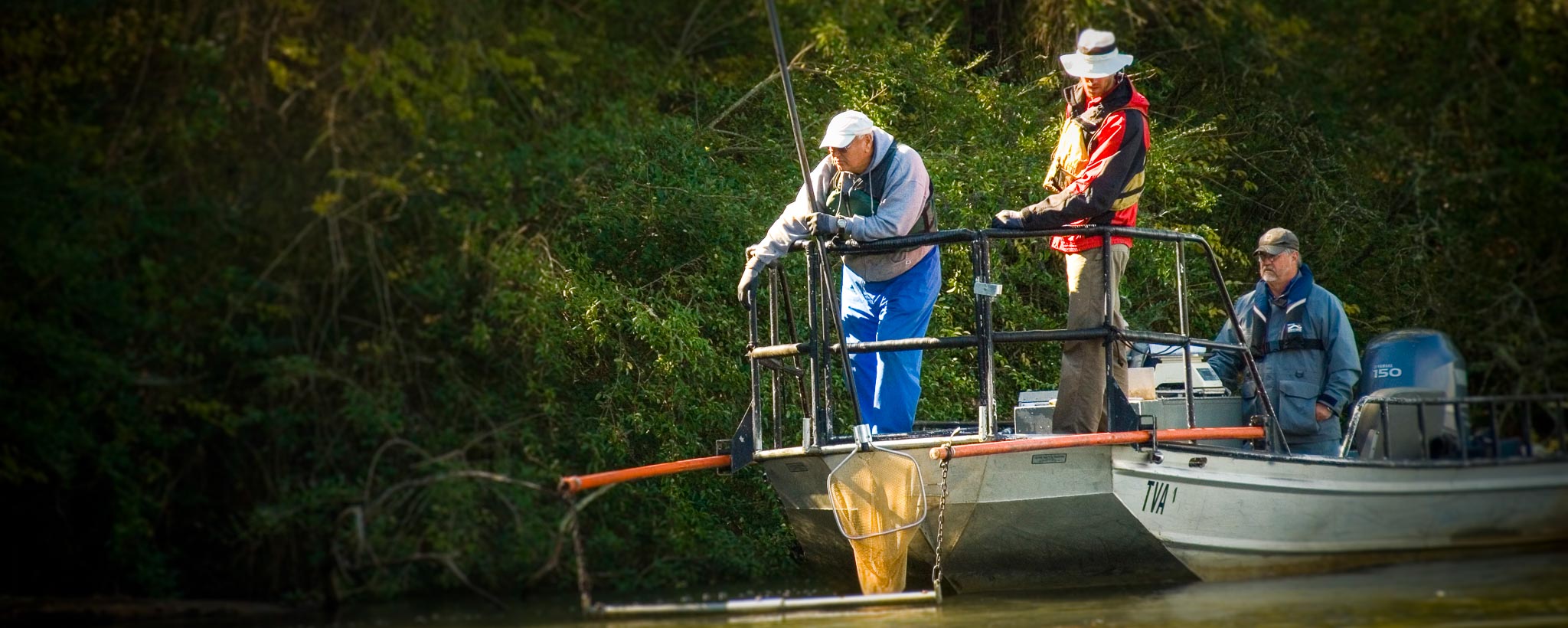 Where the Sport Fish Are
We surveyed our own lakes to measure populations of three species of black bass — largemouth, smallmouth and spotted bass — as well as black and white crappie. Here's what we found where.
APRIL 15, 2019 —An inside guide for successful warm-water fishing in the Tennessee Valley
TVA prides itself on keeping its reservoir waters healthy, oxygenated and viable enough to support a variety of wildlife.
That includes a variety of sport fish, including black bass, black crappie, channel catfish and spotted, largemouth and smallmouth bass
These fish are ranked by reservoir on a scale from 20 (poor) to 60 (excellent).
Some reservoirs are excellent for certain kinds of fish—use TVA's sport fish surveys to get an accurate count of what is biting where
TVA strives to keep its waters oxygenated and healthy so that wildlife, including sport fish, can thrive in them. Sport fish have done so well that the region has become known as a fisherman's paradise.
Yearly aquatic health surveys at each reservoir help TVA track conditions in the water and keep an eye on all kinds of critters, including some sport fish.
Here's a little cheat sheet for goal-oriented fishermen. TVA ranks fish populations in ranges between 20 (very poor) and 60 (excellent). Here are the best numbers for the fish you may be angling for—and the reservoir where you have the best odds of successfully finding them:
| | | |
| --- | --- | --- |
| Black Bass | 52 | Melton Hill |
| Black Crappie | 48 | Guntersville |
| Channel Catfish | 46 | South Holston |
| Spotted Bass | 50 (tie) | Chatuge |
| Spotted Bass | 50 (tie) | Bear Creek |
| Largemouth Bass | 52 | Old Hickory |
| Smallmouth Bass | 42 | Tims Ford |
| Walleye | 50 (tie) | Beech |
| Walleye | 50 (tie) | South Holston |
| White Bass | 50 | Wheeler |
| White Crappie | 50 | Barkley |
Locate Your Launch Point
Find the reservoir you're heading out for on our comprehensive TVA Recreation Map. It will show you every boat launch and marina around the reservoir you're aiming for.
Contact Us
Contact the Public Land Information Center with questions or requests for more information. Email us or call (800) 882-5263 between 8 a.m. and 6 p.m. Eastern time Monday through Friday.
​ ​
Share this story:
​
Bass Fisherman's Paradise
Lake Guntersville is consistently among the top 10 bass fishing lakes in the nation. What makes it so special? It's a mix of depth, water temperature and aquatic plants. Read more about why the lake is so good, and how TVA manages it for ongoing excellence. PLUS: One top pro shares his top fishing holes. Click here for more on fishing Lake Guntersville.