Because TVA and its partners made it possible by restoring a stream beneath a bridge in Unicoi County, Tenn., to more natural conditions, opening up miles of habitat for native brook trout.
East Tennessee has gotten quite the reputation as a trout fishing destination, for the monster rainbows and browns to be had in the South Holston, Hiwassee and Clinch rivers. But the unsung heroes of the sport are the smaller brook trout, the only species native to the Tennessee Valley region.
Brook trout, as the name suggests, live in mountain streams and creeks; they are a sensitive species with a need for clean, cold, quality water and wide habitat. Where man has intervened, the brook trout has often suffered.
Such was the case in Unicoi County, Tenn., in the Cherokee National Forest, where a box culvert had been years ago built underneath a road crossing on Briar Creek, a tributary to the Nolichucky River, haplessly creating an interruption in brook trout habitat. Water could still flow beneath the road, but conditions for the trout were far from natural.
"There was a big opening underneath the bridge, but there was a slick concrete pad there so that when the stream ran over it, the water was shallow and fast and there were none of the riffles or pools that you find in a natural stream," explains Shannon O'Quinn, water resource specialist for TVA. "The water ran so fast that it eroded the stream bed on the downstream side and created a little waterfall. The fish would have to jump up to even get up to the pad in shallow water conditions, which was nearly impossible for them."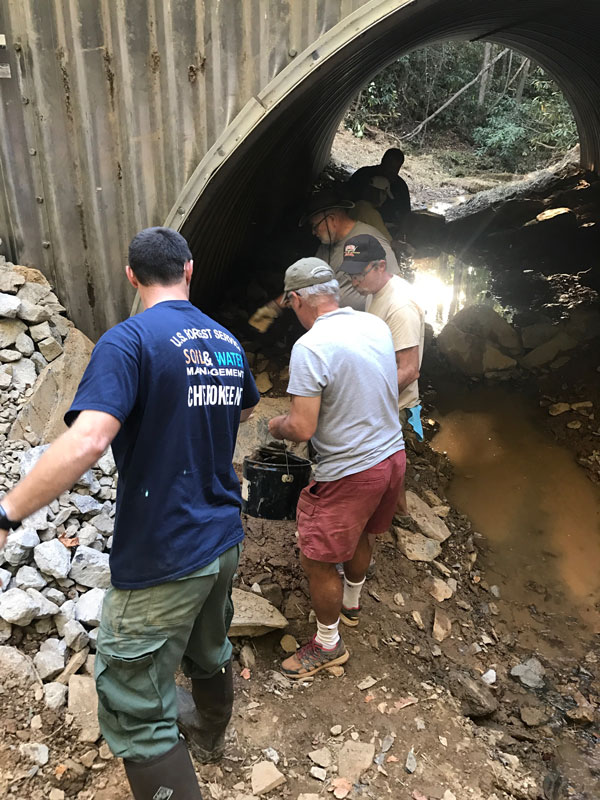 These conditions created a disconnect between two populations of brook trout, which many times result in genetic isolation. Advocates for the fish—TVA, Trout Unlimited, the Nature Conservancy, American Rivers, the U.S. Forest Service and the U.S. Fish and Wildlife Service in this case—joined together to fix the problem, replacing the box culvert with a new, bottomless arch culvert, as shown in the photo above.
"The new culvert will allow us to restore the stream bed and create riffles so that as fish move up and down the stream beneath the road, it won't seem like anything different to them," O'Quinn explains. "The project will open up about two miles of habitat for the downstream trout and—hopefully—expand the fish population."
The hope is that this move will restore genetic resiliency to the brook trout. TVA is committed to enhancing aquatic habitat as part of its commitment to environmental stewardship in the region. "The Tennessee Valley has more fish species than any other river in North America," O'Quinn explains. "Part of our duty in managing the river system is doing our part to protect aquatic life wherever we can."