Women in TVA's Memphis Office Empowered and Uplifted
Memphis Light, Gas and Water Division, TVA's largest customer, is powering more than just homes in Memphis. They're empowering people through their 2019 Women in Energy Empowerment Luncheon Series. The brainchild of MLGW's Vice President of Community and External Affairs Gale Jones Carson and team, this uplifting event is intended to provide a forum for discussion on issues affecting women in energy, and to reverse downward trends of women CEOs in the utility industry nationwide.
A list of women-in-energy executives are slated as keynote speakers, including TVA's own Senior Vice President of Power Operations Jacinda Woodward, who will speak in April.
Women from TVA's Memphis office attended the first luncheon of 2019, which featured Myrtle Jones, Halliburton's senior vice president of tax, who traveled from her base in Houston, Texas. One of the "Fiercest Women in Energy" according to Boss Magazine, Jones recounted her humble beginnings on her family's Mississippi farm and her time at Mississippi State University, where she earned her Bachelor of Accounting degree. Despite graduating at the top of her class, Jones shared the challenges she faced as a female minority at a large company.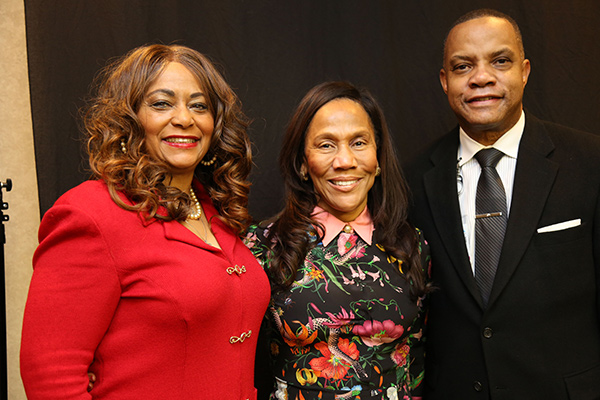 Gale Carson Jones (l.) and Myrtle Jones are pictured with MLGW President and CEO J.T. Young.
"I experienced times of self-doubt, but I learned to be fearless. I learned to dream. I learned to hope and to demand what was entitled to me. Now, I know what I am. I know who I am and what I am capable of, so I accept nothing less," said Jones, who also fought and survived breast cancer twice and raised three children.
"But my journey isn't over," she continued. "You never stop striving or achieving or adding value to your company, community and the world. So, be encouraged and, whatever it takes to overcome the difficult times, do that — even when it's not easy."
Carson presented Jones with a gift of appreciation and reminded attendees that "Progress for women is progress for everyone. We should always strive to get better. When one woman walks through a door, that door is opened for other women. We have to remember that. We have to help each other."
MLGW's next Women in Energy Empowerment Luncheon is February 28 and will feature Sadzi Oliva, a commissioner at the Illinois Commerce Commission.
​ ​
Share this story:
​