Fall Home Energy Workshops Help More Memphians Save Money
October 10, 2019 -- Keep your home warm and cozy this winter by attending one of TVA's free Home Energy Workshops, where guests of all ages will receive weatherization information, door prizes, refreshments and a free home energy kit to get started.
Offered at various locations citywide, these workshops are a convenient way for attendees to learn low-cost or no-cost tips for saving energy — including which daily habits are costing them the most.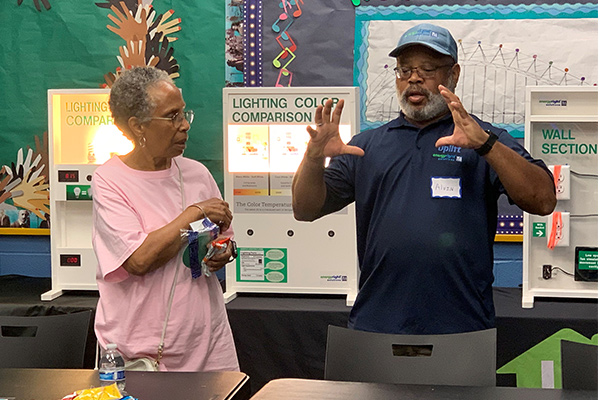 Following TVA's Summer Home Energy Workshop in South Memphis, homeowners received one-on-one help from industry experts on low-cost or no-cost tips to weatherize their homes.
Memphis homeowner Kathy Scales attended one of TVA's summer Home Energy Workshops. "I learned so much!" Scales commented. "The workshop was wonderful. I didn't know that some devices and appliances left plugged in – like cell phone chargers – still use electricity, even if you're not there. Some other things I learned about caulking and window air stripping, I plan to do when I get home."
"Some homeowners lose hundreds of dollars each year on their utilities because of drafty windows, electrical outlets or doors. The Tennessee Valley Authority wants to help with that," said Elizabeth Moore of TVA's EnergyRight for the Home. "This program offers energy efficiency information for homeowners of all incomes and backgrounds that will help save money on their utility bills."
Parents are encouraged to bring their children to Frayser Library for a kids' energy workshop, while parents enjoy a separate money-saving session designed for adults.
"TVA is committed to serving the people of Memphis through public power and energy efficiency information. The entire family will benefit from learning energy conservation tips that will make a difference in your home!" Moore concluded.
For more information about the upcoming TVA Fall Home Energy Workshops, call (901) 577-2616.
Marcey Wright, public and community relations consultant IV, West TN and MS, [email protected], (901) 428-7984
​ ​
Share this story:
​
Attend an event near you!
Wednesday, Oct. 16, 2019, 3 p.m. – 5 p.m., Frayser Library, 3712 Argonne St., 38127 (Children's Workshop and Adult Workshop)


Saturday, Oct. 26, 2019, 1 p.m. – 3 p.m., Bartlett Library, 5884 Stage Road, 38134 (Adult Workshop)


Monday, Nov. 4, 2019, 4 p.m. – 6 p.m., Parkway Village Library, 4655 Knight Arnold, 38118 (Adult Workshop)


Saturday, Nov. 9, 2019, 1:30 p.m. – 3:30 p.m., Cornelia Crenshaw Library, 531 Vance Ave., 38126), "Welcome to the Neighborhood" TVA Home Energy Workshop (Adult Workshop)