The astonishing world of nature and its many species is getting more connected around the globe – and you can be part of it.
July 1, 2021 — To be outdoors in the Tennessee Valley in nearly any season is to be surrounded by a riot of color, sound and movement. There is life, everywhere, even in the fallow months—for this is one of the most biologically diverse regions of the United States, if not the entire world.
From wildflowers and trees to birds and bees and everything in between, there is much flora and fauna to observe in our region of plenty, and TVA public lands are great places to go and do it.
Indeed, in partnership with Discover Life in America, TVA has hosted eleven BioBlitz events in which the public was invited to participate along with scientists and specialists in half day long biological inventories at locations along its waterways, including Norris, Wheeler, Tellico, Melton Hill, Nickajack, Watts Bar, Douglas, Cherokee, South Holston and Wilson. You can see all of their observations at iNaturalist.org.
"The BioBlitzes are a great way for us to get a realistic catalog of what's on our lands to help us better manage and protect them," explains Melinda Watson, partnership and educational outreach program manager for TVA Natural Resources. "At the same time, they engage the public in citizen science and ecology in a really fun way."
In fact, iNaturalist was in the news when a beach walker in Santa Barbara, California, uploaded a photo of a seven-foot sunfish that had washed up on the sand. A researcher far away in Australia identified the strange-looking creature as a newly-discovered species of sunfish that had never been seen so far north before.
"Eyes and ears and hands on the ground, half a world away—wow," she commented.
You Can Join the Fun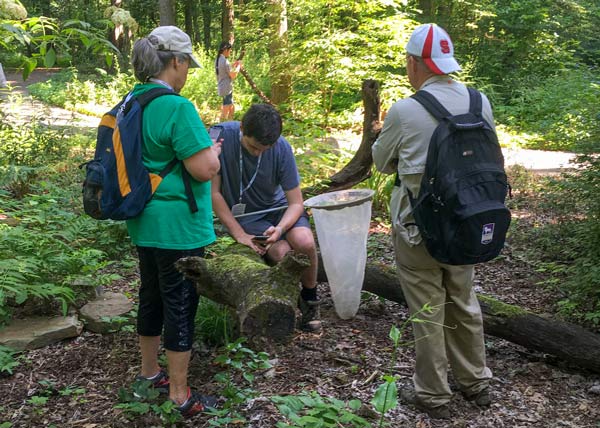 Here in the Valley, you can help spot and identify species, too. The BioBlitzes are a fun time to do it, but you don't have to wait for our annual events.
"You can download the iNaturalist app and go out on any trail at any time and take a picture of a leaf or bug or fish and upload it; it's now possible to upload animal sounds or photos previously taken," Watson explains. "The app gives you an opportunity to figure out what it is by giving you a list of similar species seen nearby or you can let the very active iNaturalist community review your picture and identify it.
"The rare sunfish in California just goes to show that you never know what you'll find," she adds. "You might be the next person to upload something that's brand-new, or adds new data that scientists didn't have before."
If it's a new species to one of the areas that's been BioBlitzed, it will be added to the compendium; in that way, you contribute to the wealth of data on any of TVA's properties.
As a result, you can relish the connection to nature—and count yourself in as a partner in TVA's stewardship mission.
"Our lives depend on biodiversity, and part of TVA's mission is to connect people with their public lands by creating powerful partnerships," says Rebecca Hayden, TVA director of Natural Resources. "At a BioBlitz, everyone can be a partner with us. This gives people a chance to be a part of something bigger, learn about the area they live in and hopefully grow a passion for protecting these resources for future generations."