Contractor Named to Build Boone Dam Cutoff Wall
AUGUST 17, 2018 — TVA has selected Treviicos-Nicholson Joint Venture, comprised of Treviicos South Inc. and Nicholson Construction Company, to build the underground cutoff wall at Boone Dam. The cutoff wall will be the final, major underground piece of the seepage remediation project before the reservoir refill phase begins. It is part of a composite seepage barrier being built to stop internal erosion of the dam's earthen embankment.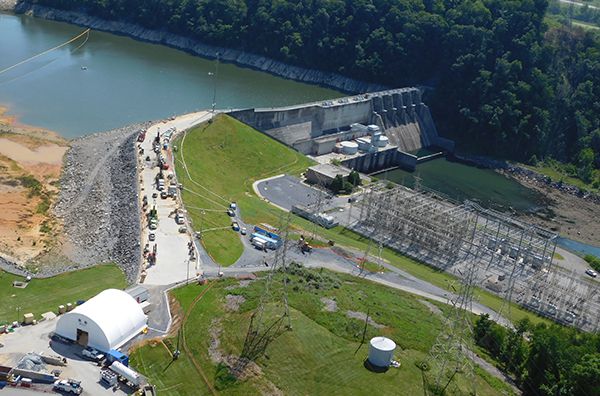 "This project is about protecting the businesses, families and communities downstream and we look forward to working with Treviicos-Nicholson to maintain the safety of the downstream public and our workers while producing a quality repair," said TVA Principal Project Manager Sam Vinson.
"We wanted to share this good news with the public as soon as the procurement was complete and the contract was finalized. We continue to work towards completing the cutoff wall and begin restoring the lake to the normal operating guide by July 2022."
The Treviicos South Inc. and Nicholson Construction Company are based in Boston, Mass., and Canonsburg, Penn., respectively, and have teamed on a number of major dam projects around the country.
After seepage was discovered below the earthen embankment in October 2014, a thorough investigation discovered an internal erosion issue that could eventually lead to the failure of the dam.
Plans to repair the dam were presented to the public at a July 2015 meeting. Since that time the dam has been widened, hundreds of holes drilled and grouted, more than 200 monitoring instruments installed and 220,000 tons of rock placed on both sides of the dam to add stability to the earthen embankment. Workers are currently building a new laydown yard and employee parking lot in preparation for this next phase of construction.
More details about the project will be provided at a public information fair on Sept. 25 at Sullivan Central High School. Details of that information fair will be sent out in next month's Boone Dam newsletter and on Twitter @BooneRepair.