TVA Green Invest Program Earns Green Power Leadership Award
Sep 29, 2020
KNOXVILLE, Tenn. – The Tennessee Valley Authority's Green Invest Program has earned the 2020 Green Power Leadership Award for Green Power Market Development from the Center for Resource Solutions.
"TVA is building the energy grid of the future, and this award recognizes TVA's leadership and innovation in expanding the supply of low-cost renewable energy to drive jobs and investment in the communities we serve," said Doug Perry, TVA senior vice president of Commercial Energy Solutions. "Green Invest is our newest tool to help local power companies and businesses meet their sustainability goals by building large-scale solar facilities across our seven state region."
According to Perry, Green Invest is the nation's first renewable energy program that creates public-private partnerships that pair large customers with solar developers through a competitive bid process. This ensures that when businesses choose to partner with TVA they receive low-cost pricing and TVA's brand assurance to deliver renewable energy through long-term agreements. Since 2018, Green Invest has generated about $1.4 billion in economic activity.
"TVA's Green Invest program is the gold standard for renewable energy programs," said Perry. "It's the new model for how we will build out the nation's premier energy system to spur economic development and a cleaner future."
TVA modeled Green Invest after work with Facebook and Google, beginning in 2018, to identify new renewable energy solutions for data centers locating in the region. Green Invest is available to local power companies and business and industrial customers across TVA's service territory.
TVA is a national leader in carbon-free energy with over 60% of TVA's energy supply already coming from carbon-free sources. In addition, this month National Renewable Energy Lab ranked TVA's Green Power Switch program in the top 10 in the nation for renewable energy sales – for the seventh consecutive year.
The Tennessee Valley Authority is a corporate agency of the United States that provides electricity for business customers and local power companies serving nearly 10 million people in parts of seven southeastern states. TVA receives no taxpayer funding, deriving virtually all of its revenues from sales of electricity. In addition to operating and investing its revenues in its electric system, TVA provides flood control, navigation and land management for the Tennessee River system, and assists local power companies and state and local governments with economic development and job creation.
Contact
Scott Fiedler
Public Relations
[email protected]
423-751-7883
TVA Media Line
Our media staff is available 24 hours a day. If you cannot reach the contact above, please call our media line at 865-632-6000.
Follow TVA News
Share this Story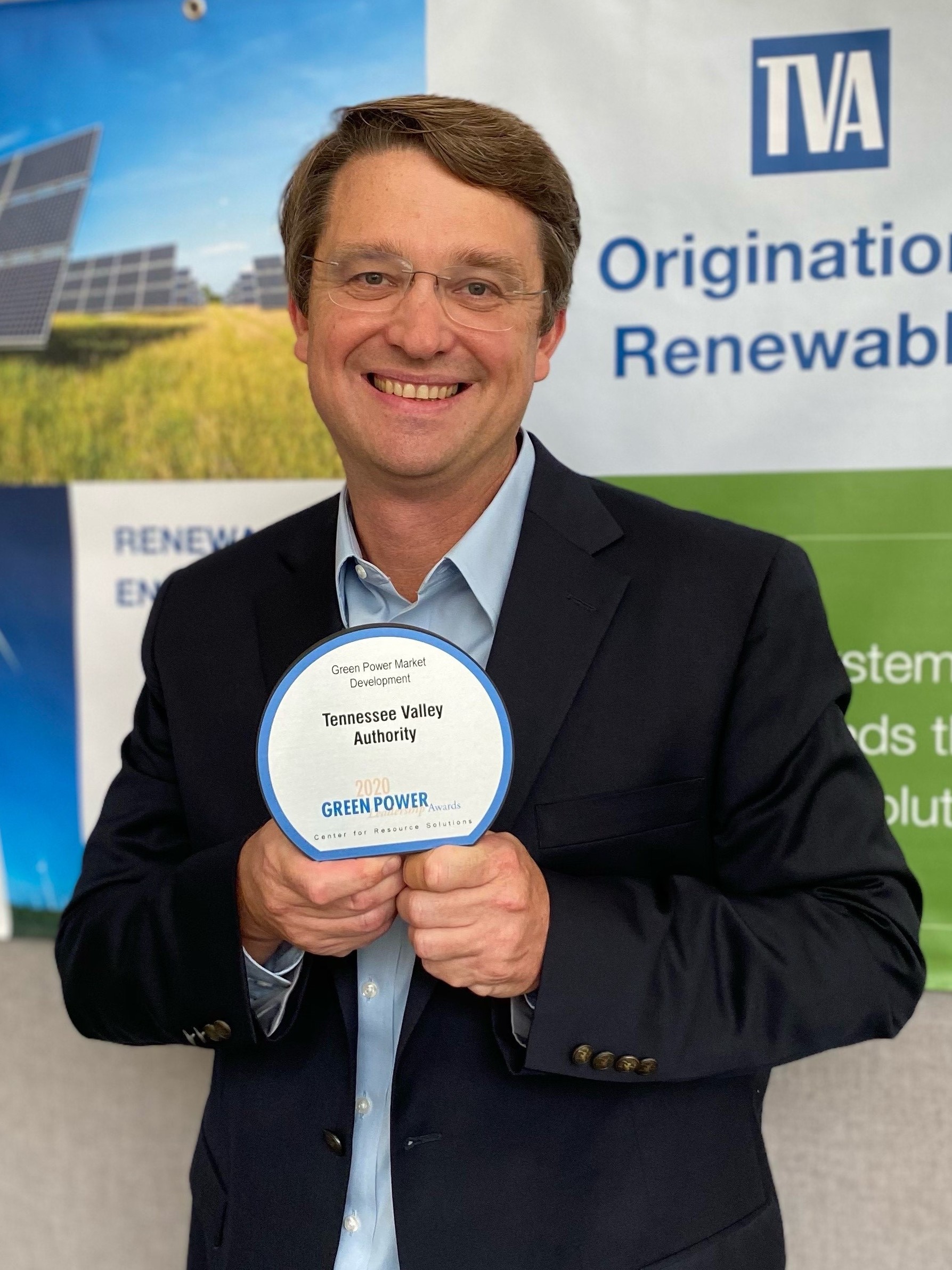 Chris Hansen, TVA Origination and Renewables Solutions, vice president, accepts the 2020 Green Power Leadership Award. Download hi-res photo here.