TVA Named 2020 Leading Disability Employer
Oct 1, 2020
KNOXVILLE, Tenn.­­ — The National Organization on Disability has named the Tennessee Valley Authority a 2020 Leading Disability Employer for the second consecutive year. The award recognizes companies that demonstrate exemplary employment practices for people with disabilities.
"We're committed to seeing the abilities in all of us, where employees believe the best in each other, give our best to each other, and expect the best from each other," said Megan Flynn, vice president of Talent & Culture for TVA.
TVA exceeded industry benchmarks for climate and culture, veteran employment, people practices, and strategy.
This year marks the 30th anniversary of the Americans with Disabilities Act, which banned discrimination based on disability in employment, public transportation and other areas.
"America's success in the world depends on how well we inspire and put to use the talents and energies of every person in this country," said NOD Chairman Governor Tom Ridge. "It was the vision of President George H.W. Bush, who signed the ADA into law, that no ability is to be wasted and that everyone has a full and equal chance to play a part in our national progress."
TVA has prided itself on creating an accessible and inclusive space for those with disabilities and prioritized that initiative by starting the Awareness Benefitting Leadership and Employees about Disabilities employee resource group in 2015. ABLED works with people with disabilities and their allies to help facilitate the accessibility, growth, and development of employees with disabilities in both TVA and the communities it serves.
"Our goal is to promote awareness and participation of individuals with disabilities interests as part of TVA's commitment to a sustainable, diverse, and inclusive workforce," said Ashley Floyd, senior contracts manager and ABLED champion.
NOD recognition is designed to commend organizations that are leading the way in disability hiring and to encourage other companies to tap into the many benefits of hiring talent with disabilities, including strong consumer preference for companies that employ individuals with disabilities and greater employee engagement across the workforce.
"We applaud their leadership and thank them for their commitment to hiring people with disabilities," added Ridge.
The Tennessee Valley Authority is a corporate agency of the United States that provides electricity for business customers and local power companies serving nearly 10 million people in parts of seven southeastern states. TVA receives no taxpayer funding, deriving virtually all of its revenues from sales of electricity. In addition to operating and investing its revenues in its electric system, TVA provides flood control, navigation and land management for the Tennessee River system, and assists local power companies and state and local governments with economic development and job creation.
Contact
Scott Gureck
Public Relations
[email protected]
865-632-2076
TVA Media Line
Our media staff is available 24 hours a day. If you cannot reach the contact above, please call our media line at 865-632-6000.
Follow TVA News
Share this Story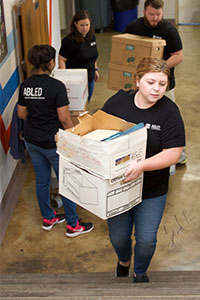 Baylee Bradford and fellow TVA employees assist with cleanup at the Orange Grove Center in Chattanooga, Tenn. as part of an ABLED (Awareness Benefitting Leadership and Employees about Disabilities) employee resource group volunteer activity.