TVA's Financial Position Improves Due to Higher Sales, Lower Costs
May 4, 2018
KNOXVILLE, Tenn. ― The Tennessee Valley Authority today reported $5.3 billion in operating revenues through the six-month period ended March 31, 2018, a five percent increase from the same period a year ago. The higher revenues were driven by a six percent increase in electricity sales, primarily due to weather conditions.
During the same six-month period, total operating expenses decreased four percent, as compared to the same period last year, primarily due to decreased fuel expense driven by higher hydro and natural gas generation and lower market prices for natural gas.
"Power demand has been higher so far in 2018 compared to last year's record warm winter, but our customers are paying less," said Bill Johnson, TVA president and chief executive officer.
"Higher output from hydro, nuclear and natural gas-fired generation helped keep the Valley warm during cold weather in January while our diversified fleet kept prices lower for TVA's customers during more moderate temperatures."
Operating and maintenance expense was down $34 million, or two percent lower, for the first six months of this fiscal year, compared to the same period last year, mostly driven by a decrease in planned nuclear outage days and an increase in workforce efficiencies.
"Higher revenues from the more normal weather this year, and lower operating expenses along with lower interest on debt, contributed to a stronger bottom line," said John Thomas, TVA chief financial officer.
"These results are helping TVA realize its strategic objectives to keep rates low while prudently managing debt and investing in a cleaner, more diverse power system."
Additional highlights of TVA's second quarter fiscal year 2018 results include:
Net income for the six months ended March 31, 2018 was $750 million, up 140 percent from net income of $313 million for the same period of fiscal year 2017.
TVA's cash position was temporarily higher, at $1.2 billion, at March 31, 2018, due to the timing of financing activities related to maturing long-term debt.
Colder-than-normal weather during January 2018 led to TVA setting an all-time record for energy demand in a 24-hour period, delivering 706 million kilowatt-hours of energy to the Tennessee Valley. TVA set three of its top-12 winter peak demand records in January 2018.
TVA retired Allen Fossil Plant Units 1-3 in March 2018. With these retirements, TVA has completed the requirements related to retiring or installing controls on coal-fired units imposed by the 2011 Environmental Agreements with the EPA, Alabama, Kentucky, North Carolina, Tennessee, and three environmental advocacy groups.
The Allen Combined Cycle Plant began operational testing in September 2017 and officially entered commercial operation on April 30.
TVA completed its first extended power uprate at Browns Ferry Nuclear Plant Unit 3, which will result in an additional 155 megawatts of carbon-free energy. The unit was returned to service in April 2018 and power ascension testing is in progress. Extended power uprates at Browns Ferry Units 1 and 2 will be completed by spring 2019.
TVA continued to update its Integrated Resource Plan to determine the best way to meet future power demand while evaluating the optimal mix of resources and the evolving role of distributed energy resources.
"These actions taken during the first six months of fiscal year 2018 have enabled our diversified generating fleet to produce more than half of our power from carbon-free sources and reduce our carbon emissions almost 50 percent below 2005 levels," said Johnson.
"Moving forward, we will remain focused on making the right decisions that allow us to build on these results and provide cleaner, reliable energy at the lowest costs feasible to those we serve."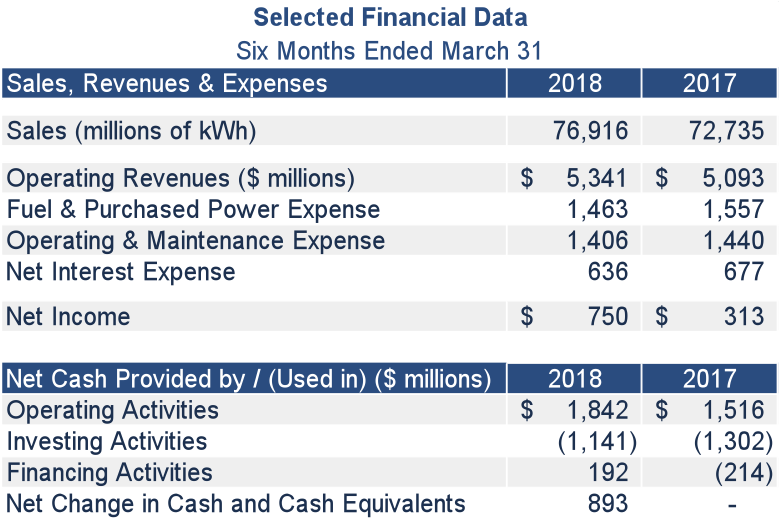 TVA executive management will host a conference call to discuss second quarter fiscal year 2018 results at 9:30 a.m. EDT, on Friday, May 4, 2018. The conference call can be accessed from TVA's website via webcast, at http://www.tva.com, on the Investor Relations homepage. For quicker access to the live conference call, please pre-register through TVA's website before the scheduled start time, and follow the instructions provided. Once pre-registered, the dial-in number will be provided via an email. If you are unable to pre-register, you may access the conference call by dialing toll free (844) 308-6432 in the United States, or (412) 717-9611 outside the United States.
A replay will be available one hour after the end of the conference call until 9:30 a.m. EDT, June 4, 2018, by calling toll free (877) 344-7529 in the United States or (412) 317-0088 outside the United States and using the conference number 10118527. A webcast replay and transcript will also be available for one year on TVA's website at http://www.tva.com/investors.
TVA's quarterly report on Form 10-Q provides additional financial, operational and descriptive information, including unaudited financial statements for the quarter ended March 31, 2018. TVA's quarterly report and other SEC reports are available without charge on TVA's website at http://www.tva.com/investors, on the SEC's website at http://www.sec.gov or by calling TVA toll free at (888) 882-4975.
This release may contain forward-looking statements relating to future events and future performance. Although TVA believes that the assumptions underlying these statements are reasonable, numerous factors could cause actual results to differ materially from those in the forward-looking statements. Please refer to TVA's most recent annual report on Form 10-K and quarterly report on Form 10-Q for a discussion of factors that could cause actual results to differ from those in the forward-looking statements.
The Tennessee Valley Authority is a corporate agency of the United States that provides electricity for business customers and local power distributors serving over 9 million people in parts of seven southeastern states. TVA receives no taxpayer funding, deriving virtually all of its revenues from sales of electricity. In addition to operating and investing its revenues in its electric system, TVA provides flood control, navigation and land management for the Tennessee River system and assists local power companies and state and local governments with economic development and job creation.
Investor Relations: Tammy Wilson, Knoxville, 865-632-3366 or 888-882-4975
Josh Carlon, Knoxville, 865-632-4133 or 888-882-4975