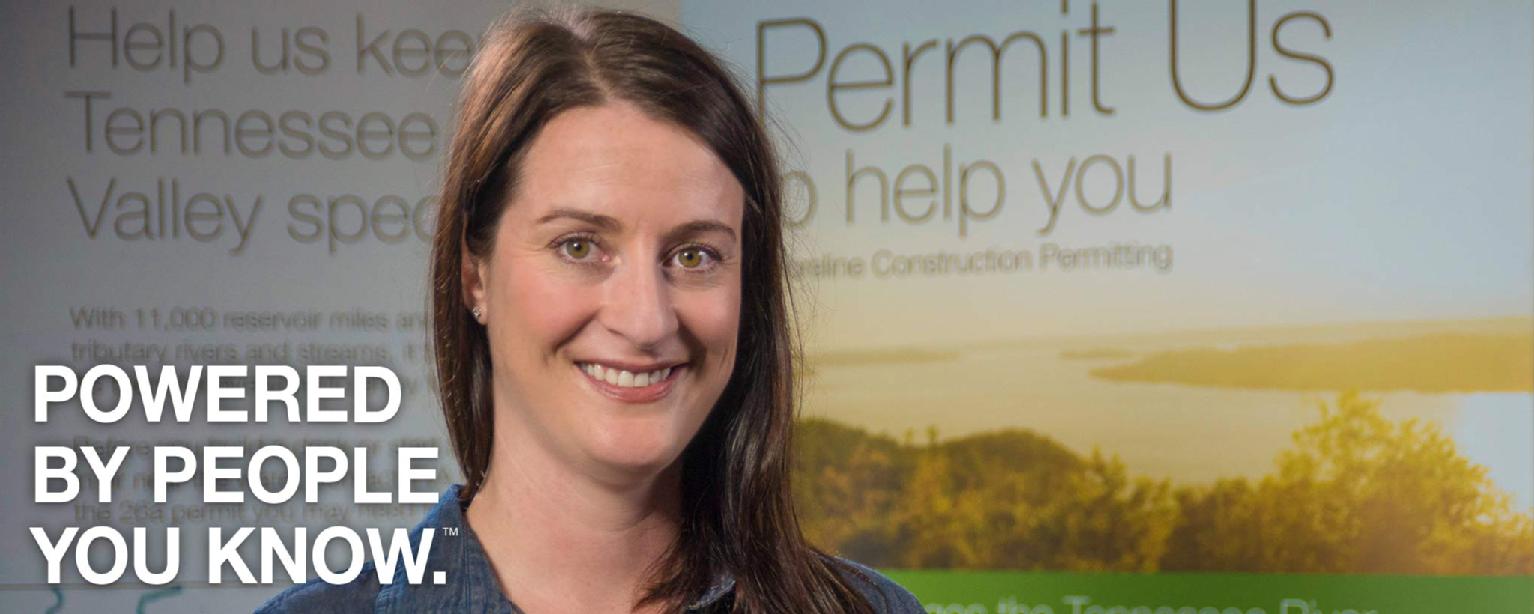 Heather Hamilton
Land Use Specialist | Chattanooga, Tenn.
Heather Hamilton thinks about how her actions impact the environment—a lot.
"Some of my friends might even say I'm obsessed with it," the TVA land use specialist says with a laugh. "I'm a minimalist. I try to live with less. I also try to be a mindful consumer. I always bring my own bags to the grocery store and try to avoid disposable, single-serving products where I can. I recycle, but I practice pre-cycling as well. I try to reduce waste by not generating it in the first place."
"I describe myself as being very outdoorsy. I help TVA manage our public reservoir property lands. I truly believe in our mission of service, protecting our natural resources and improving the lives of everyone here in the Valley."
Hamilton also believes in taking care of the natural world. "My parents are both avid outdoors people. Our family didn't go to theme parks or on big elaborate trips when I was a kid. We camped in our state parks, swam in creeks and hiked through the woods. As far back as I can remember, I've felt a connection to nature."
Hamilton knew early on that she wanted to contribute to the wellbeing of the natural resources she loved, and so she armed herself with two bachelor's degrees from Clemson University in Clemson, SC.—one in Environmental and Natural Resources and one in Marketing.
That combination helped her land a job at TVA managing public lands on TVA reservoirs. She started as a watershed representative, working mostly with shoreline property owners planning minor construction projects on Cherokee and Douglas reservoirs. Now, as a land use specialist, she serves the entire western part of the Tennessee Valley and works primarily with industries, utilities, municipalities and other TVA stakeholders who need permits or land rights for larger, multi-year projects—for example, barge terminals, highway improvements, pipeline projects and bridge replacements.
Detective Work
"Every project is unique and usually very complex," says Hamilton. "Most require a lot of detective work. Much of my day is spent reviewing project plans, studying aerial maps, and interpreting deeds and land use agreements. I also spend a lot of time on the phone getting legal, realty, surveying and environmental input from other TVA groups and from federal and state agencies."
It's a lot of legwork, but it's worth it, says Hamilton. "These kinds of projects have a positive economic impact on local communities and the Tennessee Valley as a whole, and we work hard to accommodate them within the boundaries of TVA's land and environmental policies."
At all times, she keeps her eye on the big picture: "The lands we manage are public lands. Our job is to manage them responsibly for multiple uses with an eye toward the future."
Living with Purpose
Knowing she is helping to protect the public lands in TVA's care motivates her, Hamilton says. "Every day brings new opportunities to be a steward of the Valley's environment—to make life better for the people of the Valley. That's TVA's mission, and I really believe in it."
Hamilton also believes in doing her part for her community. She currently serves on the board of directors for the Southern Off-Road Bicycle Association, or SORBA, an organization focused on improving and maintaining mountain bike trails in the Chattanooga area, and she is an active member of the Velo Vixens, a group which brings local women together for laughter, friendship and sport.
"I'm an avid mountain biker, and enjoy a lot of other outdoor activities so I have a personal interest in both groups," says Hamilton. "It feels good to give back to organizations that support me and so many other local athletes—especially organizations that emphasize community service and caring for the environment."
In addition, Hamilton serves on the board of directors for "Love Nancy," a nonprofit organization that provides support to people navigating the challenges presented by Alzheimer's disease and other progressive memory impairments.
Natural Highs
These days, Hamilton shares her love of nature with her boyfriend, Eric Sellers. "He's reintroduced me to bass fishing, and I'm getting him back into mountain biking," she says. "We share a deep appreciation for the beauty of the natural world and enjoy spending time together outdoors."
Hamilton recently bought a home within walking distance of Chickamauga Lake. "It's a dream come true for me. I'm now minutes from the water and trails I love. When I'm home, I'm generally doing something outside—working in the yard, walking through the woods behind the house or playing in the garden. But I enjoy sitting on the porch and listening to the birds, too. Eric would tell you that's progress for me. I'm not very good at relaxing."
At home or in the office, Hamilton likes working for what she considers the best cause. "I help TVA do the right thing for our natural environment and for the people of the Valley," she says. "That's important to me personally. At the end of the day, I feel like what I do matters."
Meet More People You Know
Meet more TVA employees, and learn about some of the fascinating ways they serve the Tennessee Valley through their work in energy, environmental stewardship and economic development.
They're your friends, your family, your neighbors. Get to know them.