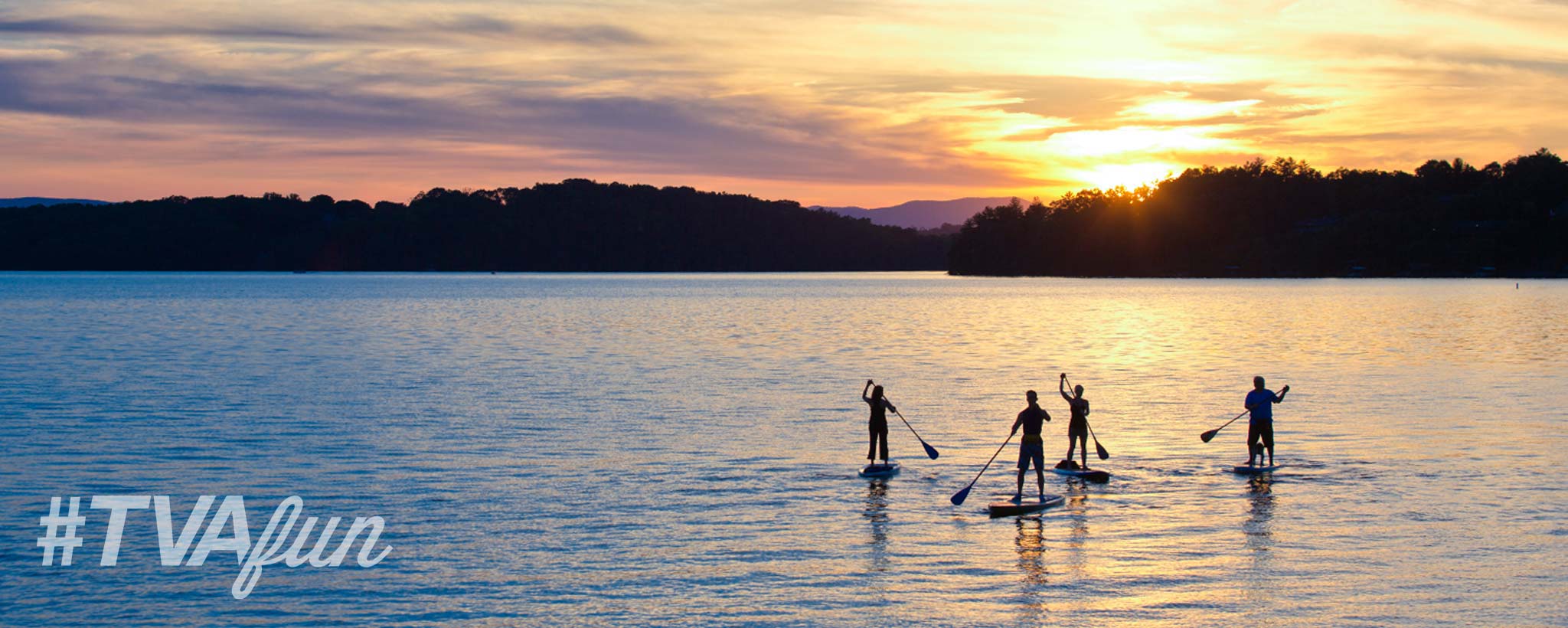 Five Perfect Paddles in the Tennessee Valley
We've done the research, we've witnessed the beauty, we've had the fun—and we can practically guarantee you'll have good time, too. So there is no reason for you to not to check out one of these perfect Tennessee Valley paddles.
From magnificent mountain headwaters to muddy waters of West Tennessee, the Valley offers many perfect paddles for every skill level. In fact, there are water adventures waiting for you in each of the seven states that TVA serves. To help you plan your next trip, we did the research for you. From a serene drift to a rollicking whirl, you can set your #TVAFun adventure afloat here:
1. Flint River: The North Alabama Gem
Just a stone's through away from Huntsville, Ala., the Flint River flows south out of Tennessee and runs through Madison County, Ala. If you're a beginner, the Flint is the place to learn—in fact, the Flint offers one of the best family floats in north Alabama. One of our favorite paddles is the three-hour float from Highway 72 to Little Cover Rd. Three springs feed this section of the river year-round. If you have plenty of time to really explore the river, this section offers four islands, scenic bluffs and camping. Plus, if you know where to find the right spots, the Flint offers some of the best bass fishing around. Visit Outdoor Alabama to plan your trip.
2. Lake Blue Ridge and Toccoa River: Seriously Serene Scenery
Fannin County delivers one of Georgia's most picturesque paddling experiences. Fed by the Toccoa River, 80 percent of Lake Blue Ridge's shoreline lies in the Chattahoochee National Forest. Lake Blue Ridge reservoir is 11 miles long and has 65 miles of shoreline along which you can slowly drift or paddle board to take in the beauty. An added benefit is the 12-mile Toccoa River Canoe Trail which is perfect for paddlers who are looking for a few easy rapids and stunning scenery—forested public parks, pastoral private lands, laurel and rhododendron thickets and wildlife aplenty. Check out the Fannin County Chamber of Commerce website to plan your next paddle adventure.
3. Chattooga River: For the Thrill-Seeking Paddle Junkie
Named the "No. 1 Thing Every Southern Ought to Do" by Southern Living magazine, the Chattooga River in northeast Georgia does not disappoint experienced paddle junkies. The river—which happened to be featured in the movie Deliverance—is without a doubt one of the Southeast's premier whitewater rafting adventures. Exciting class IV rapids on a 28-mile stretch of Chattooga Wild and Scenic River are not for the beginner paddler to run alone. However, the Chattooga offers guided rafting day trips for those who want to experience the five adrenaline-pumping passes. The river also provides views of a several-hundred-foot waterfall at the summit of Glade Mountain. Check out the Georgia On My Mind travel site for more information.
4. Wolf River: Go West for a Family Paddle
The Wolf River starts on the western edge of the Tennessee Valley in northeast Mississippi, about an hour east of Beale Street in Memphis, Tenn., and wanders west northwest until the river empties into the Mississippi River at Memphis. Bring the kids and pack a lunch because the Wolf offers paddle opportunities for any family that wants to spend a half day or full day on the water. Paddling the 105-mile long, Class I Wolf River provides you some of the most beautiful wetland water trails in the country. Contact the Wolf River Conservancy for more information.
5. Cumberland River: Paddle by Day and Boot Stomp by Night
The Cumberland River, in Nashville, Tenn., offers one of the best urban paddle experiences in the country. Don't take our word for it. It is so good, Outside magazine named Nashville as one of the "Best River Towns in America" in 2012. Nashville makes it so easy for you to paddle; the city's Metro Parks Department offers a variety of guided tours to get you and your family out on the water—you can get instruction, rent a canoe or kayak with all the necessary equipment and have shuttle service back to your vehicle all for $25! All guides are certified by the American Canoe Association. Contact the Nashville Metro Parks Department for more information.
Photo courtesy of the Fannin County Chamber of Commerce
It's always a good time for fun on the Tennessee Valley's lands and waters. Not sure where to start? We have you covered! Check out some of the best recreational activities on our reservoirs. While you're enjoying the lakes, trails, picnic areas and campgrounds, share your own stories and photos on Instagram using #TVAfun.
River Neighbors Newsletter
Get the all the latest news and inside information about recreation on TVA public lands and lakes.
Paddle Pointers
Want to get the most out of your rafting, kayaking or canoeing adventure? Be prepared before you go. We make it easy with our paddle pointers checklist, which covers everything from safety basics to relevant U.S. Coast Guard law.