Baptism by Fire
When Jeff Givens started his financial career in 2008, little did he know that he would have a ring side seat to the greatest financial meltdown since the Great Depression. Here, he shares his Investment Challenge Program experience during the collapse and how it helped shape his career
Anyone who watches their 401(k) can tell you that 2018 was a challenging year to identify investment opportunities, particularly in the second half of the year.
For the university students who manage more than $12 million in TVA's Investment Challenge Program (ICP), delivering results and overcoming challenging market conditions is par for the course.
"I was in ICP in 2008 during the meltdown," says Jeff Givens, who participated in the ICP 10 years ago and now works as a retirement planner for Fidelity Investment. "This year's class will look back on 2018 as their baptism by fire that will set them apart from all others because they had to learn more and work harder to succeed."
Because of the similarities between the 2008 and 2018 market, it was perfect timing to talk to Givens, a Tennessee Tech MBA graduate. Givens told us "ICP served as a catalyst to get into this industry. I was an MBA student during the recession of 2008. There were so many people struggling how to define and redefine retirement. I wanted to help them plan for success."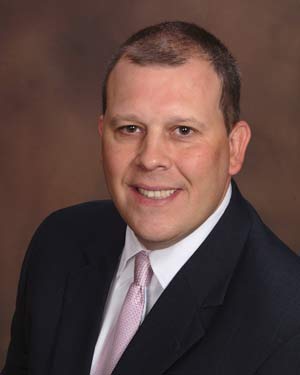 From that point, Givens (pictured at right) was off and running as an educator, coach and helping hand to help people plan their financial future.
We caught up with him to answer a few questions.
You did not start in finance. How did you get into the field?
No, I didn't. I started in environmental science. I was actually an intern with TVA at Norris in the GIS — Geographic Information Systems — while going to graduate school at the University of Tennessee. Then I worked at a GIS company in Knoxville. I enjoy GIS. I wanted to do more field work, but my job was focusing on the technical side of the business. So, I elected to go into sales. I was successful and moved up into management. Long term I felt that it was not a good fit for me and that's when I attended Tennessee Tech to earn an MBA with a concentration in finance.
One of my best friends was a finance major in college and took ICP and said it was really hard. I enrolled in the ICP as an elective after completing my first graduate level finance course. I didn't know if I was ready for it, but I took the course and it really helped define the road I wanted to go down, which led to the decision to become a financial advisor. It was really ICP that got me into the field.
How is your career developing?
Nicely. In 2009, I began my career with Edward Jones. I was building my own practice. But I really wanted to do more coaching and helping people on a larger scale. I wanted to spend more time with clients than going out to find clients. Then, I was approached by Fidelity 2013. Fidelity needed a dedicated planning and guidance consultant who would work specifically with TVA employees providing guidance and investment education. I've been in this role for the past six years.
How did ICP help your career?
ICP gave me the investing background to succeed. It built a lot of credibility, especially in the beginning of my career as I was working to acquire various certifications. There is a tremendous amount of research that goes into picking stocks. Having that knowledge especially in the beginning when I entered the field gave me an advantage. For example, at Edward Jones when analysts made buy and sell recommendations, I could walk clients through how the analysts came to those decisions. I was able to help clients build a balanced portfolio to help achieve their financial goals.
Sounds like you have a mission to serve. Tell us about it.
One of the reasons I went into finance was because I was an MBA student during the recession of 2008. There were so many people struggling how to define and redefine what retirement looks like and how to manage their money. My technical background coupled with my sales and finance experience works together perfectly. I felt the responsibility to work with families and individuals through those tough times. That is how I ended up in this roll to serve others that's similar to TVA's mission of service.
Going through ICP in the midst of the great recession, is there an experience that stands out to you?
Absolutely. I'm in the ICP class and we are right in the middle of the biggest financial crisis since the Great Depression. I was really shocked to see how many people allowed that event to impact their ability to retire. Many families didn't have a plan. If they did have a plan, they didn't have somebody to manage their strategy.
ICP opened my eyes to how financial matters affect lives. I wanted to get into this field because people were really doing the opposite of what they should be doing. When there's a lot of volatility in the market, it's really a buying opportunity.
What is your take on student investment programs like ICP?
I was blown away. I didn't think it was possible to let students manage money. At first, I thought it was play money or monopoly money. Then I quickly understood the gravity of the situation. Its real money and a real client. This wasn't pretend trades. We had to go in and do our due diligence before we would make a recommendation.
Today, working with TVA employees, I've been able to keep up with the ICP program. The students have outperformed the S&P by 57 basis points over the past 21 years. That is a cumulative return of more than 38 percent. When you look at those numbers how can anyone be critical of that? This year, there were nine ICP outperformers. Hats off to the students because there was a lot of volatility in 2018. There were a lot of professional investors that preferred to sit on the sideline.
Bottom line, I think ICP does a really good job helping students define what risk looks like and the importance of diversification. ICP is a great learning tool because students have to put in a lot of time and effort into building their recommendations, and they have to convince a jury of their peers and professor that they make sense.
What would you tell students looking into ICP?
My recommendation is to just get as much out of it as you can. How many opportunities in college are there to take theory and put it into practice? Maximize those opportunities to pick your career path.
For me, ICP served as a catalyst to get into this industry. I was not sure what direction I wanted to go in. Starting out, I had an MBA with a concentration in finance. However, I did not have the accounting background that was required for many jobs. ICP helped me leverage my background and I made a seamless transition into this career path.