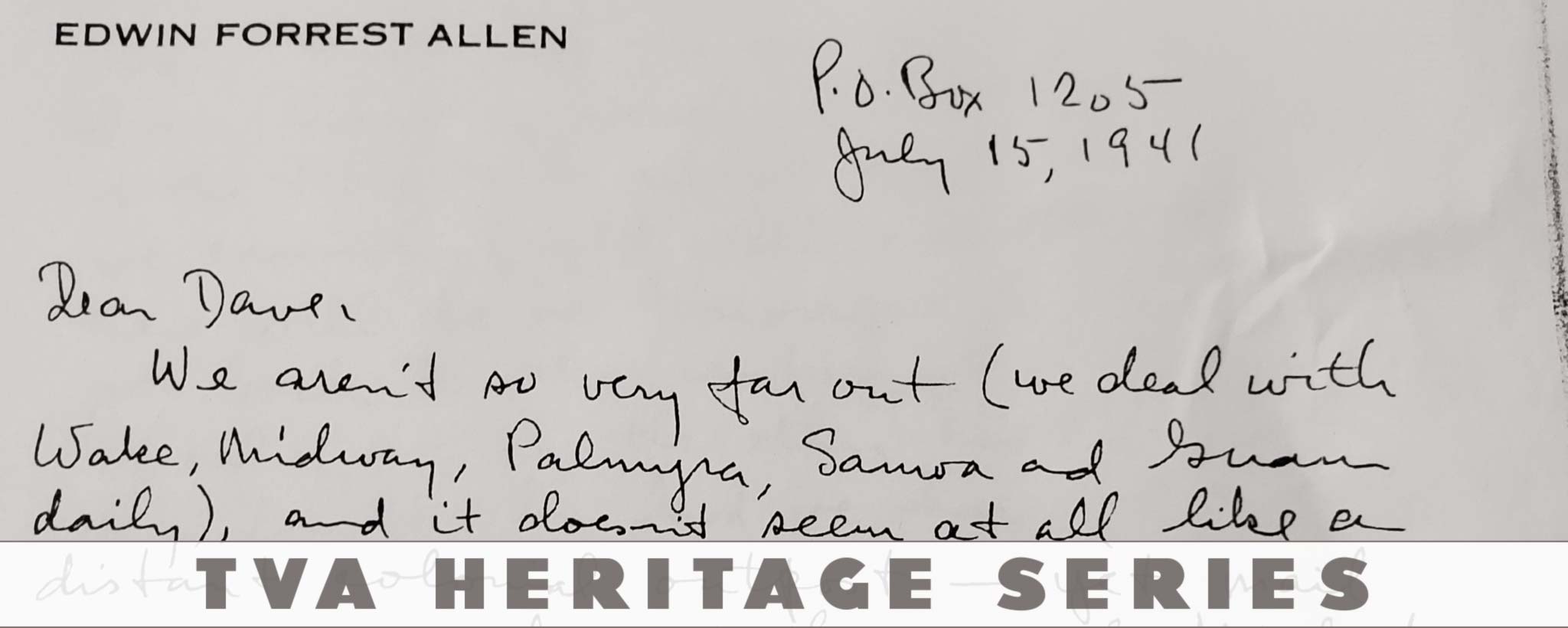 Veteran Correspondent
Letters between TVA employee and WWII G.I. Forrest Allen and Director David Lilienthal shed light on the life in the Navy during WWII.
We at TVA take pride in serving the people of the Tennessee Valley, but there have been many times when our employees have taken pride in serving the people of the United States as well. This pride has been evident with employees enlisting in the military — especially during times of war.
Forrest Allen was one such employee. Schooled as a reporter at the University of Wisconsin, he began his career at TVA in 1934 as director of the reporting service. He soon became David Lilienthal's assistant, serving much like a senior advisor. Allen was Lilienthal's right-hand man until he was called to military service. By the beginning of 1941, war with Japan seemed imminent and by Spring all Naval Fleet Reservists had been recalled to active duty. Allen, a commander in the Naval Reserves, set sail from Los Angeles with his wife and young son on May 16, 1941, bound for Honolulu, Hawaii.
Lilienthal and Allen shared a strong friendship and corresponded regularly. Today our communication is immediate and global, reaching friends and families with a text or a tweet. Such was not the case in 1941. Letters often allowed the writer to express their deepest thoughts and feelings as well as share the mundane details of their life. One five-page, handwritten letter from Allen in July 1941 struck Lilienthal so much that, in his return missal, Lilienthal wrote that it was "a tremendously good letter . . . I am not referring to the passages about TVA and about me. . . but the picture you gave what there is between the lines was a really moving one and wonderfully well-written." In fact, to show Allen how impressed he was, Lilienthal sent a copy back to him because he though Allen should keep it.
Loose Lips Sink Ships
Allen's letter is an impressive composition. It provides us with a glimpse of naval readiness in the Pacific five months before the United States officially entered World War II; it provides some insight into the two men and their friendship; and it reflects the pride Allen felt not only in TVA but also in the United States Navy. It also reflects Allen's knack for reporting.
One passage brings to mind the WWII slogan, "Loose Lips Sink Ships." Allen confides that "[U]ntil you experience it, you cannot even imagine what tight lips are in this service today. We admit nothing — and I speak so little of my work to Elizabeth [his wife] that I know she imagines it to be dull indeed. Officers do not talk to wives — and ashore talk practically no shop even among themselves…. Perhaps it is overdone. But this is readiness for war."
Elaborating on that readiness, Allen reports that "[T]he boys are playing for keeps, now. They are working unbelievably tough schedules. War could make them little tougher. War would bring surprisingly little change to the Navy here." He directs Lilienthal to read that last sentence again.
Toward the end of the letter Allen notes that his confidence about the Navy continues to grow: "I honestly believe it will be as great a surprise to the world as was Hitler's great Army. That is why I am so anxious that some means can be found to tell the people whose Navy it is a little more about it — so they can feel a small part of the glow and pride I feel."
After serving his country during WWII, Allen joined the staff of The Cleveland Press working as a top investigative journalist. His story is not unique, but his letter is. His words provide a genuine account of his service and what that service meant to him. As we celebrate Veteran's Day this year, let's remember and honor all of our men and women who, like Forrest Allen, have served their country proudly in the United States Armed Forces.
Want to read the entire letter Forrest Allen wrote to David Lilienthal? Click here for a transcribed copy.