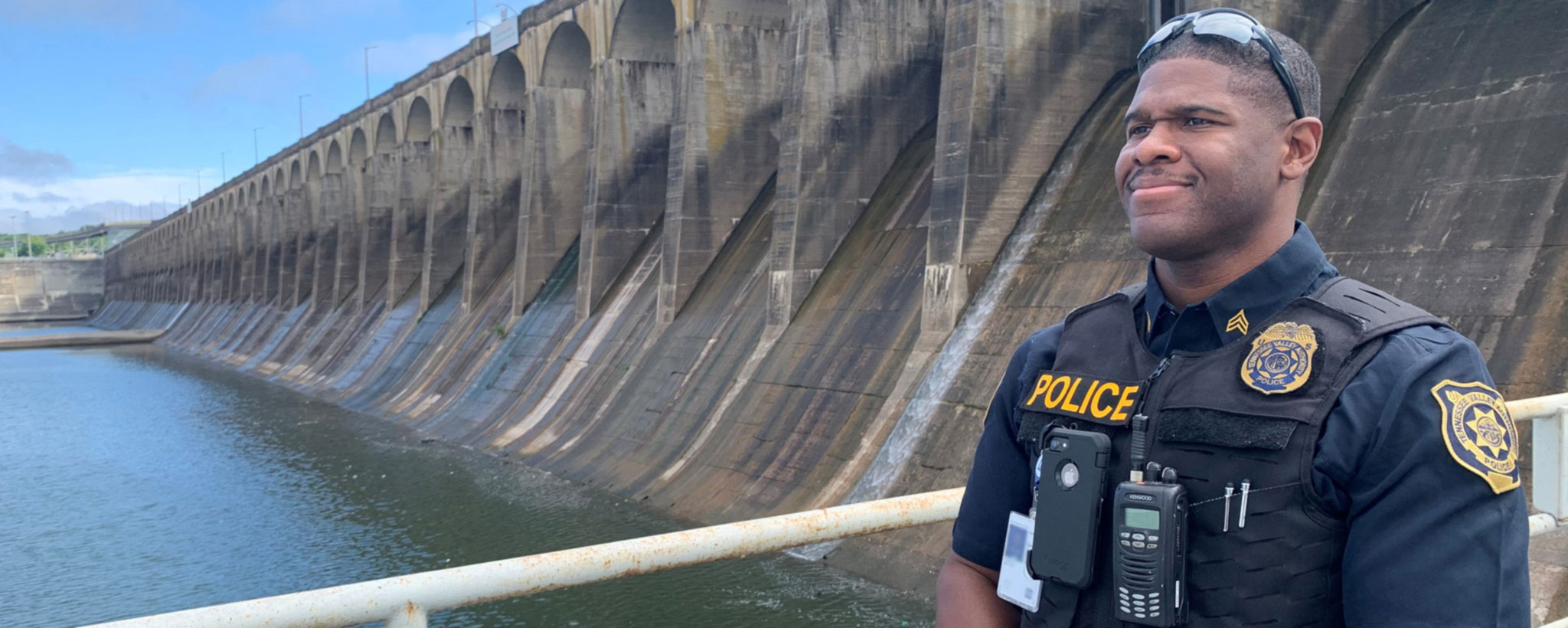 TVA Police Careers
Interested in a law enforcement career with TVA Police & Emergency Management? Please review the following criteria for entry-level Inspector jobs.
Minimum Requirements
Education and Experience:
Bachelor's degree or equivalent education, training or experience
3 years sworn law enforcement experience
Must:
Be 21 years of age and a U.S. citizen
Be able to obtain and maintain a Top Secret national security clearance
Not be convicted or plead guilty or nolo contendere to any felony charge or any federal or state laws or city ordinances relating to force, violence, theft, dishonesty, controlled substances or any criminal activity unbecoming an officer
Not have been dishonorably discharged from the armed forces of the United States
Maintain a valid driver license
Be able to respond from home to official workstation in less than 45 minutes
Knowledge of:
TVA's objectives, policies and programs
TVA's rules and regulations, as well as applicable federal, state and local statutes
Applicable regulatory requirements
Effective communication skills (verbal and written)
Positive interpersonal communication skills
Variety of computer software applications including word processing, spreadsheets, databases, presentations and personal information management software
Successfully complete:
Pre-employment background
Resume review
Interview panel
Psychological test
Medical examination
Physical fitness and swim test
Polygraph examination
Continued Employment
Completion of the Uniformed Police Training Program (UPTP) at FLETC
Completion of the Physical Security Training Program (PSTP) at FLETC
TVA Police Field Training and Evaluation Program
Successfully complete a one-year probationary period (new outside hires)
Successful completion of annual in-service
Successful completion of annual physical fitness test
Completion of any other prescribed training
Equal Employment Opportunity
TVA values and embraces diversity. We encourage all individuals to apply regardless of race, color, national origin, ethnicity, gender, sex, abilities/disabilities, sexual orientation, religion, veteran status and age. We strive to be inclusive of all the people we serve across the Valley.
TVA is an Equal Opportunity employer and complies with all applicable laws and regulations regarding equal employment opportunities. Any applicant or employee who believes s/he has a discrimination claim (including harassment or retaliation) must contact TVA's Equal Opportunity Compliance office within 45 calendar days of the event or action s/he believes to constitute discrimination, harassment, or retaliation.
Drug-Free Workplace
All TVA Non-Nuclear employees are covered by TVA's Federal Drug-Free Workplace Program Plan, in accordance with Executive Order 12564, Public Law 100-71 and the Mandatory Guidelines for Federal Workplace Drug Testing. Information regarding the Drug Free Workplace Program can be found at www.samhsa.gov/workplace. TVA Non-Nuclear employees in Testing Designated Positions, including those performing safety-sensitive duties are also subject to random drug testing. TVA Nuclear employees are subject to random alcohol and drug tests in accordance with 10 CFR Part 26 as mandated by the Nuclear Regulatory Commission (NRC).