TVA and a broad array of partners—including the Electric Power Research Institute, Oak Ridge National Laboratory and local power distributors—are working to set up solar-assisted charging stations for electric vehicles in the TVA region.
The prototype Smart Modal Area Recharge Terminal, or SMART station, developed by TVA and EPRI, is among the first public electric vehicle charging stations that can make electricity from sunlight, store electricity and put electricity back in the power grid when needed.
These all-in-one charging stations are important to the development of electric vehicles and also to TVA's goal to provide cleaner, low-cost energy.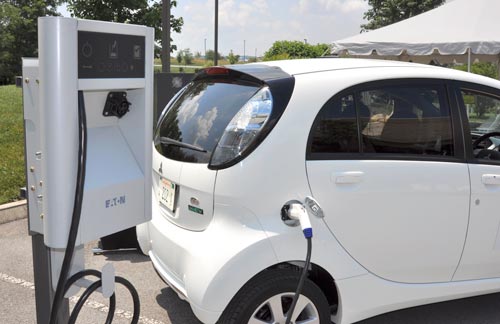 The SMART stations will be used over time to study various aspects of electric vehicle charging, including consumer behavior, the impact on the electricity system, infrastructure design and development and testing different stationary batteries. TVA and EPRI also will assess electric vehicles' potential to reduce greenhouse gases and other pollutants.
TVA and EPRI have made the technical design for the SMART station available for public use at no charge. It is hoped that the best practices created in this project will be replicated by other projects across the country.
What does the SMART station look like?
The station uses a modular design of solar panels (a canopy over the parking space) that incorporates stationary battery storage, vehicle charging devices, a communications and control system, data collection equipment, a dedicated transformer and connection to the local power grid.
What does the stationary battery do?
Stationary battery storage supports the local power grid by lessening the effects of charging multiple cars in one location. It also provides future opportunities to re-use automotive batteries that are no longer ideal for cars. These batteries may have 60 percent to 70 percent of life in them and can be used to support the power grid.
Where are the stations located?
The prototype station opened in January 2011 at EPRI's Laboratories for Electric Transportation Applications in Knoxville, Tenn. Other SMART Stations are located at Oak Ridge National Laboratory, Vanderbilt University in Nashville and Shelby Farms in Memphis.
What information will be collected?
The SMART station is providing data on integrating solar power onto the grid, using battery storage, the effect of local power generation on reliability and the performance of advanced energy metering equipment that enables two-way exchange of information on energy supply and use.
Are the standards for this charging station the same as in other parts of the country?
Yes. The SMART station follows safety and technical standards set by the Society of Automotive Engineers by using a standard plug, as well as National Electric Code standards and other best practices as identified by TVA, EPRI and industry.