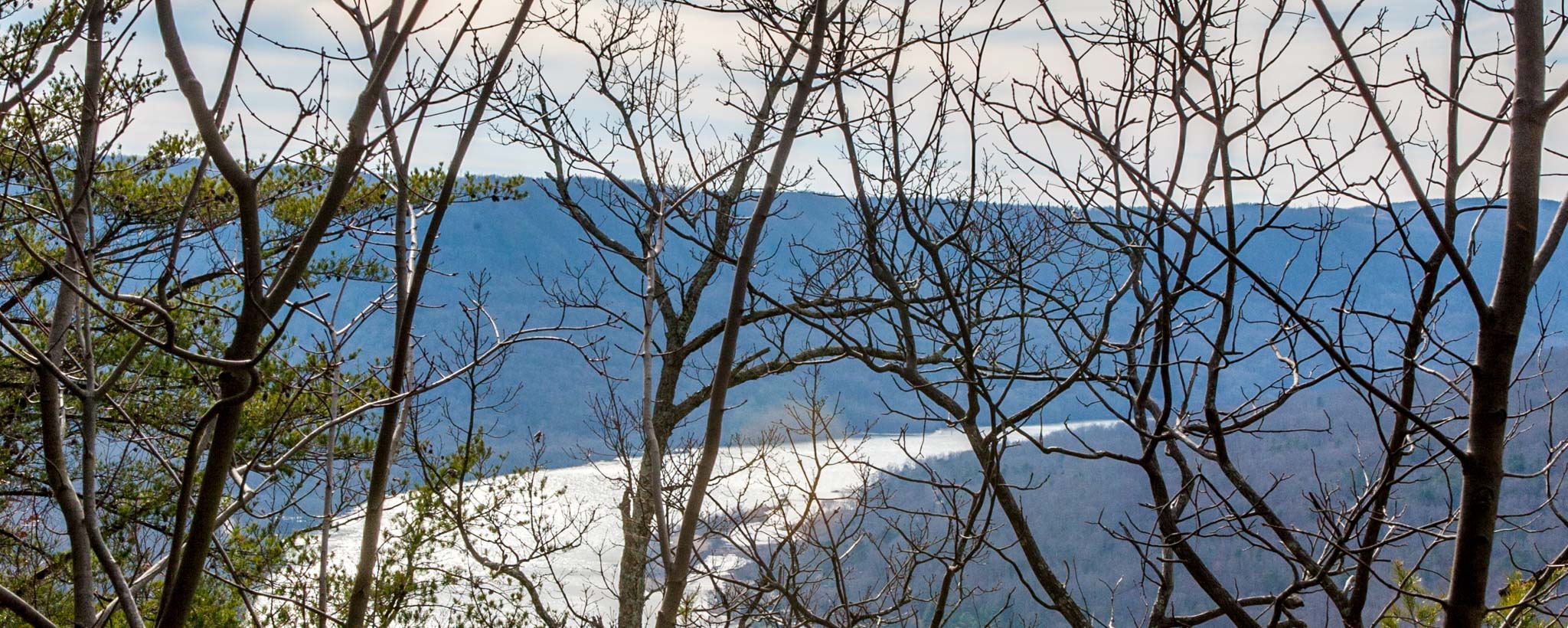 No Off-Season for Resource Stewardship
TVA natural resource specialists don't hibernate in winter; they're the first to bloom in early spring. You're likely to see them out on TVA public land making improvements to protect the natural environment and enhance your recreation experience year-round.
Leaves off trees means excellent visibility for boundary marking and trail planning.
The fallow season is the best time for prescribed—or controlled—burns, which nourish the soil.
Winter is the best time to remove detritus from and make improvements to TVA public lands.
With insects and poison ivy at bay, it's easy for Natural Resources staff to monitor hundreds of acres of land conditions on foot.
Boundary Marking
Making sure the boundaries of TVA public land are clearly marked is an ongoing challenge. Over time, in-ground markers may be hidden by vegetation, posts and signs may fall or be vandalized, and boundary paint spots on trees may fade. The best time to reestablish or remark boundary lines is from November to March when the leaves are off the trees. That makes it easier to establish a clear line of sight between existing markers, and surveyors are able to get a better GPS signal. TVA reestablishes or remarks 60 to 70 miles of boundary annually. Clearly marked boundaries help people who use TVA public land avoid accidently trespassing on private property—and help private property owners avoid unintended encroachments on TVA public land.
Prescribed Burns
From early February through the end of May, there's a good chance you may see smoke from prescribed burns on TVA public land. Prescribed burns, sometimes referred to as controlled burns, are valuable tools to protect and improve natural resources. They can help maintain and establish wildlife habitat, and reduce thatch and leaves that help fuel wildfires. Burns also stimulate the growth of desirable vegetation and recycle nutrients back into the soil. TVA works with local state and federal agencies to develop a detailed plan for each prescribed burn, with safety as the top priority.
Trails Building
There are more than 160 miles of trails on TVA public land already, and TVA is adding more trails every year. Almost all trail work is done in winter when the leaves are off the trees because it is easier to see the landscape and to design features that make for a sustainable trail—for example, to plan for water drainage patterns. Another advantage of building trails in winter? A respite from the summer plagues of mosquitoes, chiggers, ticks and poison ivy.
Land Conditions Assessment and Maintenance
In an average winter, TVA natural resource management staff assesses about 10,000 acres of TVA reservoir land, mostly on foot. TVA staff evaluates the condition of the shoreline, forest access roads, hiking trails and other features; identifies misused and abused sites and monitors wetlands, plants, animals and cultural resources; and much more. Based on staff's professional judgment, each parcel of land is rated good, fair or poor, and stewardship maintenance needs are prioritized in multi-year plans.
These needs are addressed through a variety of corrective actions such as removing litter, debris and downed trees; remarking property boundary lines; improving parking areas; and implementing measures to protect sensitive resources, enhance wildlife habitat and control invasive plants."Field assessments are vital in carrying out our public land stewardship responsibility," says Jack Muncy, senior specialist, Land Condition, who led the team that developed the land conditions assessment methodology. "We've developed a proactive, systematic approach that places priority on lands that receive the most public use and lands that support the most critical resources."
Forest Resource Management/Wildlife Habitat Enhancement
TVA's forest resource management program seeks to maintain, restore or improve forest health through a variety of activities, including some that take place in late winter and early spring. Teams work year-round to create, enhance and/or maintain diverse, sensitive, historic and unique plant communities along with or in addition to improving wildlife habitats.
"Improving the habitat in an area has many great benefits," says Muncy. "The work we do supports the health of the entire forest ecosystem, from erosion control to providing food and shelter for wildlife."
In February and March this year, teams will be working with the Tennessee Wildlife Resource Agency and others to plant and/or replant bare-root seedlings of sugar maple, hemlock and red oak seedlings on reservoir lands. Other sites around the Valley will also be planted with these native trees who's populations have declined over several decades. These trees will add species diversity as part of the long-term, sustainable planning to restore this habitat.