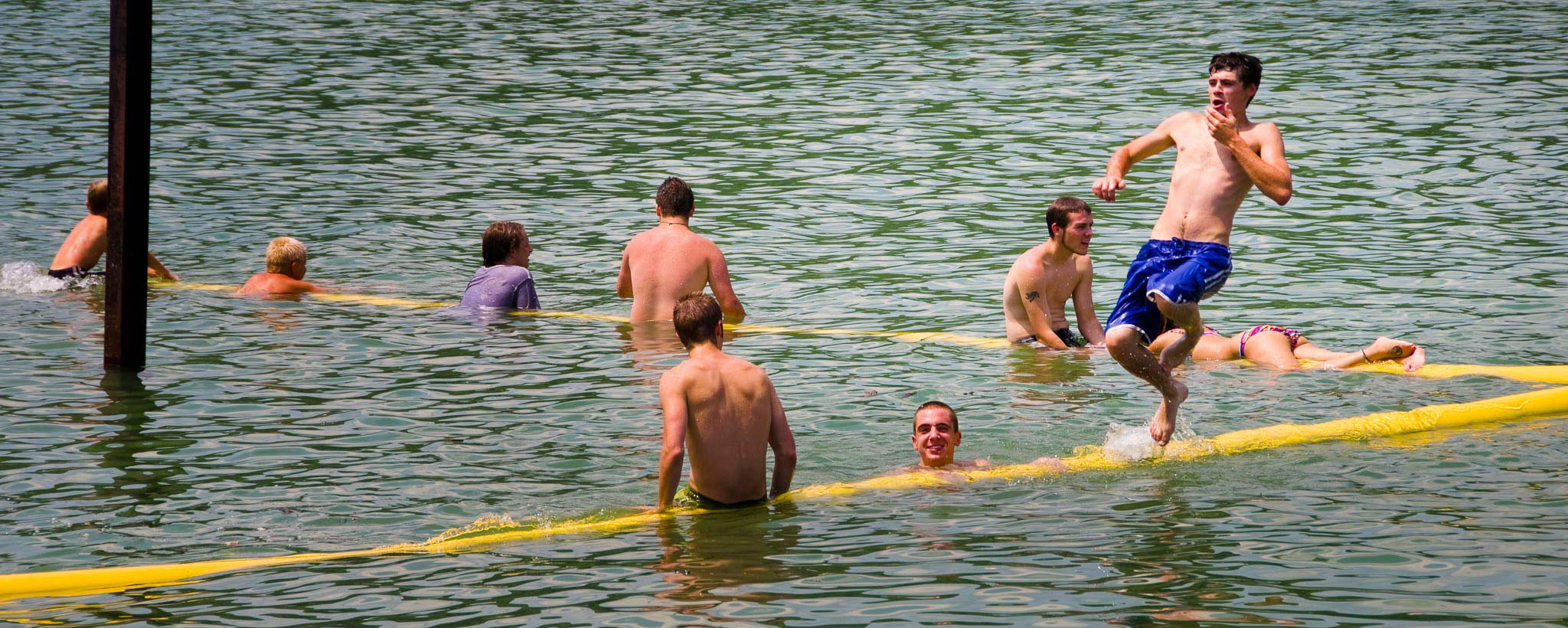 Swim Beaches
Tennessee Valley summers are characterized by natural beauty—and unrelenting heat. Cool off in the lake at one of TVA's manicured swim beaches.
You don't need a boat or a lake house to enjoy a dip at one of these public swim beaches, created expressly for the enjoyment of the people of the Valley. There, you can unfold a blanket on the shore, set out a picnic and wade right in—from May to October, the water is fine. Here's where you'll find the beaches:
Cherokee Dam Reservation: Located off TN 92 near Jefferson City, Tenn.
Chickamauga Dam Reservation: Located off TN 153 S. near Chattanooga, Tenn.
Douglas Headwater and Tailwater Dam Reservation: Located on Douglas Dam Rd. near Dandridge, Tenn.
Melton Hill Dam Reservation: Located on TVA Melton Hill Dam Rd. off U.S. 321 near Lenoir City, Tenn.
Nickajack Shellmound Day Use Area: Located off TVA Rd. near South Pittsburg, Tenn.
Tellico Dam Reservation: Located off TN 321 in Lenoir City, Tenn.
Watts Bar Dam Reservation: Located off County Rd. 451 and Watts Bar Ln. near Spring City, Tenn.
Pine Lake Ramp: Located on Pine Lake Rd. near Lexington, Tenn.
Loyston Point Recreation Area at Norris Lake: Lakeshore Dr. at N. Shore Dr. near Norris, Tenn.
Point Mallard Park at Mallard Creek: Point Mallard Dr. SE near Decatur, Ala.
Paris Landing State Park on Kentucky Reservoir: TN 76/U.S. 79 to TVA Access Rd. near Buchanan, Tenn.
Parksville Beach on Parksville Lake: Off U.S. 64/Old Copper Road near Ocoee, Tenn.
Barton Springs Beach on Normandy Lake: On Barton Springs Rd. near Tullahoma, Tenn.
Bear Creek Dam: Follow New Beach Rd. from U.S. 641
Boone Dam Reservation: Located off Minga Rd. in Kingsport, Tenn.—newly renovated
---

It's always a good time for fun on the Tennessee Valley's lands and waters. Not sure where to start? We have you covered! Check out some of the best recreational activities on our reservoirs. While you're enjoying the lakes, trails, picnic areas and campgrounds, share your own stories and photos on Instagram using #TVAfun.
---
River Neighbors Newsletter
Get the all the latest news and inside information about recreation on TVA public lands and lakes.