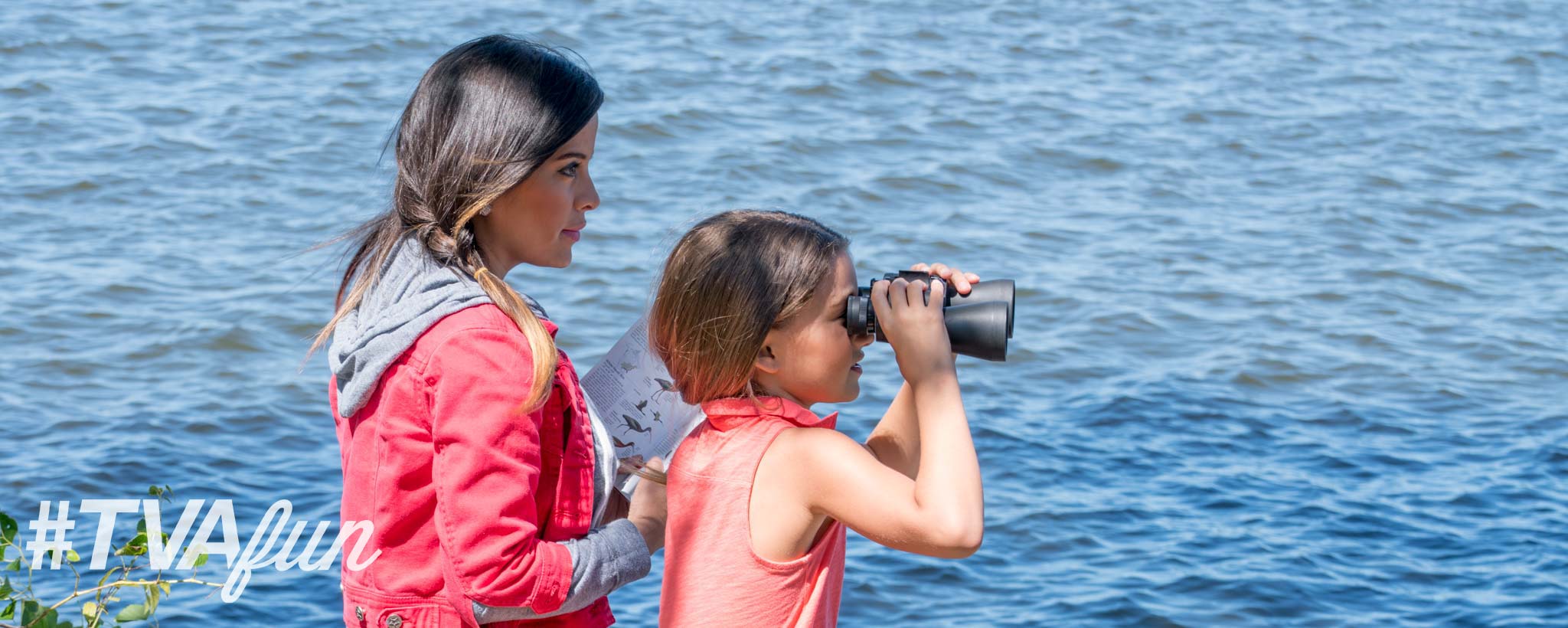 Birdwatching 101
TVA maintains public areas—woodlands, grasslands and waterways—across the Tennessee Valley, and these are great places for birdwatching. With a little know-how, you'll see the splendor of birds all around you.
Birding is fun, it's great exercise and you don't need expensive equipment to get started. The Tennessee Valley is home to about 180 species of birds that nest here, and about 200 species that regularly migrate through the area or spend the winter here.
Get Your Timing Right
There are always birds to see, but if you're interested in songbirds, early spring is the best time to see and at their most active. Birds are nesting in April and May, which is also the best time to hear them singing.
Any time of year, early in the day is the best time to venture out. The early bird gets the worm—and sees more birds.
Open Your Ears
"A lot of birding is done by ear," explains Damien Simbeck, avid birdwatcher and watershed representative at TVA. "The best time to birdwatch is early in the morning, that time period just before and just after the sun comes up. We call that 'the dawn chorus' because so many birds are singing then. You can stand still and pick out 10 to 15 different bird calls pretty quickly.
"Many species have separate songs and calls. You can quickly learn the most common ones and then use your ears to tell you where the bird is."
Zoom In
It doesn't cost much to invest in a good pair of binoculars. Spend some time practicing with them so you can pick out the bird you want to see.
"You see pictures of birdwatchers always with their binoculars up, but really you'll do a lot of looking with the naked eye first," says Simbeck. "Follow the bird sounds and get a fix on exactly where they're coming from. Once you see your bird, keep your eyes on him and raise your binoculars to your eyes without looking away."
Book It
A bird book—a field guide to the different sizes, shapes and colors of birds—will help you identify what you're looking at. Some good ones include The Sibley Guide to Birds, The Stokes Field Guide to the Birds of North America, National Geographic Field Guide to the Birds of North America and Peterson Field Guide to the Birds of North America.
It's fun also to keep a log of the birds you've seen, along with the date, time and location.
Stay Safe In the Field
You've heard about the dangers of walking while texting? The same caution applies to walking while birding: Don't walk with your binoculars up to your face!
Watch out for wildlife. You might be so intent on looking up into the trees that you miss a snake or other critter at your feet.
Of course, always wear sunscreen and insect repellent.
Every year, as many as 2 million people in the Tennessee Valley spend millions of dollars on wildlife watching activities. Support of wildlife watching is part of TVA's commitment to economic development in the Valley, and providing educational signs and access to birdwatching areas ties into its mission of education and improving quality of life.
It's always a good time for fun on the Tennessee Valley's lands and waters. Not sure where to start? We have you covered! Check out some of the best recreational activities on our reservoirs. While you're enjoying the lakes, trails, picnic areas and campgrounds, share your own stories and photos on Instagram using #TVAfun.
River Neighbors Newsletter
Get the all the latest news and inside information about recreation on TVA public lands and lakes.
Birdwatchers in Paradise
TVA has taken steps to make many of the public lands it manages attractive to avian life—making for some great birdwatching destinations. Here are some of the top spots for birdwatchers on TVA reservoirs:
• Rankin Bottoms on Douglas
• Songbird Trail on Norris
• Chota Waterfowl Refuge on Tellico
• Hiwassee Refuge on Chickamauga
• Gunthersville State Park
• Muscle Shoals Reservation
• Duck River Unit, Tennessee National Wildlife Refuge, Kentucky Reservoir
Read more about these destinations, and what you'll find there, by clicking here.