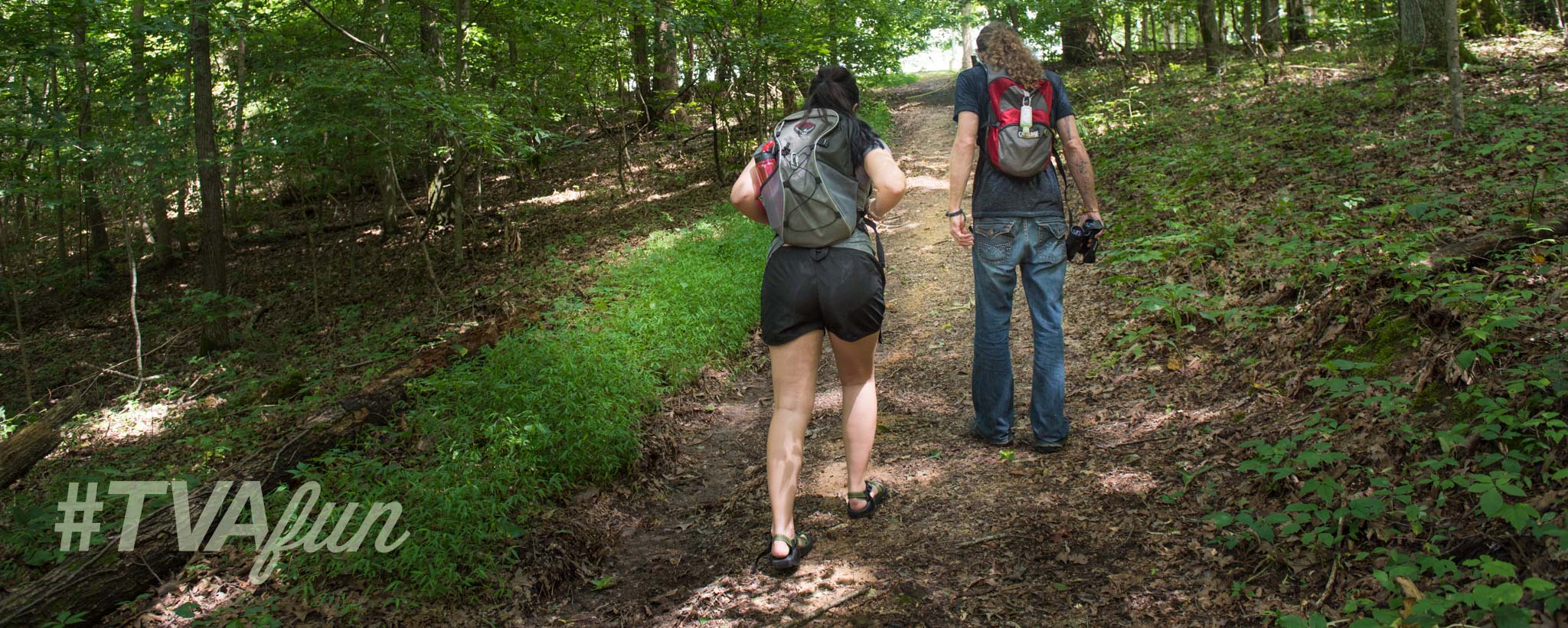 Get Ready, Go Hiking!
It's time to lace up those hiking boots, grab your supplies and hit the trail—with both fun and safety in mind!
Up for a hike? You're in luck, because TVA manages approximately 293,000 acres of public land, much of it undeveloped, rich with outdoor recreational possibilities…including dozens of hiking trails suited for a range of skill levels.
Over the next month, we'll highlight some of those hidden pathways, where new surprises are around the next bend and you can get away from the stress of your daily commute…or your office mate who talks a little too loudly…or your yard that screams to be weeded, mulched, mowed and manicured.
First, let's get interactive and start identifying your wilderness walkways. Visit www.tva.com/trails to get details about the various trails available on each TVA reservoir. There you can find trails that are simple loops, out-and-back excursion and even interconnected systems that give you the chance to identify the route that matches your time commitment, endurance and skill level. You'll also find trail maps and driving directions, and the latest information about trail closures. Or, you can go old-school and simply call (800) 882-5263 for TVA trail information.
Want an easy day hike with the little kids? In the mood for a more strenuous uphill climb that gets your heart pounding? We've got you covered.
But before you go, take a minute to put together a plan for a safe and rewarding hike—one that's good for you, and good for nature. And then go have the experience of a lifetime!
Trail Safety and Best Practices
Take a first aid kit, sunscreen, bug repellant, flashlight and water
Check the weather before you go and be mindful of lightning
Let someone know where you intend to go and your expected return
Wear the appropriate footwear and clothing
Be careful crossing footbridges or wet areas
Know how to identify poison ivy and avoid it
Watch where you put your hands and feet to avoid snakes
Check yourself for ticks after your hike
Check state hunting season and be aware of hunters present during hunting season where hunting is permitted
Do not go alone or travel at night
Do not venture off the trail
Do not harass or approach wildlife
Do not wear headphones on multiuse trails
Contacts
Emergencies: 911
Questions: (800) TVA-LAND
TVA Police: (855) 476-2489
For more on recreational opportunities, or to sign up for our River Neighbors newsletter, go to tva.com/recreation
It's always a good time for fun on the Tennessee Valley's lands and waters. Not sure where to start? We have you covered! Check out some of the best recreational activities on our reservoirs. While you're enjoying the lakes, trails, picnic areas and campgrounds, share your own stories and photos on Instagram using #TVAfun.
River Neighbors Newsletter
Get the all the latest news and inside information about recreation on TVA public lands and lakes.
Hike to Protect the Environment
• Stay on the trails
• Carry out pet waste
• Do not litter and follow Leave No Trace
guidelines:
- Plan ahead and prepare
- Travel on durable surfaces
- Dispose of waste properly
- Leave what you find
- Respect wildlife
- Be considerate of other visitors
• Do not remove, damage, alter or deface plants
or historical artifacts
• Do not enter caves
• Do not bike on muddy trails
• To prevent trail erosion, do not cut across
switchbacks
• No motorized vehicles on trails or in
drawdown zones