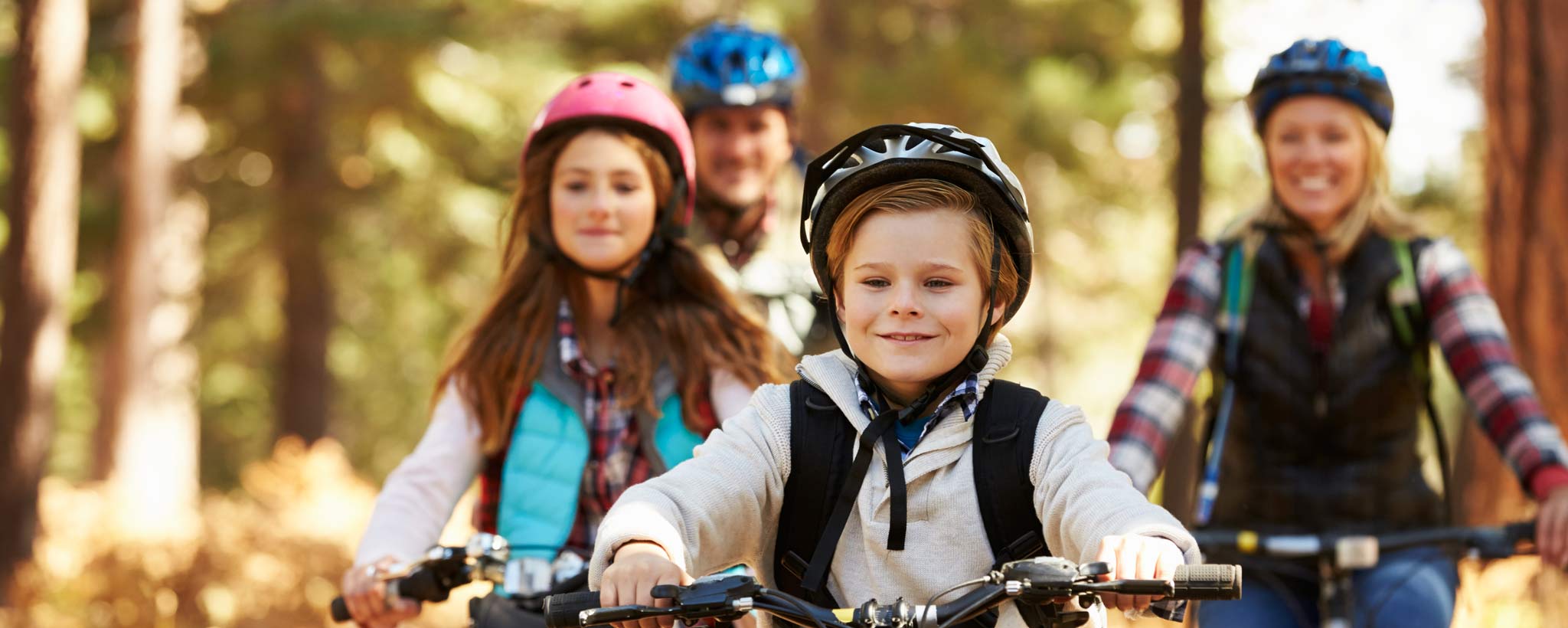 History on Wheels
Two new TVA multi-use trails near South Holston Dam are designed to provide mountain biking fun for the whole family now and in times to come.
Are you a mountain biker with a passion for history? Now you can combine your two interests—and get your whole family in on the game—with TVA's two newest trails at South Holston Dam. The Yelling Trail has ties to the Revolutionary War, and the Dam Builder Trail is connected, as the name suggests, to the building of the dam, which famously started in a hurry to provide needed power for WWII.

"Both are inviting, easy trails—perfect for the whole family to ride," says Randy Short, Bristol-based TVA forester who was intimately involved in their creation. "They're relatively flat, but twisty, turn-y and fun."

History in Motion
While you ride the Yelling Trail, you can explain to the kids how the trail is named for the Overmountain Men, Revolutionary War patriots from southwest Virginia and northeast Tennessee who mustered in the area to fight the British loyalists at Kings Mountain, South Carolina on October 7, 1780. The Overmountain Men—who earned their nickname for being from west of the Appalachia—were known for screaming during battle. Hence the group became also known as the "yelling boys" and the trail name followed.
As for the Dam Builders Trail, it's literally built where materials were removed to create South Holston Dam, one of the largest earthen dams in the world. Consisting of 5,473,000 cubic yards of rolled earth and rock material, the dam's construction began in 1942, but was halted later that year as manpower was redirected during the war. It picked back up and was completed in 1950. The site used to collect materials was planted by TVA to prevent erosion. Now fully forested, it's a pretty backdrop for a family ride.
"It's very cool that we were able to create these recreation assets on some of the last unused parcels of TVA land in this area," Short says. He's hoping the trails will be a draw for the Tri-Cities of upper East Tennessee (Bristol, Johnson City and Kingsport), if not further afield, due to their family friendliness. "There just aren't other trails like this around here. With 4.2 miles, you can make a day of it."
Fun for Everyone

But just because the trails are family-friendly doesn't mean they're dull, says trail builder Marc Upton, who helped plan and create the trails. There are plenty of ways to make them more exciting. "You can go fast and pedal hard on these trails," he says, "and there are some roots and rocks if you're looking for them. You can find a few rocky, technical features out there, but there are ride-arounds for the rest of the family so everyone is happy."

The Yelling and Dam Builders trails are rated as multi-use, meaning hikers and walkers are welcome, but they're built for mountain bikes, which means you'll find friendly berms to help your ride, and that they handle water well, which is the key to sustainability. That's a subject near and dear to Clay Guerry's heart. He's the mountain biking enthusiast who happens to be TVA's recreations strategy specialist.

"We take our time to design trails that are a blast to ride, but are built with the future in mind so they're here today but there for tomorrow," Guerry says. "That's what's really great about seeing young kids out here on these trails. You know that mountain biking is a sport for a lifetime, and someday, they'll be out here with their kids, too."
It's always a good time for fun on the Tennessee Valley's lands and waters. Not sure where to start? We have you covered! Check out some of the best recreational activities on our reservoirs. While you're enjoying the lakes, trails, picnic areas and campgrounds, share your own stories and photos on Instagram using #TVAfun.
River Neighbors Newsletter
Get the all the latest news and inside information about recreation on TVA public lands and lakes.