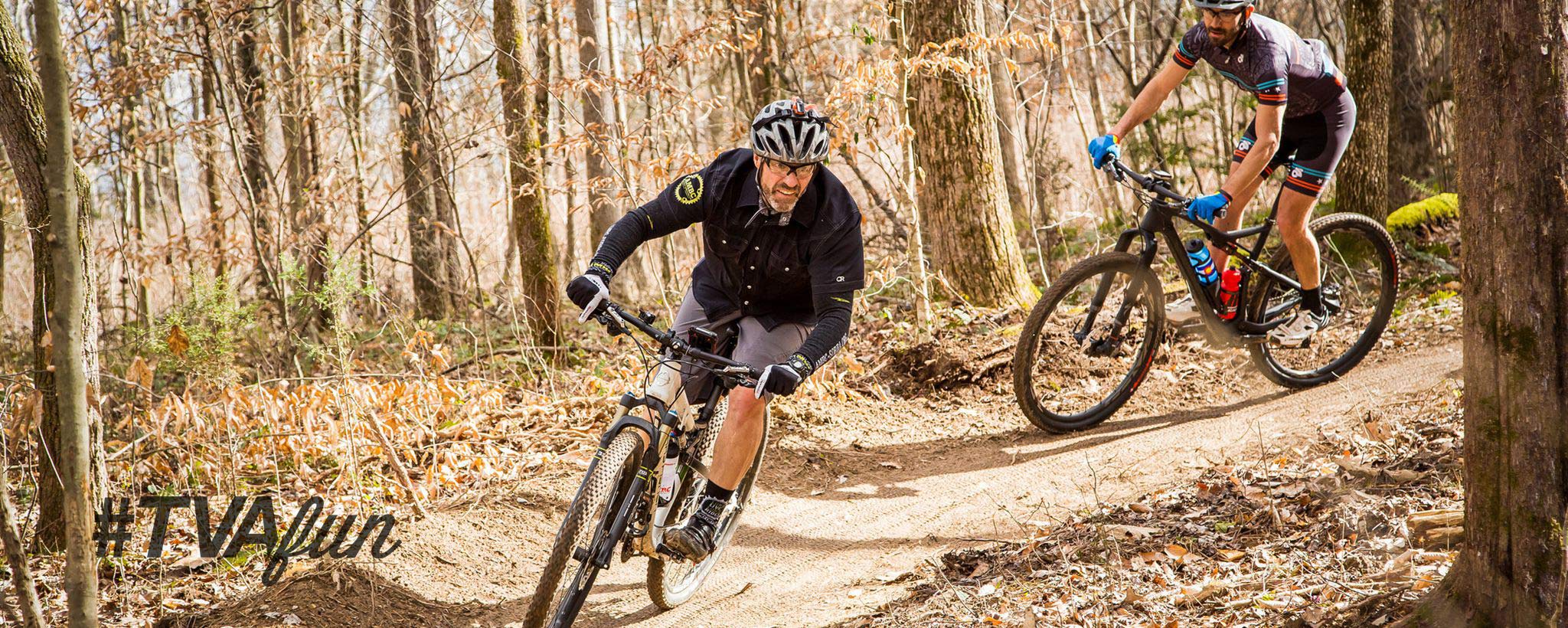 Killer Biking on TVA's Mill Creek Loop
Whether it's a rainy or gorgeous fall day, grab your mountain bike and head for the Mill Creek Loop, TVA's latest and greatest hiking and biking trail, where both the color and the ride are spectacular.
Picture this: It's a cool fall day, with the East Tennessee hardwoods in full autumnal regalia. A recent rain has left leaves with a glossy sheen and created an incandescent light that heightens color and enhances depth perception. Mountain bikers everywhere yearn to hit the trail—but, alas, muddy ruts await them most everywhere.
But there is a place, a special destination that's perfect for the rider who loves the just-wet: Mill Creek Loop at Loyston Point on Norris Reservoir outside Knoxville. "You can get an inch or so of rain and nothing around here would be rideable for the next two days, but Mill Creek Loop would be rideable later in the afternoon," says Clay Guerry, TVA recreation strategy specialist and in-house mountain biking guru. "The soil type and the trail design conspire so that it's never too wet to ride it, so you can really enjoy those cool, damp fall afternoons."
Bike Optimal
Mill Creek Loop, a 7.3-mile ride, is a more challenging sister to the popular, adjacent Loyston Loop Trail. "Mill Creek is a trail that's been totally bike optimized," Guerry explains. "That means it has special features that enhance the biking experience, like long, flowy berms—built up corners where bikes can go faster. It also has larger water-control structures, which double as jumps for bikes."
Overall, it's tougher than the Loyston Loop, which is beloved by beginners. "Mill Creek Loop has longer climbs, and the trail itself is longer, so it takes a little more commitment," Guerry continues. "We designed Mill Creek to be appealing to the more intermediate, fit rider—though the truth is, most people go out there and ride both."
According to Randy Conner, founder of the Appalachian Mountain Biking Club and owner of Contour Trail Design, who rides Mill Creek regularly, the trail is really available to everyone. "Yes it's got great berms and rollers and it can be a thrilling, but you don't have to ride it fast," he advises. "You can adjust the ride to your own capabilities. Take it slow, and its accessible to everyone; ride it fast, and it's all the trail you'd ever want it to be."
Absorbed in Nature
Both Guerry and Conner note that the Mill Creek Loop has a focusing quality. "It's over seven miles with no bailouts, so you get really absorbed in it," Conner says. "Plus, there are big, gorgeous hardwood trees and when the leaves are in place, there could be 60 other cars in the parking lot, and you'd still feel like you had the place to yourself. You have your own sense of space back there."
Those leaves make for a gorgeous backdrop—but even when they're off, the view is still stunning. "Climb to the top of 'Mount Loyston' and you have a 270˚ degree view of the reservoir," Guerry notes. "There's a picnic table up there, so it makes for a logical spot to take a break."
Guerry and Connor note that it's essential on this trail—and all others—to observe good bike safety, including:
Wear a helmet, closed-toe shoes and gloves
Have plenty of food and water on hand
Know basic trailside maintenance, such as how to fix a flat tire
Ride with others, or let someone know where you're going
Keep your bike under control—don't go too fast for your ability
Most important: Have fun. "It's a really well-done trail," Guerry admits. "We've met our objective to make an awesome trail biking experience."
It's always a good time for fun on the Tennessee Valley's lands and waters. Not sure where to start? We have you covered! Check out some of the best recreational activities on our reservoirs. While you're enjoying the lakes, trails, picnic areas and campgrounds, share your own stories and photos on Instagram using #TVAfun.
River Neighbors Newsletter
Get the all the latest news and inside information about recreation on TVA public lands and lakes.