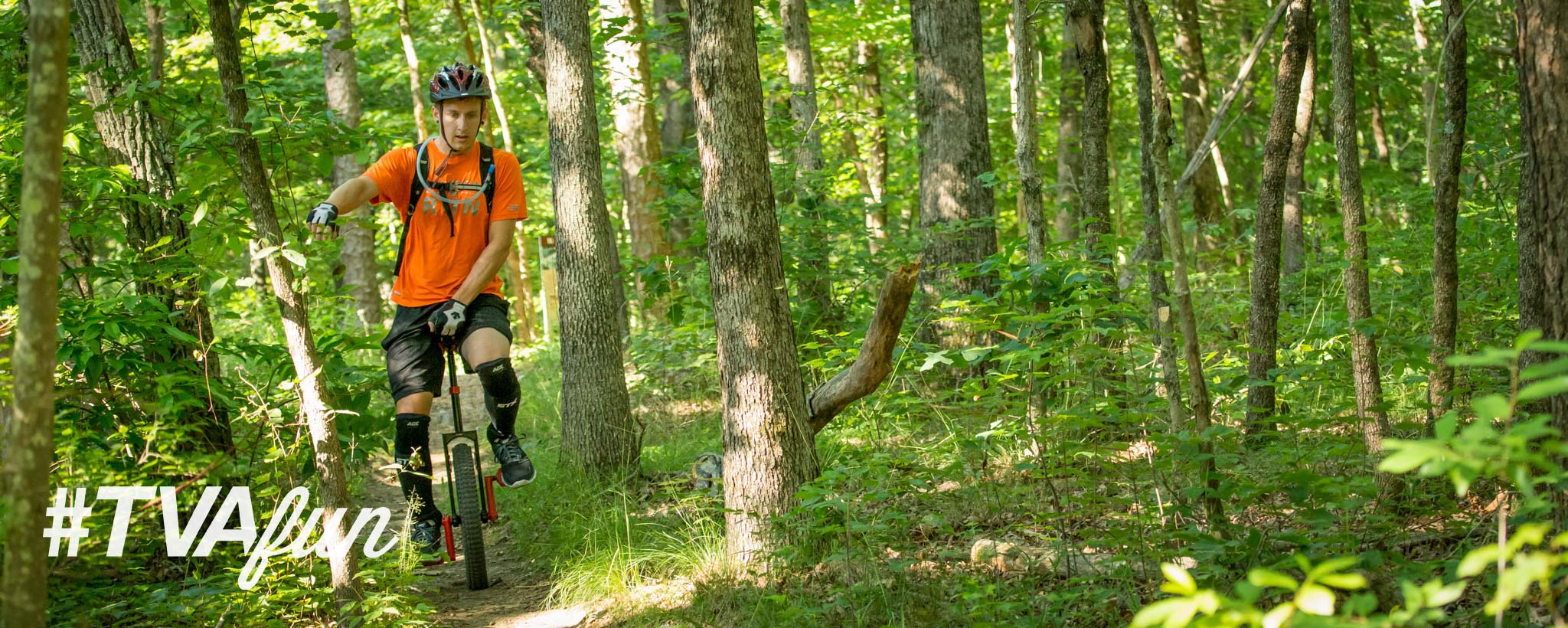 Mountain Bike Mecca
Bike Magazine summed up Raccoon Mountain's bike trails in one word: glorious. Find out why these 30 miles of trails are known for monster thrills and family chill.
"Glorious is one of the best words to describe Raccoon," says Kevin Smith, Southern Off-Road Bicycle Association Chattanooga Chapter vice president. "With the gray trail rock, dense emerald green hardwoods and wildlife, I would also add—beautiful."
Walk the parking lot at TVA's Raccoon Mountain (15 minutes west of the city off 1-24) and you're likely to see bike racks on cars with license plates from as far away as Florida, the Carolinas and the Midwest.
"The secret is out and I'm happy Raccoon is getting the recognition it deserves," says Smith. "It is not uncommon to meet folks on the trail from around the country and even from around the world."
Something for Everyone
With over 30 miles of trails, Raccoon Mountain is a one-stop-shop for mountain bike bliss. Trails are color coded for riders: Green = easy; Blue = intermediate; and Black = hold on tight.
With names like Electric Avenue, Megawatt, High Voltage and Live Wire, this destination does not disappoint—offering riders monster trails with specular views of downtown Chattanooga, the river gorge and Lookout Mountain.
Families can also enjoy a paved ride around the 107 billon-gallon reservoir and across the 8,500 foot-long dam.
For expert riders who want rock and are not afraid to scratch the paint, Raccoon provides a fair amount of technically challenging terrain. Over 800 feet of vertical elevation (some 20% grades) await riders who are strong enough to grind up the switchbacks to the summit on bicycles or—yes—unicycles.
Smith, a rider for over 20 years, says "Gravity is a wonderful thing. What goes up must come down. You'll never get tired riding around the mountain—through rock gardens, off-camber turns and exciting drop sections."
In the Beginning
Raccoon Mountain was not always a mountain bike Mecca.
"It all started with an idea in 2005," Smith recalls. "SORBA members had the saws, picks and shovels and needed a mountain to sculpt. We asked TVA to help because of their environmental mission, and they said yes!"
SORBA's bold Phase I work started in 2007 and moved quickly as the group cut about 20 miles of trails on the mountain. Phase II in 2010 expanded the system to over 30 miles. Raccoon's trail system is now so good, it is a part of the Pan Gorge Adventure Race held each Fall.
"Today we [SORBA, TVA] have worked hard to make Raccoon Mountain a destination spot for riders of all levels," says Smith.
With over 100 miles of single track trail within 20 minutes of downtown, and the enthusiasm of Chattanooga's strong local bike community, Raccoon Mountain will surely remain a "Mountain Bike Mecca" for generations to come.
NOTE: Though motorized vehicles are strictly prohibited on Raccoon Mountain trails, be aware of cars and trucks when riding or crossing the paved areas around the reservoir.
It's always a good time for fun on the Tennessee Valley's lands and waters. Not sure where to start? We have you covered! Check out some of the best recreational activities on our reservoirs. While you're enjoying the lakes, trails, picnic areas and campgrounds, share your own stories and photos on Instagram using #TVAfun.
River Neighbors Newsletter
Get the all the latest news and inside information about recreation on TVA public lands and lakes.
A Guide to Raccoon Mountain's Many Excellent Trails
There are 16 trails on Raccoon Mountain. Here's a list of them all, along with their difficulty level and mileage.
Chunky Freeride—difficult—1 mile
East Rim—easy—1 mile
Electric Ave. 1—easy—1.6 miles
Electric Ave. 2—easy—1.7 miles
Grindstone Ridge—moderate—1.7 miles
High Voltage—difficult—3.4 miles
Laurel Point—moderate—2.6 miles
Live Wire 1—difficult—1.8 miles
Live Wire 2—difficult—3.1 miles
Lower Chunky—difficult—0.8 mile
Megawatt—difficult—2.6 miles
River Gorge—moderate—1.5 miles
Six Flags—difficult—0.5 mile
Small Intestine—moderate—3 miles
Split Rock—moderate—0.5 mile
Switch Yard—easy—1.5 miles