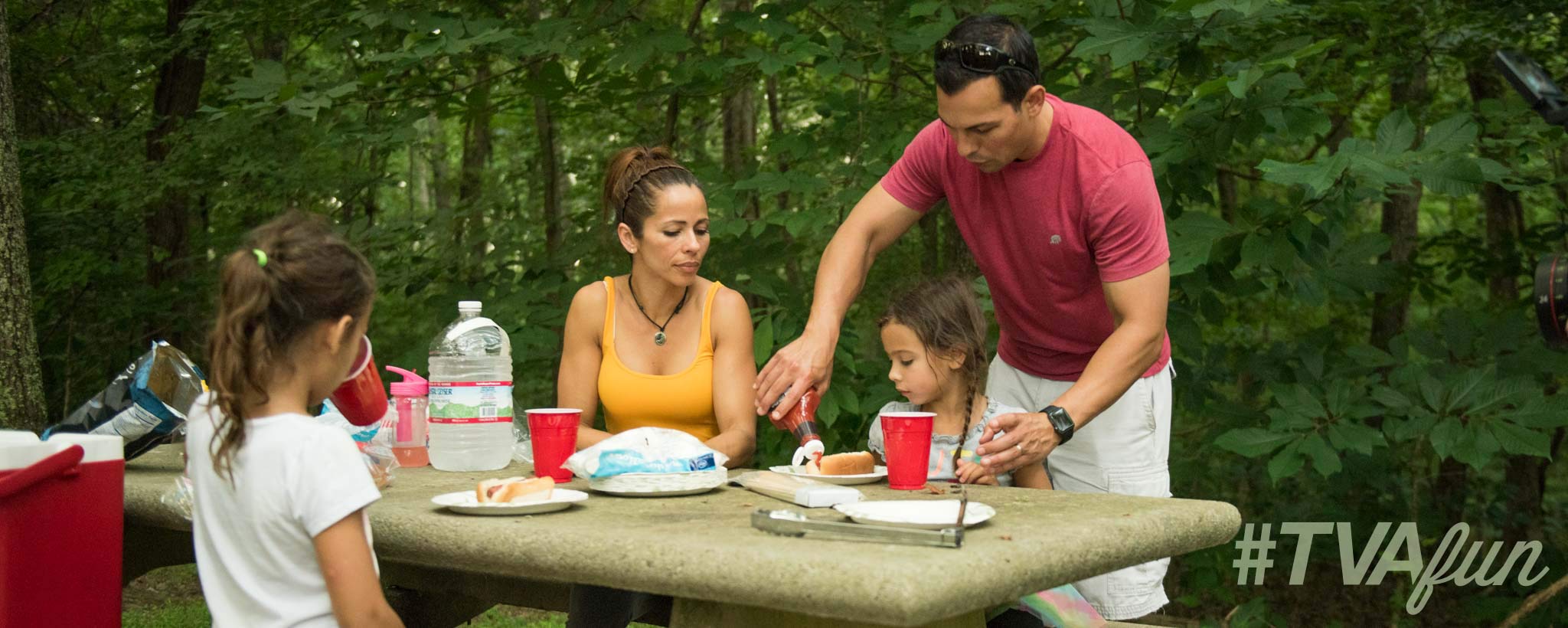 Picnic Paradise
There's no doubt about it: Picnics mean good times, yummy food and family fun. Consider having your next outdoor shindig at one of TVA's fabulous picnic areas or pavilions.
There's something about a picnic that just breeds happiness. It might be an intimate, gourmet meal for just two. It might be a simple weekend escape for a family of four, with sandwiches and sodas. Or it might be a family reunion for the whole gang, with far-flung relatives coming together from across the country. Picture a lineup of coolers, kids everywhere, burgers and dogs on the grill and a table laden with potato salad, slaw and baked beans (secret recipes, every one). Is there anything better than good company, great conversation and a paper plate sagging with good food?
How about a lakeside view?
"Picnic areas on TVA dam reservations not only come with a view, they often come with associated swim beaches, boat ramps, trails and more," says Clay Guerry, TVA recreations strategy specialist. "You can bring the kids, take a hike, cool off with a swim then enjoy a bite to eat. It's an ideal day out—and it's free."
Picnics for Everyone
Recreation was part of TVA's mission from the beginning, explains recreation engineer Jimmy Lemmond. "This is public land, and we want the public to use it; setting aside areas for picnicking is just part of that mission," he says. Nearly every dam reservation offers picnic areas, as do some boat ramps and put-in sites. In addition, 18 dams offer picnic pavilions, the majority of which are available free and on a first come, first served basis. (Pavilions at Melton Hill, Douglas and Cherokee can be reserved and rented for $125 per day.)
For the past several years, TVA recreation engineers like Lemmond have been focused on working toward the goal of having every picnic area offer ADA accessibility. "We wanted at least 20 percent of our picnic sites on every dam reservation to be accessible, so we've put a lot of work into building out new sites and fixing up old ones—and making accessible parking spaces and routes in, too," he says. "Picnicking is for everyone. We want our land to be enjoyed by all people, regardless of ability."
Have maximum picnicking pleasure, but be sure to take away everything you bring in, advises Guerry. "On all TVA property, we like to promote Leave No Trace practices," he says. "It's especially important not to leave any food behind that could feed animals and make them less scared of humans. We don't want any uninvited guests at our picnic areas—that's utterly important in areas like Watauga, where we have real bear activity."
Grandma's banana pudding might make a memorable close to a perfect outdoor day, but it's not for Ole Smokey, after all.
For more information on TVA picnic facilities and other outdoor amenities at a reservoir near you, visit our Day-Use Recreation Areas page.
A Guide to TVA Picnic Facilities
(listed roughly west to east)
| | | |
| --- | --- | --- |
| Reservoir | Picnic Tables | Picnic Pavilion |
| Beech | X* | X* |
| Cedar | X* | |
| Pine | X | X |
| Pickwick | X* | |
| Wilson | X* | X |
| Wheeler | X* | X* |
| Guntersville | X* | X* |
| Nickajack | X* | |
| Raccoon Mountain | X* | X* |
| Chickamauga | X* | X* |
| Parksville | X* | X* |
| Blue Ridge | X* | |
| Nottely | X* | |
| Chatuge | X* | |
| Hiwassee | X* | X* |
| Fontana | X* | X* |
| Tellico | X* | X* |
| Watts Bar | X* | X* |
| Melton Hill | X* | X* |
| Norris | X* | X* |
| Cherokee | X* | X* |
| Ft. Patrick Henry | X* | |
| Douglas | X* | X* |
| Boone | X* | X* |
| Watauga | X* | X* |
| Wilbur | X* | |
| South Holston | X* | |
*ADA-accessible table/s available.
It's always a good time for fun on the Tennessee Valley's lands and waters. Not sure where to start? We have you covered! Check out some of the best recreational activities on our reservoirs. While you're enjoying the lakes, trails, picnic areas and campgrounds, share your own stories and photos on Instagram using #TVAfun.
River Neighbors Newsletter
Get the all the latest news and inside information about recreation on TVA public lands and lakes.