TVA's logo is provided for download and use with the understanding that the party requesting the logo complies with the usage rules and placement guidelines.
Usage Rules
Without explicit authorization, the TVA logo may not be used in connection with commercial marketing materials, nor may it be used to endorse a product or service.
Always reproduce a logo that has been supplied to you by TVA.
Do not resize, reshape, or outline/border the logo.
The approved printed colors for the logo are black or TVA blue (PMS 295), neutral colors (metallic inks) may be used on select printed materials.
Allow sufficient free space around the logo (see below).
The TVA logo should be easy to distinguish from the background upon which it is placed, always make sure the background is light enough to provide a strong visual contrast.
Clear Zone
The area surrounding the TVA logo should always be free of other graphic elements. This "clear zone" should extend approximately one logo space around the logo on all sides. Maintaining a clear zone draws attention to the logo and prevents competition from other graphic elements.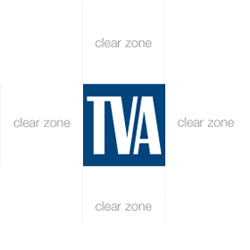 Color Variation
The image below shows an example of how the four types of logos are used on a white background, then on a colored background.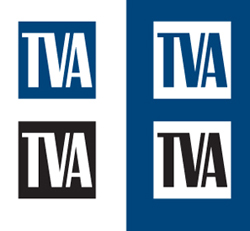 Proper Use of the Logo
The logo should always be used as it is provided and not modified in any way. Some examples of incorrect use of the TVA logo are shown below:
Incorrect logo use examples

Download Instructions
EPS Format
The EPS logo archive consists of various sizes of EPS format logos in both PMS 295 blue positive and reversed as well as black positive and reversed.
To download the complete archive of TVA logo files in an EPS format, please follow these instructions:
For Windows: right click and choose "Save Link As"
For Macintosh: hit Control-Click and choose the appropriate Save option
TVA Logo EPS files (.zip Archive, 4.6 mb)
JPG Format
The JPG logo archive consists of a high resolution two inch version of the TVA logo in both PMS 295 blue positive and reversed as well as black positive and reversed. These logos can be easily scaled down to meet specific needs. If sizes above two inches are required, the EPS files above should be used.
TVA Logo JPG files (.zip Archive, 571 kb)