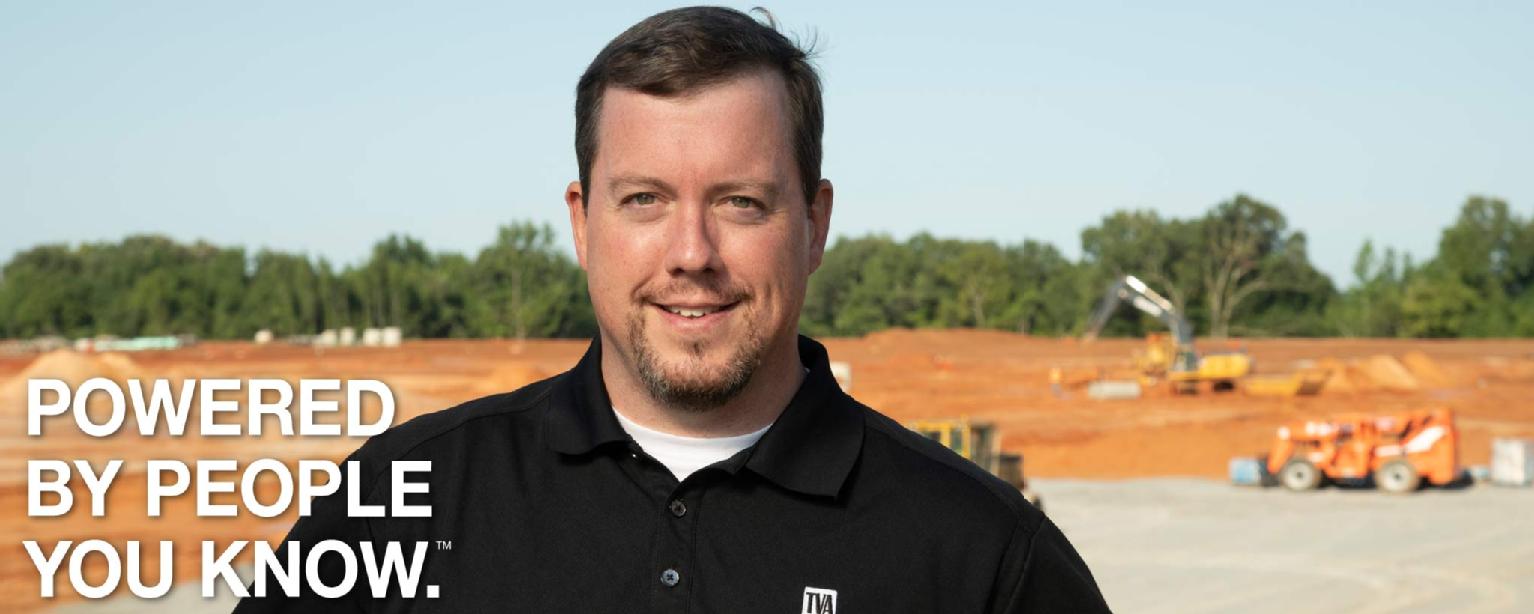 Aaron Stewart
Regional Economic Development Specialist | West Tennessee
When it comes to working with industrial customers, TVA Economic Development Senior Field Consultant Aaron Stewart is relentlessly inquisitive. "I am curious always," he explains. "One of the best things about my job is when we get to go to an existing industry and see it: How they make their widgets, where their raw materials come from, who their customers are, what their distribution network looks like, what makes them successful."
All that intel makes a difference in how well Stewart is able to deliver on TVA's mission of service: "I don't just see them as an ultimate customer of TVA or one of our local power companies, but try to understand how our power impacts their business. When they say, 'Hey we've got an issue with our electric feed,' or 'We're having a voltage sag,' it helps to know how their processes work, so we're able to be there as a partner and really solve the problem from the inside out."
Stewart's job, in short, is to attract and retain business and investment in his portion of the Tennessee Valley. He's one of 14 TVA field reps, who work with local power companies and local and state economic development partners to provide support to new prospects and to companies who want to expand in the region. And for any company who might bring good-paying jobs and plenty of capital to the region, he works with the Economic Development team to facilitate TVA's incentive programs; perform market and demographic extensive research; and provide needed technical services.
Stewart represents Memphis and Shelby County and all the nearly one million people and 20,000 businesses contained within. But he also serves eleven other counties—and a huge territory—in West Tennessee. "I just spent my morning working with Memphis Light, Gas and Water (MLGW)," he says. "This afternoon, I'm working on a proposal for Hardeman County, which has only about 27,000 people. I have to stay nimble, jumping back and forth between these different kinds of projects with different complexities."
He loves that multitasking challenge. "I like the fact that every day is going to be a little different than the day before, and every hour is different than the hour before and the hour to come," Stewart says. "I like working with lot of different people with different backgrounds."
Outside In
Before he joined TVA eight-and-a-half years ago, he worked in economic development in his home state, Arkansas. "There, I was a competitor of TVA's at the local and state level, I knew first-hand how difficult it was to compete against Valley communities."
When he was hired at TVA, it came as a relief. "Economic Development is a small group within TVA, yet it one of the three pillars of the organization, part of the original mission," Stewart says. "I work with a world-class team, and we do all we can to fulfill our Congressionally mandated duty of economic development within the Valley."
Stewart is especially proud to work at TVA when he keeps the biggest of big pictures in mind. "I was a political science major with a history minor in college, and I read several case studies about TVA and what it meant to the Valley considering what our conditions were like in the 1920s and 30s," he remembers. "The soils had been depleted, the region was impoverished. But when TVA came along and our local power companies came along, the soils improved and factories opened up and our power got poured into the war effort. The Valley came out of the cellar after the war, and since then has been a force to be reckoned with.
"To know that I get to be a part of that—no matter how small—is really something to be proud of."
Success in the West
Stewart was a TVA Economic Development specialist in East Tennessee and Middle Tennessee before he made his way out west, leaving a trail of wins along the way. But he says he experienced his greatest success story in West Tennessee.
"In late 2017, working with a huge network of internal and external partners, we helped to recruit Tyson foods to Humboldt in Gibson County," he remembers. "That brought 1,600 jobs and $320 million in capital investment, and increased the local power company's load by 20 megawatts. It was the largest agri-manufacturing project in Tennessee history."
The Tyson location had a positive effect throughout the area economy, Stewart says. "It was good for farmers, in that they had to have new grain suppliers. New rail traffic was created as they began to move the grains around. It was a big splash with ripples that went a long way."
Stewart's found success in his personal life, too. He's celebrating his 20th anniversary with wife Faith this year, and they have three very active children: Jackson, 14, Ashton, 10, and Ainsley, 5.
The whole family is very involved in volunteering with the Cystic Fibrosis Foundation, church and school activities, and sports. Stewart notes that there's very little time left to do much else, though he steals away to "tinker around "with his amateur radio, a hobby in which shis grandfather got him interested. Plus, he likes to hunt with his son and take his daughters fishing on a rare free weekend.
On Saturdays, in the fall, he says, "I like to get to the gym early so I can watch college football all day long!"
About it all—his work and family life—he has this to say: "It's all fun. It never gets dull!"
Meet More People You Know
Meet more TVA employees, and learn about some of the fascinating ways they serve the Tennessee Valley through their work in energy, environmental stewardship and economic development.
They're your friends, your family, your neighbors. Get to know them.