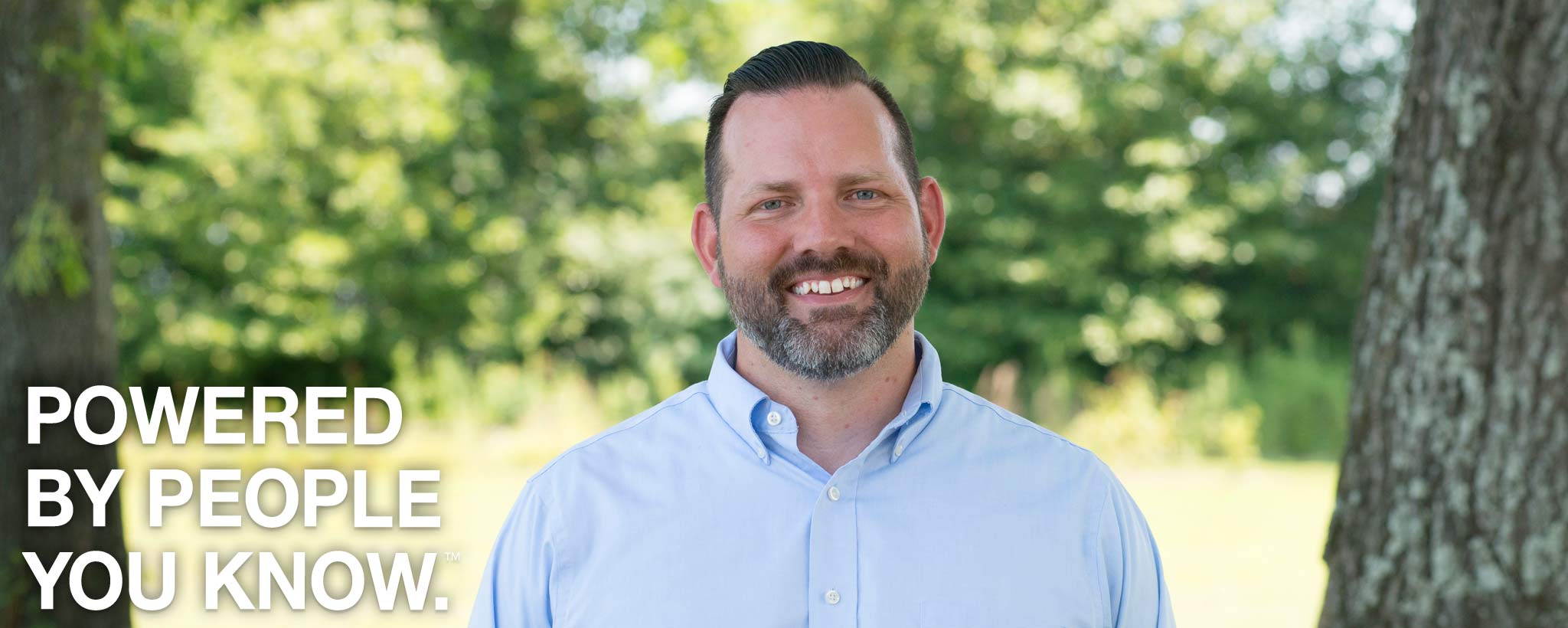 Brian Smith
Customer Service Manager | Jackson, Tenn.
Brian Smith's dad owns an automotive shop, and it must have rubbed off on him because every day in Customer Delivery, he is "Mr. Fix It."
"I love solving problems," says Smith, who is customer service manager in Jackson, Tennessee—part of TVA External Relations. "We do so much—that's the beauty of this job. The highlight of my day is when a customer calls with a question or a concern and I can take care of that for them. They don't have to worry about it."
"I grew up in my dad's automotive shop, and that's where I developed a love for engineering. He worked on electric golf carts, which helped pique my interest in electricity. Growing up in that environment and trying to figure out how all that stuff worked just intrigued me."
Smith spends his days working closely with TVA's local power companies, but when he says "customer," he means their customers, too—the end users of the energy TVA generates.
"In general, External Relations is the face of TVA," explains Smith. "Most everything that comes from TVA to our customers comes through us, and anything that comes back to TVA comes through us. I like to consider our team 'all things TVA' to our customers, whoever they may be."
Customer delivery is a good description for what Smith and his colleagues do. No two days are exactly the same, since challenges can arise that are both expected and unexpected.
"There is no typical day," he says. "It can vary from working with an LPC on an issue affecting their customers, to partnering with them to resolve a NERC crossing violation. We do our best to get out in front of things before they turn into a problem. The beauty of this job is that there are a lot of other people who do what I do, so we can help each other."
Engineer in Gear
Smith grew up in Oakfield, near Jackson in West Tennessee, passing a TVA substation every day on the way to and from school. His desire to be an engineer led him to TVA, where he's been for almost 13 years.
"My dad's auto shop got me interested in engineering," Smith says. "I started at TVA as a power utilization engineer. That's where I really got a passion for working with our end-use customers, because I'd help them with everything from power quality problems to energy efficiency projects, load studies, things like that."
He's especially proud of the time he did a study for a doctor's office in Paris, Tennessee, that had been repeatedly hit by lightning.
"They would shut down their office every time a thunderstorm threatened, because they were always losing equipment due to lightning strikes. I went in and did a study for them and discovered that they had two separate services supplying power to the building, each with their own ground. That issue was costing them thousands of dollars a year—and it was remedied by bonding the grounds together with a $12 piece of copper. I was really glad to be able to solve that for them."
Mission Possible
Smith says his current job touches on all the elements of the TVA mission. "We ensure our product is there when the customers need it—that's reliability," he explains. "We work closely with Economic Development folks to bring industry to the area—providing sample bills, for example, so a potential customer who might locate here will know exactly what their power will cost.
"We work closely with local power companies every day, so we have relationships we've developed for many years. They consider us their trusted partner."
Outside work, Smith takes a helping role, too. He is active in his church's music program, and he coaches his children's sports teams. He enjoys that, but he doesn't dread Monday morning rolling around.
"I look forward to coming to work," he says. "I love solving problems for our customers. I don't really consider it a job; it's an opportunity to help folks."
At the end of the day, that's his personal mission. "That's my favorite part of what I do: taking care of things for people."
Meet More People You Know
Meet more TVA employees, and learn about some of the fascinating ways they serve the Tennessee Valley through their work in energy, environmental stewardship and economic development.
They're your friends, your family, your neighbors. Get to know them.