Today, Christopher Siv, a telecommunications planning specialist in TVA's Transmission & Power Supply Group, lives a normal, happy life. He and his wife, Chuong, live in Chattanooga, Tenn. They have a son in second grade and a daughter in kindergarten. Siv volunteers at his kids' school whenever he has a chance and looks forward to spending time with his family when he gets off work. He plays computer games to relax.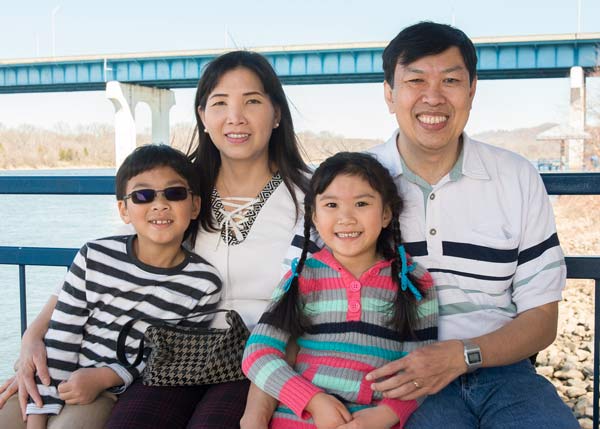 But 40 years ago, Siv lived a different life, one impossible for most of us to imagine. He shares his story below—in his own words—and explains how the hardships he has endured make him grateful for the opportunity to be part of TVA's mission of service.
Escaping Cambodia
I was born in Cambodia in 1969, the youngest of nine children. When I was six, the Democratic Cambodian government fell to the Khmer Rouge—a communist guerilla party. The Khmer Rouge ruled from 1975 to 1979 and were responsible for the deaths of almost two million people.
When the Vietnamese invaded Cambodia in 1979, the people in the region where my family lived rebelled against Khmer Rouge authority. They tried to hold the Khmer Rouge soldiers captive, but one soldier got away and brought back an army with guns. We had no weapons to fight back, and all the men—teenagers on up—were taken away, including my father and brother. We never saw them again.
I was only nine at the time, and the adults didn't talk to me about what was happening. But my mother told me later that she realized then there wasn't any future for us in Cambodia. Hearing stories of people going across the border to Thailand, she made arrangements for us to leave, offering her jewelry as payment.
After walking for several days, we reached the Cambodia/Thailand border, where we stayed in a refugee camp for about a week. Then the Thai authorities loaded us onto buses, drove us to a mountaintop on the border, and shot their guns into the air to force us to go back to Cambodia. We walked down the side of the mountain single file to avoid stepping on land mines and death traps, but many people died.
We walked for about a week in the jungle before coming across some Vietnamese soldiers. They told us we were not allowed to go any further because the area ahead was still controlled by the Khmer Rouge. They provided us with rations and directed us to a camp where we stayed for a month until they allowed us to leave.
My mother was determined to get out of Cambodia, so we walked back to a town near the border where we waited for the next opportunity to escape. On our second attempt, instead of going as one group, we split up into four groups and took four separate routes. I left with one of my sisters and later, by chance, we met up with the rest of the family at a refugee camp in the town of Buri Ram.
Coming to Chattanooga
Eventually, we connected with a church in Chattanooga that sponsored us to come to the United States. A family in the church took us into their home for several weeks until the church was able to find us a place to stay and, later, some work. We will never forget what they did for us.
It was a totally different world. We didn't speak English, and it took some time to integrate into American society. But we felt safe and could sleep soundly at night. More importantly, we had hope for the future.
I started elementary school and then, after high school, enrolled at the University of Tennessee at Chattanooga (UTC). My mother used to tell me, "Education is the key. Once you learn something, no one can take it from you." So I learned as much as I could and did the best that I could with the opportunities I was given. Even now, I try to keep learning.
At UTC, I had the opportunity to work at TVA as part of the co-op program. That led to a full-time position after I received my Electrical Engineering degree. I started as a telecommunications engineer in 1995. Now, I'm a telecommunications planning specialist in the telecom planning group in Transmission & Power Supply.
Man on a Mission
My group provides the technical specifications for the fiber optic, microwave, satellite and other telecommunications systems that the Transmission group uses to control and monitor TVA substations. These same systems provide communications connectivity for other TVA organizations as well, including Power Operations, Information Technology, Rivers Operations and TVA Police.
I'm also the primary person responsible for frequency licensing at TVA. Use of radio frequencies by federal agencies is regulated by the National Telecommunications & Information Administration to avoid interference between agency transmissions and to ensure that the entire radio frequency band is put to good use. I apply for new licenses and review our existing licenses every five years, as required by the NTIA. TVA has about 1,800 frequencies, so that's a big part of my job.
When I started at TVA, I was just happy to find a job. In my early career, I was grateful for the opportunities TVA provided me to expand my knowledge and provide for my family. Now, after working for TVA for more than 20 years, I have come to realize how big and important TVA is to the Tennessee Valley.
TVA was created to improve the lives of the people who live here, and TVA is still improving peoples' lives today. From my experiences of hardship and my escape from it, I can identify with the people of the Valley. I know what it's like to wish for a better way of life. Because of this gratitude, there is nothing I want more than to be able to give others opportunities. Thanks to TVA for allowing me to do that!